7 best places to visit in LAOS
Curious about the best places to visit in Laos? Ready for your next vacation? Want to go somewhere "special" and unique? If you are interested in traveling in Asia, Laos is the choice.
It is true that most travelers visit Laos during their extended trip to Southeast Asia. But not many go there for a vacation, as most tourists head to places like Thailand, Bali, and Maldives, which are the most popular vacation destinations in Asia.
So, what about Laos, a landlocked country at the heart of the Indochinese peninsula?
Untainted by the hustle and bustle, Laos is the perfect place for relaxing in nature and soaking in culture and history.
While it's not the most popular vacation destination, it's definitely worth a visit while the massive developments haven't taken place, as it has happened with Thailand and other more developed countries in Southeast Asia.
What to do in Laos? Read on to find out what are the best places to visit in Laos.
7 best places to visit in Laos
1. Luang Prabang & Kuang Si Waterfall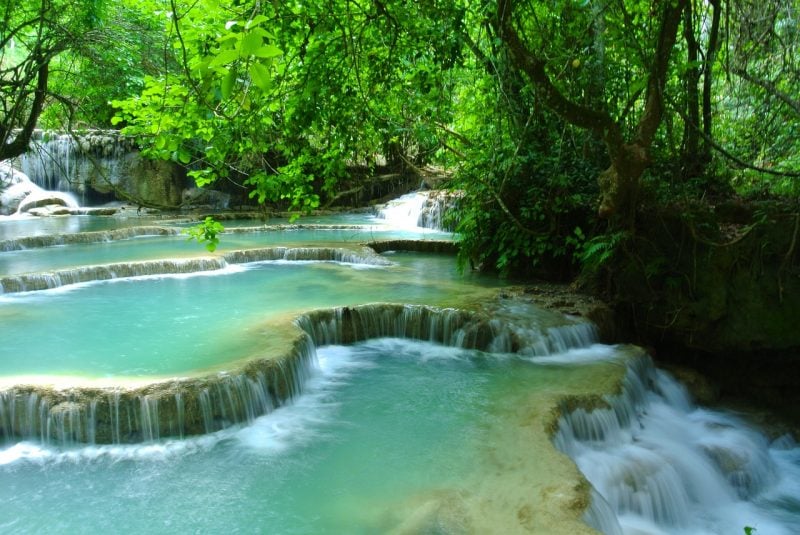 Luang Prabang is a city in north central Laos that has been listed as a UNESCO World Heritage Site thanks to its unique and well preserved cultural, architectural and religious heritage.
As you have already understood, Luang Prabang is the place to go if you are a culture and architecture enthusiast. But that's not all the city has to offer.
Luang Prabang and the surrounding area has beautiful nature. Kuang Si waterfall, one of the top places to visit in Laos, is located mere 30 km from Luang Prabang.
Mount Phousi, the Sacred Hill of Laos, is located in the heart of Luang Prabang and offers spectacular views of the area.
Luang Prabang is situated on the banks of the Mekong river. There are a couple of goods spots along the river from where you can watch the sun setting over the Mekong.
2. Vang Vieng
Vang Vieng, once notorious for its parties, still is a popular hangout place for young backpackers.
Its relaxed vibe, plenty of cheap hostels and restaurants are among the reasons why so many backpackers flock to Vang Vieng.
Situated on the river bank between dramatic limestone mountains, Vang Vieng is known for mind-blowing sceneries and river activities such as tubing and kayaking.
While it's not what it used to be, tubing in Vang Vieng still is the thing that puts this small town on the map.
3. Vientiane
Vientiane, the capital of Laos, is a beautiful Asian city that features French colonial architecture and beautiful Buddhist temples. Unlike so many capitals in Asia, Vientiane has a very relaxed atmosphere.
The most popular landmark in Vientiane is its own Arc de Triomphe – Patuxai Victory Monument. It is dedicated to those who fought for their country's independence from France.
Pha That Luang, a gold-covered large Buddhist stupa dating back to the 16th century, is the most important Buddhist monument in Vientiane and all of Laos.
Xieng Khuan, also known as Buddha Park, is a park located approximately 25 km southeast from Vientiane. It is another place you shouldn't miss when traveling to the country's capital. As the name suggests, this park is home to many Buddha statues. There are over 200 religious statues scattered around the park's grounds.
4. Bolaven Plateau
Like so many places in Laos, Bolaven Plateau is known for its beautiful nature and especially for its magnificent waterfalls.
Tad Fane, Tad Katamtok, Tad Yuang, Tad Lo, Pha Suam. These are the most impressive waterfalls in Bolaven Plateau.
By the way, Tad Fane, twin falls that plummet down the abyss, is the tallest waterfall in Laos (120 m). And Tad Katamtok is among the largest waterfalls in Laos.
5. The Plain Of Jars
Being so mysterious and unique, The Plain Of Jars is one of the best places to visit in Laos.
Thousands of large stone jars are scattered around this plain in the Lao Highlands, and no one knows why exactly they are there.
The jars are made of rock and can reach 3 meters in height.
Of course, there are also several legends behind this mysterious place.
6. Si Phan Don
Known also like the 4000 Islands, Si Phan Don is a riverine archipelago in the Mekong River in South Laos.
Khone Phapheng, the largest waterfall in Southeast Asia, is located in the archipelago.
Liphi waterfall is smaller, but still an impressive waterfall.
Si Phan Don is also a place where you can spot endangered Irrawaddy dolphins. They can be seen just south of Don Khon and Don Sanlat islands.
7. Nong Khiaw
Located amidst imposing limestone mountains, Nong Khiaw, a picturesque town in northern Laos, has been attracting more and more travelers during the last few years.
Visit numerous caves, climb the Phadeng Peak, go mountain biking, go on a trekking tour, explore surrounding villages, or go zip-lining. There are so many fun things to do in Nong Khiaw!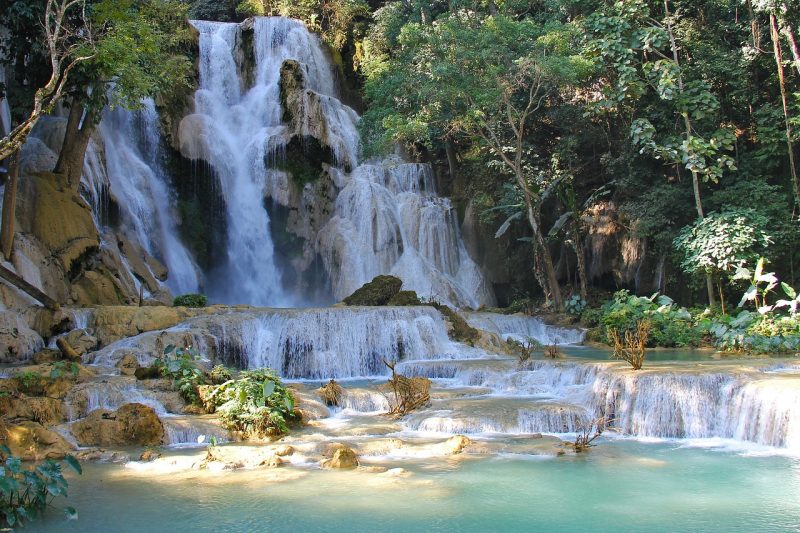 Laos travel tips
It's easy to get a visa for Laos.

You can receive a 30-day tourist visa on arrival at international airports and at several land borders. The visa costs US$30 and US$42, depending on nationality.

Buses are the main form of public transportation in Laos.

The bus system has improved during the last few years, but traffic and road conditions are bad in Laos. Many drivers in Laos are inexperienced, and road accidents are common. So, we advise you not to travel in Laos during the night

People in Laos are warm and welcoming, but still, there are a few scams you should know about when traveling to Laos.

Majority of them are just a nuisance, but still, it's an unpleasant feeling to know that you have been scammed. Do research before your trip about the best places to visit in Laos.

Laos is the most heavily bombed country per capita.

And unexploded landmines still remain on the ground in some places in the countryside. However, landmines have mostly been cleared in heavily touristed areas. Keep this in mind and try not to wander off the beaten track.
The nature in Laos is spectacular. Do not limit yourself to just a few main cities and towns. Go explore! But remember – the unexploded ordnances!