Best places to visit in MALLORCA
Planning a trip to Mallorca and wondering what are the best places to visit in Mallorca?
Mallorca is a Spanish island in the Mediterranean Sea. It is the largest island in the Balearic Islands and a very popular holiday destination. Boasting a lovely Mediterranean climate, the island attracts sun-seekers from all around the world. Besides the great weather, Mallorca is known for its beautiful, rugged coastline with secluded coves and gorgeous beaches.
Mallorca is a perfect place for a romantic holiday, honeymoon or just a quick escape to recharge your batteries. There's something for everyone — fun activities for families with kids, lovely places for couples and fun things to do for singles.
Sounds interesting? 
Check out our list of the best things to do in Mallorca for some travel inspiration!
7 best places to visit in Mallorca
Palma
Palma is the best place to start your Majorca itinerary.
It is where the international airport is located, and it's only logical you start your trip in Palma.
Palma, unofficially known as Palma de Mallorca, is the capital and largest city of Mallorca and the Balearic Islands. Palma is home to dynamic nightlife, numerous galleries, great restaurants and a lot of wonderful historical buildings.
Explore the narrow streets of Palma's Old Town (El Casco Antiguo de Palma). Visit the grand Palma Cathedral. This Roman Catholic church which overlooks the bay was designed in the Catalan-Gothic style and is one of the largest churches in Europe.
Visit the Royal Palace of La Almudaina. Originally an Arabian fort from the 13th century, this grand palace was converted to a royal residence. Walk in the Jardines de S'Hort del Rei — Moorish-style gardens located next to the palace.
Discover the hilltop Bellver Castle — a medieval fortress that offers panoramic views of the city.
Caló del Moro
Caló del Moro is a small beach located in the southeast part of Mallorca.
Situated in a rocky cove surrounded by cliffs, this small, sandy beach offers shallow turquoise water and beautiful scenery. Despite being crowded during the high season, it is one of the prettiest and best places to visit in Mallorca.
Do not miss Es Pontas which is located nearby. Meaning, "The big bridge" in Catalan, Es Pontas is a spectacular natural arch.
Parc natural de Mondragó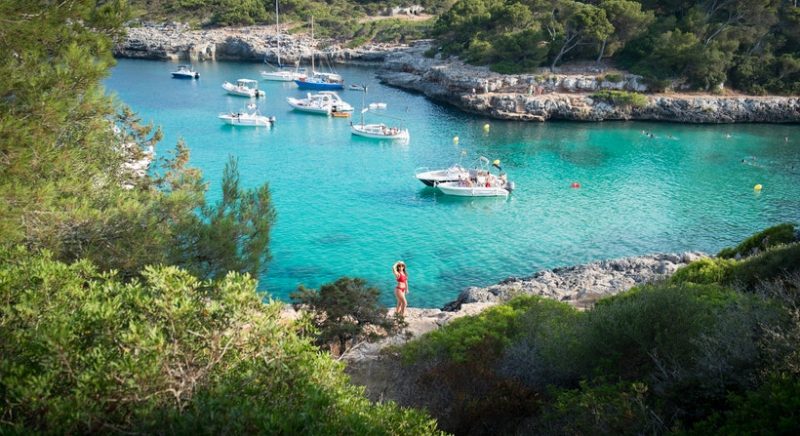 Mondragó Natural Park is one of the most visited natural parks in Mallorca.
Located in the southeast part of Mallorca, the natural park boasts spectacular views of rocky coves with turquoise waters, and rugged cliffs covered with scrub and pine trees.
Parc Natural de Mondragó is one of the best places for hiking. There are a number of trails to choose from. Some of them are 3 km long, some — 10 km long. Choose the right trail for your fitness level.
Cap de Formentor
Cap de Formentor (Formentor Cape) is the northernmost point of Majorca.
It's a rugged and remote place, situated at the eastern end of Majorca's Formentor peninsula. A drive up to Cap de Formentor is very scenic and is one of the best things to do in Mallorca.
Cap de Formentor is also known for its trails which lead to lookout points and offers scenic views of the area.
The highlights of the area include:
Various viewpoints scattered around the peninsula

Lighthouse at Cap de Formentor — remote, historic lighthouse which dates back to the 1860s

Beach of Formentor — crescent-shaped beach lined with pine trees

Cala Murta — small stone beach, tucked in a cove

Cala Figuera — scenic, rocky cove

Escala de l'Amo Joan Cerdà — footpath which boasts scenic views of majestic cliffs, coves and cape
Sóller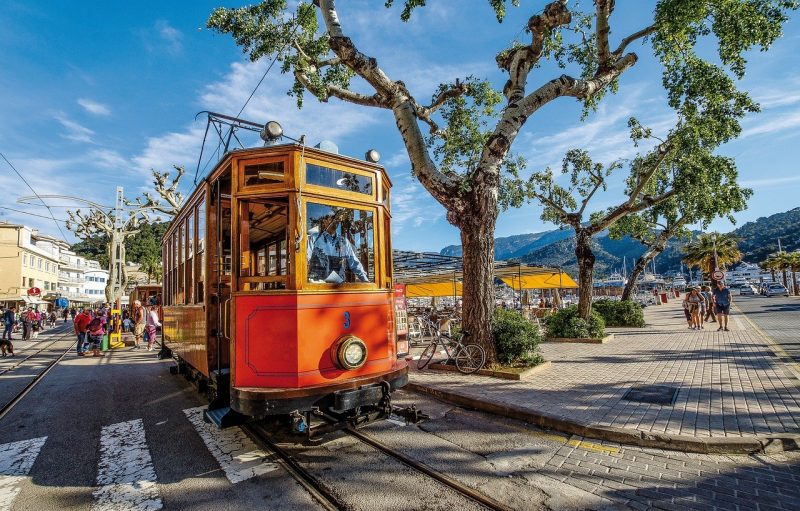 Located near the northwest coast, Sóller is one of the most beautiful towns in Mallorca. 
The best way to travel to Sóller is to take the historic narrow-gauge train, the Ferrocarril de Sóller, from Palma. Riding this train is undoubtedly one of the best things to do in Mallorca.
Besides sightseeing in the old town of Sóller, jump on the old Port Soller tram which links the inland town of Sóller to Port de Sóller, a port and resort town.
Soller is also a popular place for hiking. There are several trails that lead to picturesque villages and beautiful coves.
GR221 hiking trail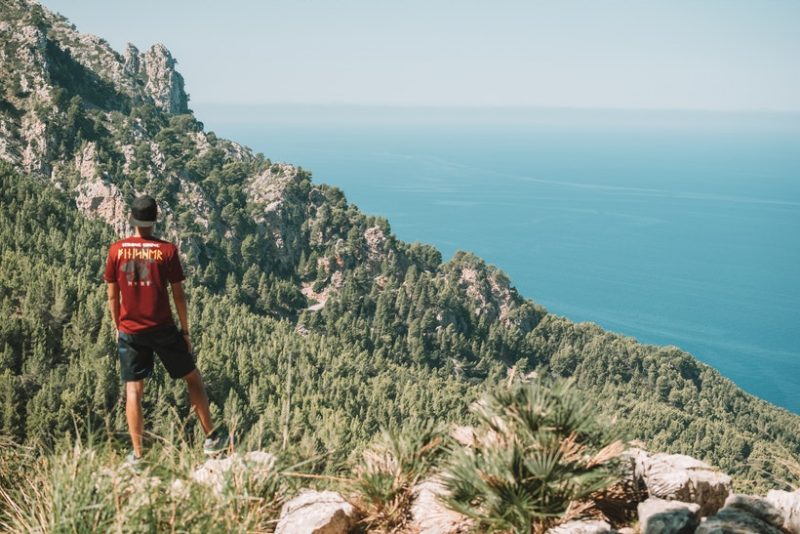 The GR221 is a long-distance hiking trail.
The route is 150-km long and rather challenging. On average, it takes about 8 days to complete it.
The trail runs from Port d'Andratx to Port de Pollenca, leading through the UNESCO-listed Tramuntana mountain range. The GR221 is largely based on a network of ancient footpaths and is divided into several stages. Idyllic villages, rocky coves, pine-covered cliffs, scenic beaches — landscapes you see along the route are varied.
Es Trenc
Es Trenc is one of the most famous beaches in Mallorca.
Located in the south of the island, Es Trenc is a 10-km long stretch of white sand, known for shallow and calm Caribbean-blue waters. All of this makes it a perfect beach for swimming.
Es Trenc is a natural beach not ruined by large resorts and countless restaurants. This is the reason why this pretty beach is one of the best places to visit in Mallorca.
Mallorca travel tips
Mallorca is a Spanish island in the Mediterranean Sea. If you are a citizen of the EU, you don't need a visa to travel to Mallorca. If you are a citizen of a country that is privileged with entering the Schengen zone visa-free for short stays, you can visit Mallorca visa-free, too.

There are many scenic mountain roads in Mallorca. Going on a road trip in Mallorca is a must.

It is sunny most of the year, but the best time to visit Mallorca is during the shoulder season months — April, May, September and the beginning of October. The weather then is mild and pleasant. Just bring a light jacket for the cool evenings. 

The high season runs from June to September. The weather is hot, and there are a lot of crowds. Book accommodation well in advance if you are travelling to Mallorca in the summer.

The best way to get around Mallorca is by car, especially if you want to visit more remote areas of the island.

Public transport is also an option — there are buses and trains, as well as a small metro system in Palma.