7 best places to visit in NEW ZEALAND
Curious about the best places to visit in New Zealand? It is an island country in the southwestern Pacific Ocean.
The country is incredibly diverse. It consists of two islands, the North and the South. The sheer size and diversity of New Zealand make it a great travel destination. The fact that it's incredibly safe, has made New Zealand a favourite destination among solo travellers and families with small children. 
With friendly locals, plenty of breathtaking places to visit and a plethora of thrilling adventure activities, New Zealand is a must-see destination.
But what exactly to do in New Zealand?
To help you with the task of planning we've created this list of some of the best places to visit in New Zealand.
7 best places to visit in New Zealand
Tongariro National Park, North Island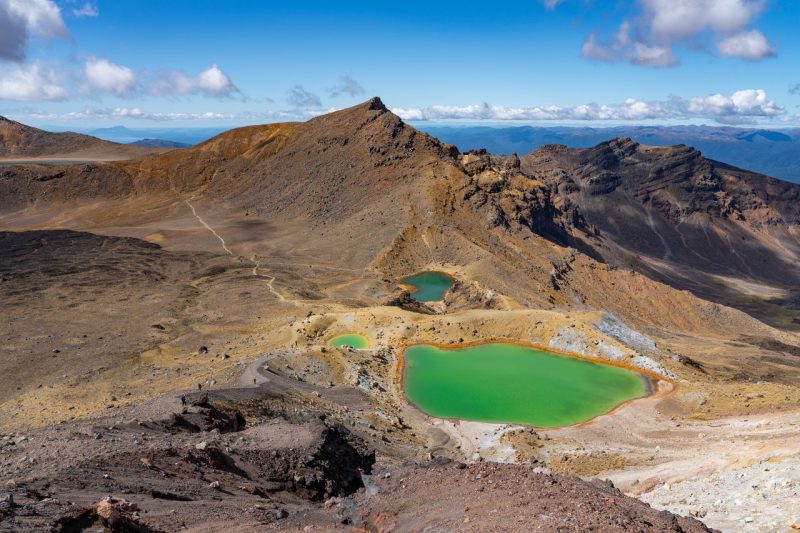 Tongariro National Park is the oldest national park in New Zealand. Established in 1887, it is one of the oldest national parks in the world, and one of the best places to visit in New Zealand.
Located in the central North Island, the Tongariro National Park has an area of 796 km2 and is home to a number of volcanic peaks, lakes and waterfalls. It is also home to the popular Tongariro Alpine Crossing, which is considered one of the world's best one-day hikes.
Tongariro National Park is important for its nature and culture, and the national park has been acknowledged by UNESCO as a World Heritage Site. There are a number of Maori religious sites and many mountain peaks are sacred. 
Aoraki/Mount Cook National Park, South Island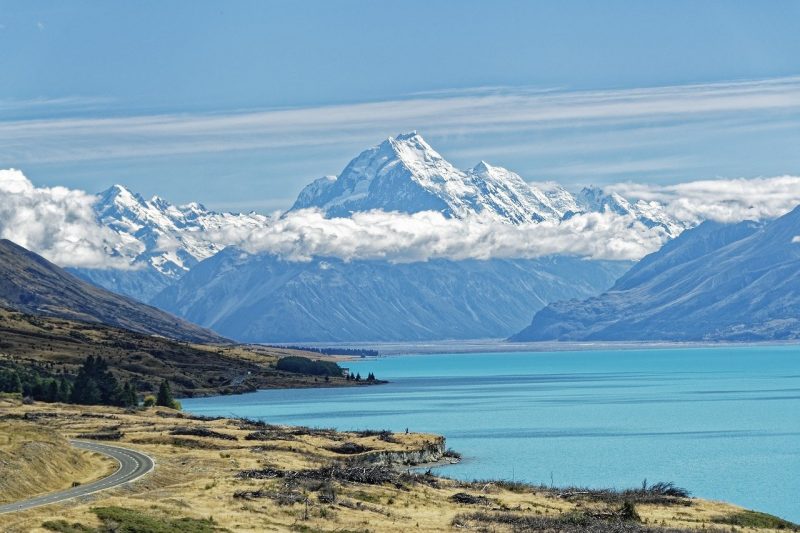 Aoraki/Mount Cook National Park is a protected area in the South Island of New Zealand.
Established in 1953, Aoraki/Mount Cook National Park contains more than 140 peaks standing over 2000 metres and 72 glaciers, which cover 40% of the park area.
Most notable glacier in the national park is Haupapa/Tasman Glacier. At 23.5 kilometres in length, it is the longest glacier in New Zealand.
The national park is home to a mountain of the same name. With a height of 3724 m, Aoraki/Mount Cook is New Zealand's highest mountain. 
The most popular way to see Mount Cook is to hike the famous Hooker Valley Track which will take travellers to the lookout point at the end of the trail. With a length of only 10 km (return) and 100 m elevation change, this trek is suitable for people of various age groups and level of fitness.
It is the most popular short walking track within the Aoraki/Mount Cook National Park. However, it's not the only trail with Mt Cook views in the national park.
Auckland, North Island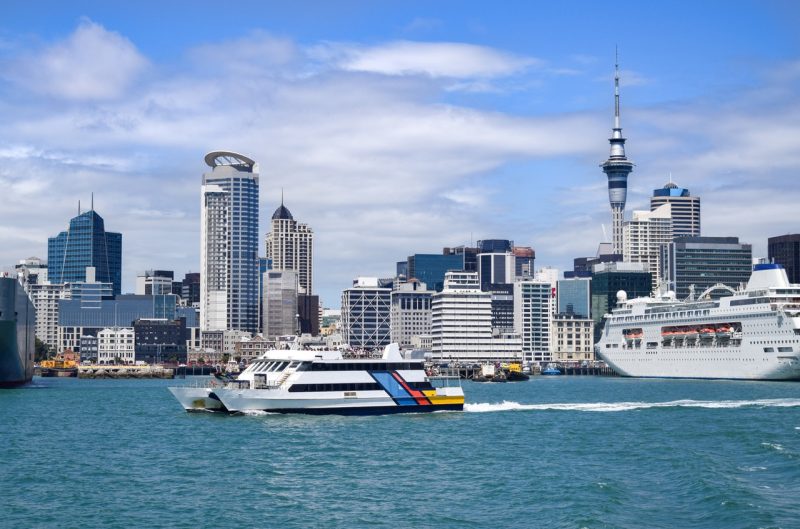 Auckland is the largest city in New Zealand. It is a diverse, multicultural and cosmopolitan city, known for its amazing vibe.
As there is no shortage of places to visit and things to do in and around Auckland, the city is one of the best places to visit in New Zealand.
Admire the Sky Tower. It's a telecommunications and observation tower in the city centre. With a height of 328 m, it is the tallest freestanding structure in the Southern Hemisphere. The Sky Tower has a cafe, restaurant and observation decks. Check out Auckland SkyJump, if you are seeking a thrilling adventure!
To enjoy views of the city from a natural setting, head to Mount Eden. At a height of 196 m, Mount Eden, is Auckland's highest point. It is a dormant volcano with a bowl-like crater.
If you are visiting Auckland, do not miss Waiheke Island. Just a 40-minute ferry ride from Auckland, this island is known for its vineyards, gorgeous beaches and beautiful landscapes.
Another stunningly beautiful place nearby is Piha Beach. There you can admire the rugged coast and power of the magnificent ocean. Known as one of New Zealand's most dangerous beaches, Piha Beach has black sand, strong waves and treacherous rips. It's one of the best beaches for surfing on the North Island.
Wanaka, South Island
Wanaka is a ski and summer resort town on the South Island. It lies on the southern banks of Lake Wanaka and is surrounded by the Southern Alps. 
The town boasts beautiful scenery and is known for its outdoor activities: hiking, mountain biking, rock climbing, fishing, paragliding, rafting, waterskiing, wakeboarding, etc.
Roy's Peak, Lake Wanaka, Wanaka Tree, Rippon Vineyard are some of the most popular tourist attractions in and around Wanaka.
The town is also a gateway to Mount Aspiring National Park.
Fiordland National Park, South Island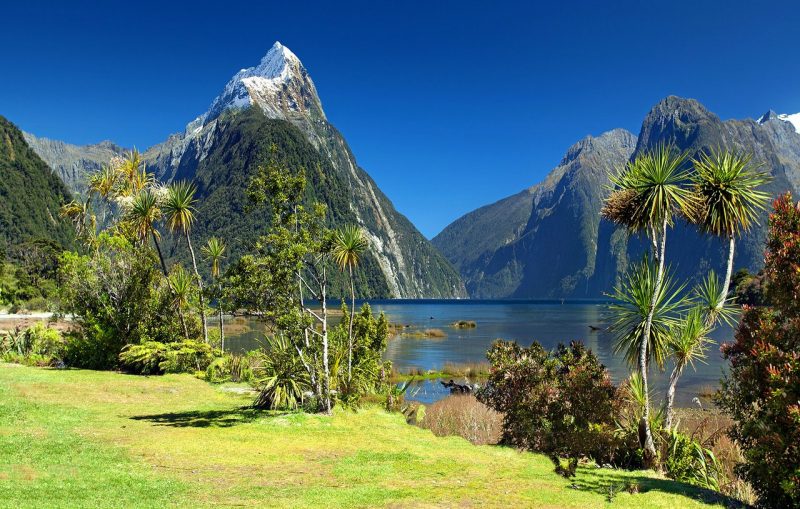 Fiordland National Park the largest of the 14 national parks in New Zealand.
It is known for its glacier-carved, U-shaped valleys with steep cliffs (fiords), large lakes and waterfalls.
The national park is home to Lake Hauroko, New Zealand's deepest lake. The Sutherland Falls, one of New Zealand's highest waterfalls, are also situated in the national park.
The most famous part of Fiordland National Park, however, is Milford Sound. Often called the "8th Wonder of the World", Milford Sound is the northernmost fiord in Fiordland National Park.
This fiord is known for the imposing Mitre Peak and waterfalls like Stirling and Bowen falls, which plummet down its steep sides. Milford Sound is home to fur seals, penguins and dolphins. 
Mitre Peak is one of the most photographed peaks in New Zealand and the highest mountain in the world to emerge directly from the seafloor.
Waitomo Glowworm Caves, North Island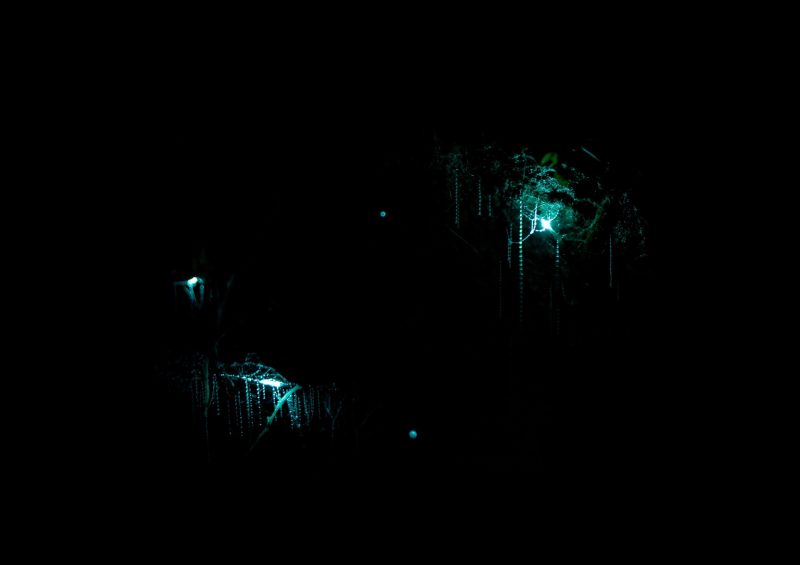 Waitomo Glowworm Caves are among the most popular attractions in New Zealand. They're home to a population of Arachnocampa luminosa, a glowworm species found only in New Zealand.
Seeing these unique glowworms are one of the best things to do in New Zealand.
Join an organized tour which includes a boat ride under the glowworms.
Franz Josef Glacier, South Island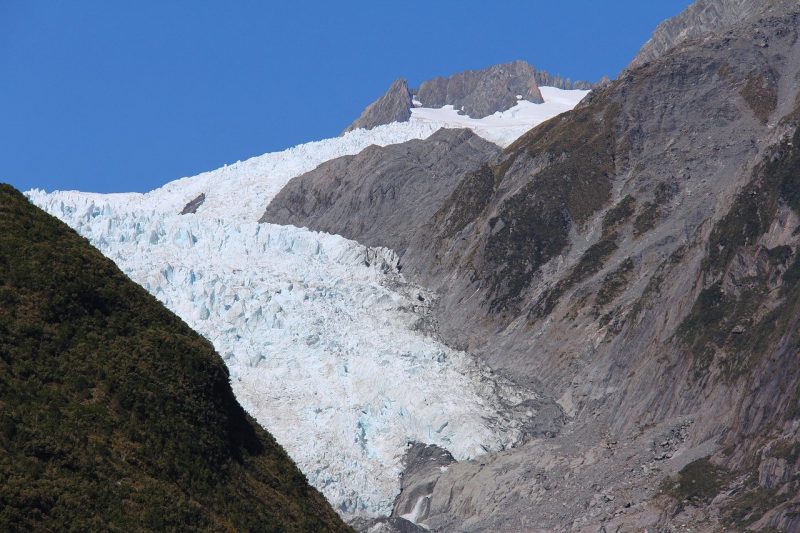 Franz Josef Glacier is a 12 km long glacier located on the West Coast of New Zealand's South Island. 
The Franz Josef Glacier area is one of the most visited tourist spots in New Zealand, and hiking to Franz Josef Glacier is one of the best things to do in New Zealand.
Until 2012 it was possible to walk up to the glacier, and now the walk ends at a viewing area about 750 m from the face of the glacier.
As the hike is not difficult, it is good for all skill levels. 
Note — this track is sometimes closed due to landslides and flooding.
There are other beautiful hikes in the area.
New Zealand travel tips
Citizens of more than 50 countries don't need a visa to travel to New Zealand. But they are required to apply for a

New Zealand Electronic Travel Authority (NZeTA)

prior to travel. It costs NZD $12 if you are applying via the official webpage, or NZD $9 if you are applying through the app.

Tourists coming to New Zealand must pay an International Visitor Conservation and Tourism Levy (IVL) of NZD $35. This is done at the time you request an NZeTA. Australian citizens and residents, as well as citizens of some Pacific Island nations, are exempt from paying the IVL.

How to get around New Zealand? By far the easiest way to travel in New Zealand is in a rental car. Thus you'll be able to visit some amazing places off the beaten track. Remember you'll be driving on the left-hand side of the road.

Bus travel is possible in New Zealand. In fact, the bus network is well organised and reliable. The country's main bus company is InterCity. It offers bus passes which can be useful to those covering a lot of ground. It's cheaper to buy a bus pass than to buy single tickets.

Trains are not a common form of public transport. There are only three train lines in New Zealand.

The sun in New Zealand is harsh. Do not forget to pack a bottle of sunscreen (with at least SPF 50). Get sunscreen in your home country, as it is expensive in New Zealand.

New Zealand uses the Type I outlet. The European plugs won't fit, and you'll need to buy an adapter in order to charge your electronics.

New Zealand is one of the safest countries in the world. It's perfectly safe for families with kids and solo travellers. It's very safe for solo female travellers, too. In fact, New Zealand is one of the best places for female solo travellers.