7 best places to visit in NORTH MACEDONIA
Curious about the best places to visit in North Macedonia? North Macedonia is a small and beautiful country in the Balkans, southeast Europe. 
Despite its size, North Macedonia offers a number of amazing places to see, many with great historical significance.
The country is small but mountainous. In fact, about 80% of Macedonia is covered by mountains. If you love hiking, you probably will love Macedonia. Yes, it is not as popular hiking destination as Slovakia or Switzerland, but it is surely only a matter of time. What else is there to see? Impressive ancient sites, buzzing modern nightlife, sublime Byzantine churches and ski resorts. 
Sounds lovely? Want to come and explore? Then you have found yourself in the right place.
We've created this list of some of the best places to visit in North Macedonia to help you with the task of planning your trip to North Macedonia.
7 best places to visit in North Macedonia
Skopje
Skopje is a typical Balkan capital — a blend of west and east, mix of modern and traditional. 
Skopje's main square (Square "Macedonia") with its bold new architecture may remind you of Rome or Paris. But once you cross the Stone Bridge (Kameni Most) into the Čaršija you will feel like you have travelled into the past.
Čaršija is the city's historic centre. It dates back thousands of years and it was an important centre of commerce during the Ottoman times.
There you'll find old Turkish mosques, hammams (Turkish baths), churches and the remains of a 6th-century hilltop stone fortress, The Skopje Fortress, which offers panoramic views of the city and river.
Definitely visit Skopje's Old Bazaar — the soul of Skopje. It is believed that Skopje has the largest bazaar in the Balkans outside of Istanbul.
Skopje is also known for its Roma-run municipality — Shutka (official name — Šuto Orizari). It is the largest Romani Gypsy community in the world.
Shutka is a really interesting place where to spend a couple of hours. They have their own mayor (an ethnic Rom), their own TV and radio stations, even a flag. Romani is an official language in Shutka.
The main attraction there is the market. It's big and very colourful, with cheap prices. 
Shutka is situated on the outskirts of Skopje — just some 20 minutes bus ride away from the city centre.
Matka Canyon
Covering roughly 5000 hectares, Matka Canyon is one of the popular tourist attractions in the country and one of the best places to visit in North Macedonia.
Matka Canyon is only 20 km west of Skopje, and its proximity to the capital makes it a perfect day trip destination.
It is home to several medieval monasteries and offers various fun activities such as hiking, rock climbing and caving.
There are ten caves at Matka Canyon, with the shortest in length being 20 metres and the longest being 176 metres. Vrelo Cave is the most popular among them. It is considered to be one of the deepest underwater caves in the world. This cave was listed as one of the top 77 natural sites in the world in the New7Wonders of Nature project.
The Matka Lake within the Matka Canyon is the oldest artificial lake in the country.
Mavrovo National Park
The Mavrovo National Park is the largest national park and one of the best places to visit in North Macedonia.
With an area of about 780 km2, the park features diverse landscapes and wildlife.
The park is characterised by mountains, deep canyons, dense birch and pine forests, gorges and lakes.
The Korab peak (2764 m), the highest in North Macedonia, is located in Mavrovo National Park.
The park area also contains the highest waterfall in the Balkans (120 m), alpine bogs, karst relief and caves and glacial lakes.
The Mavrovo National Park is home to Macedonia's biggest ski resort.
Do not miss Sveti Jovan Bigorski Monastery, a Macedonian Orthodox monastery located in the national park. The monastery has a very rich history. It was built in 1020. The Ottomans destroyed the monastery in the 16th century, but it was restored in the 18th century.
A part of the monastery complex was destroyed by a fire in 2009, and the reconstruction of these sections began in May 2010.
The monastery has a large collection of holy relics, including an icon dating from 1020 with supposedly miraculous healing power.
Ohrid & Lake Ohrid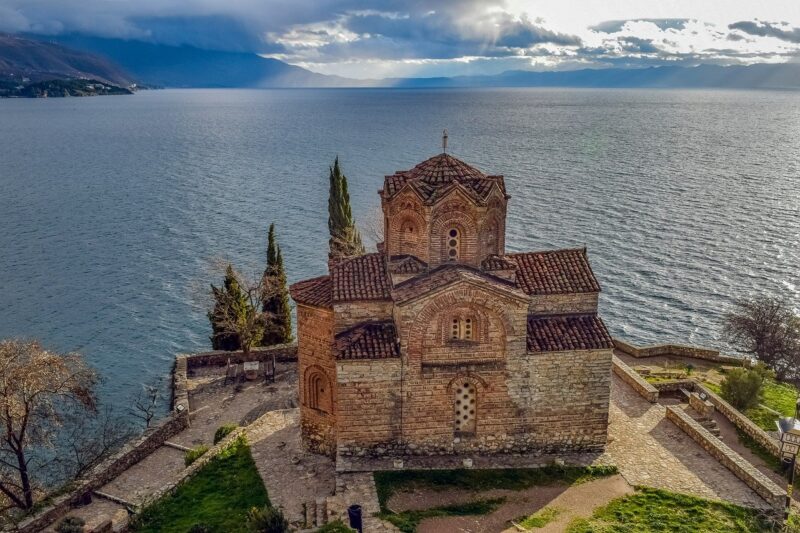 Ohrid is a tourist hotspot in western North Macedonia. 
The city is known for its UNESCO-listed lake, the summer festival and magnificent Byzantine churches. 
Ohrid is sometimes called the "Jerusalem of the Balkans". Why? It once had 356 churches — one for each day of the year, but unfortunately, many of them were destroyed over time.
The most popular tourist attraction in Ohrid is its serene, 34km-long Lake Ohrid. Lake Ohrid is a popular beach destination both for Macedonians and foreign visitors. Its beaches are packed during the summer when it's hot and sunny.
Do not miss Ohrid's atmospheric old quarter with beautiful churches and steep cobblestone streets. 
On the top of the hill, there's a medieval fortress overlooking the lake — Samuel's Fortress. The fortress dates back to the 4th century BC.
Set on a bluff above the lake, Church of Sveti Jovan at Kaneo is another great place for sweeping views of Ohrid.
Do not miss Plaoshnik, an archaeological site with a restored 9th-century church and ruins from earlier structures.
Apart from Ohrid, there are several other wonderful places to visit along the shore of the lake:
Trpejca — once a fishing village, now an upscale vacation spot.

Radožda — a village just two kilometres from the Albanian border. Known for its unique cave church of Saint Archangel Michael.

Monastery St Naum — Eastern Orthodox monastery founded in 905.

Galičica — a beautiful mountain and national park with stunning mountain views.

Bay of Bones Museum — a reconstructed village of stilt houses.
Bitola
Bitola is a "European-looking" city in the southwestern part of North Macedonia. It is the second-largest city and an administrative, cultural, industrial, commercial, and educational centre of North Macedonia.
Known for its vibrant cafes and restaurants, it is a quite popular destination for foreign visitors.
With its elegant buildings, colourful townhouses, Turkish mosques, Bitola is a charming place to visit. 
Enjoy a meal or coffee and people-watch along the pedestrianised Širok Sokak street in the centre of Bitola.
Visit the ruins of Heraclea Lyncestis — an ancient Macedonian city located 2 km from Bitola. The ancient city was founded in the middle of the 4th century B.C. during the Roman rule.
Pelister National Park
Pelister is a national park not far from Bitola. Its proximity to Bitola makes it a perfect day trip destination.
Pelister is the oldest and second-largest national park in North Macedonia. It is a well-known ski resort.
Pelister is also a popular hiking destination. The Pelister Eyes hike is the most popular in the national park due to its unique and picturesque surroundings.
Pelister Eyes are two mountain lakes. The Big lake is 2218 metres above the sea level while the Small lake is 2180 metres high.
Kokino Megalithic Observatory
Kokino Megalithic Observatory is a Bronze Age archaeological site.
It is believed to be one of the oldest observatories in the world, along with Stonehenge (UK), Abu Simbel (Egypt), Angkor Wat (Cambodia), Zorats Karer (Armenia) and many others.
Kokino Megalithic Observatory was discovered fairly recently —  in 2001. 
The ancient observatory is situated on a volcanic rock and has several markers that were used for following the Sun and the Moon.
It is believed that the observatory was also used for ritual purposes.
It is suggested Kokino Megalithic Observatory be inscribed on UNESCO's World Heritage Site list.
North Macedonia travel tips
If you are a citizen of the EU, you don't need a visa to travel to Macedonia. You can travel to North Macedonia for up to 90 days.

The best way to travel in Macedonia is by bus. It's more expensive than travelling by train, but it's faster. Buses are also more reliable.

Travelling by a rental car is another great option. Macedonia is small, and very easily drivable. You can get anywhere in the country in under 4 hours.

North Macedonia is a cheap destination in Europe. If you are looking for a budget destination that offers scenic nature, mountains and rich history, then North Macedonia is a great option. 

A cheap meal will set you back around 3-5 EUR, and a cheap room — starting from 20 EUR. Dorms are super cheap — starting from 6 EUR per person. The price of a bus ticket from Skopje to Ohrid is 8.50 EUR.

Beware of unlicensed taxis in North Macedonia, especially in the main tourist spots (bus stations, airport). Ask your hotel/hostel to help you arrange a taxi if you are in doubt. Always make sure your taxi is metered.

The best time to visit Macedonia is between May and September.

If you are planning to travel to Macedonia in summer (July & August), book your accommodation in advance. It's a very busy time of the year.