Best places to visit in SICILY
Planning a trip to Sicily and wondering what are the best places to visit in Sicily?
Sicily is one of the regions in Italy (read about the best places to visit in Italy) and the largest island in the Mediterranean Sea.
This gorgeous Mediterranean island is rich in history and cultural heritage. Also, Sicily has some of the tastiest cuisines in Italy. Thanks to Greek, Arab, North African and French influences, the cuisine in Sicily is rich and extraordinary.
Sicily boasts a diverse landscape — beautiful beaches, sparkling seas, mountains, even an active volcano!
Sounds nice? Then you should pack your bags and head to Sicily!
Check out our list of the best things to do in Sicily before planning your perfect itinerary!
7 best places to visit in Sicily
Mount Etna
Sicily is home to one of Europe's highest active volcanoes — Mount Etna!.
Mount Etna is also the largest volcano in Italy and one of the world's most active volcanoes. No wonder it attracts so many tourists — it is one of the best places to visit in Sicily.
There are several ways to explore the mighty volcano. 
The best way to do it is by foot. There are various nature trails available in the area. You can hike up to 2900 m without a guide. But if you are planning to visit the highest craters, you need to join a guided tour.
If you don't like hiking, you can drive up to about 2000 m to Rifugio Sapienza. This is where Mount Etna cable car leaves from. It will take you to the elevation of 2550 m.
Mount Etna has been a UNESCO World Heritage site since June 2013.
Taormina
Taormina is a hilltop town on the east coast of Sicily. 
Sitting near Mount Etna, it is one of the most beautiful towns in Sicily.
Taormina is known for its ancient Greco-­Roman theatre, the Teatro Antico di Taormina, which is still used today. 
On the coast of Taormina, cliffs drop to the sea forming coves with sandy beaches. A narrow stretch of sand connects Taormina to the tiny island of Isola Bella.
Palermo
Palermo is Sicily's capital and largest city.
With a history of over 2700 years, the city is rich in its heritage and culture, architecture and gastronomy.
Palermo has an abundance of historical monuments. The city features a mix of architectural styles — Baroque buildings, Byzantine mosaics, Norman castles and Arab domes. You'll be amazed at how diverse the architecture is in the Sicilian capital! It reflects the diversity of Palermo's multicultural past.
What else? Do not miss Monte Pellegrino which sits next to Palermo and offers beautiful views of the city and Mediterranean. Explore Palermo's various food markets that operate daily.
If you are visiting Palermo, do not miss Monreale cathedral (Duomo). It is located on the outskirts of Palermo and is a UNESCO World Heritage Site. The cathedral is one of the most beautiful churches in Italy.
Valley of the Temples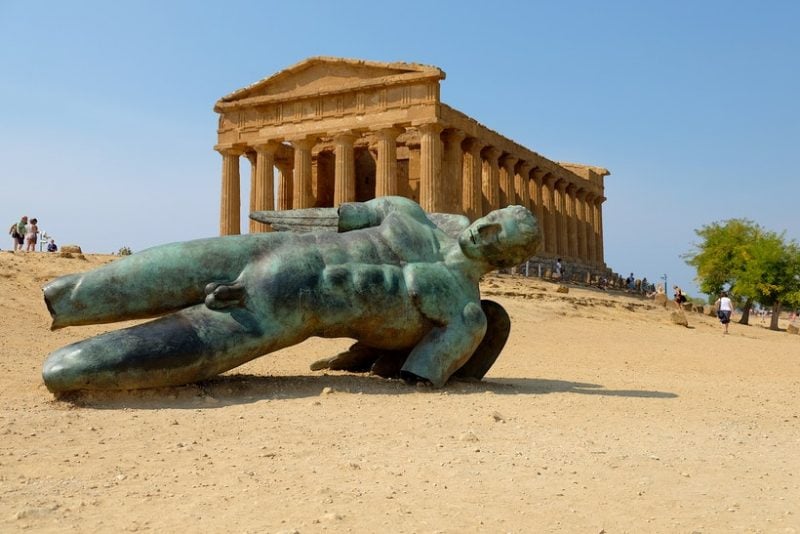 The UNESCO-listed Valley of the Temples (Valle dei Templi) is one of the most important archaeological sites in Italy and one of the best places to visit in Sicily.
An archaeological site is a group of Ancient Greek Doric temples set on the hillside and looking out to the sea. 
The Valley of the Temples comprises statues, various impressive temples and other remains from the 5th century BC.
Some of these temples are in excellent condition (e.g., Temple of Concordia), but others are in ruins.
Aeolian Islands
The Aeolian Islands is a volcanic archipelago that comprises a group of 7 main islands and a set of smaller (minor) ones.
The islands of the archipelago have a volcanic origin and still have two active volcanoes — in Stromboli and Vulcano. 
The islands are known for their attractive nature and beautiful beaches.
The main island is Lipari. It has plenty of hotels and restaurants which makes it a good base for your trip to the Aeolian Islands.
Vulcano is known for its beaches, mud baths and the Gran Cratere volcano cone.
Stromboli is the most remote of the islands and features an active volcano.
Salina is a peaceful place, lush and hilly. Grapes are cultivated on this island. So, do not miss a chance to try the local wines!
Panarea is known for its thermal springs and shipwreck diving site. The island offers great views across to Stromboli.
Filicudi and Alicudi are the least visited islands of the archipelago.
Syracuse 
Syracuse is a historic city located in the southeast corner of the island.
The city is the birthplace of the preeminent mathematician and engineer Archimedes and is notable for its rich Greek and Roman history and culture.
Syracuse is home to the Neapolis Archaeological Park of Siracusa with its impressive, ancient Greek Theatre from the 5th century BC.
Do not miss the Ear of Dionysius and the Roman Amphitheater which are also located in the Archaeological Park.
The nearby Catacombs of San Giovanni are worth a visit, too.
Beaches of Sicily
A visit to Sicily is not complete without a visit to its beaches.
We need a separate article to list all of them, but here are a few of our favourites:
San Vito Lo Capo — crescent-shaped beach, one of the best on the island;

Isola Bella — a tiny island next to Taormina, protected as a nature reserve; 

Torre Salsa — one of Sicily's longest beaches;

Spiaggia dei Conigli, Lampedusa — one of Italy's most beautiful beaches;

Cefalù beach — a gorgeous beach (one of Sicily's most beautiful) and a beautiful town;

Scala dei Turchi — featuring towering white cliffs, it is one of the most dramatic beaches in Sicily;

Calamosche — a beautiful sheltered cove with a sandy beach.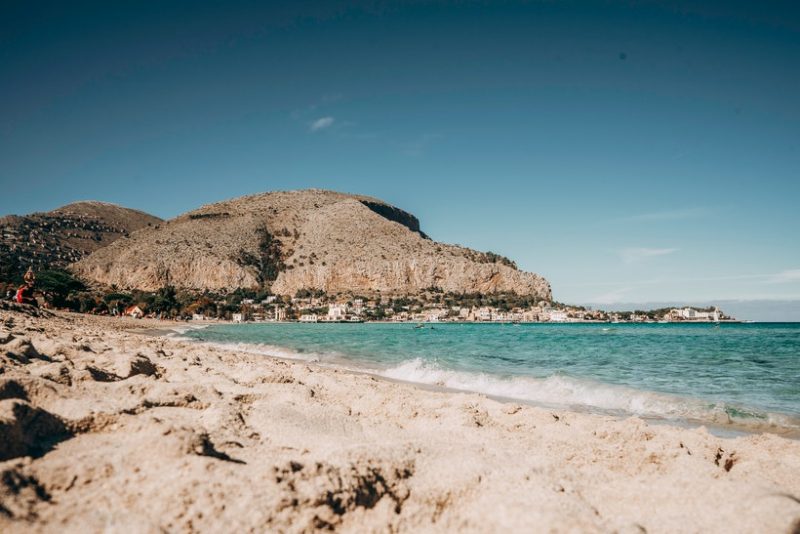 Sicily travel tips
There are ferries to Sicily from various places in mainland Italy but the best way to travel to Sicily is by plane.

Late spring and early fall are the best times of the year to travel to Sicily.

Renting a car is the best option for your holiday in Sicily. It will give you the most flexibility and chances to visit smaller towns and villages. But you should remember that divers in Sicily are reckless. Be careful when driving in Sicily.

If you plan to rent a car, get a small car. Parking spaces and roads in Italy are small. It's easier to drive in Italy in a small car, and you'll see that almost everybody has a small car.

If you don't want to rent a car, you can travel around Sicily by bus or train. 

Restaurants don't stay open all day. Also, Italians eat their dinner late. So, don't expect restaurants to open for dinner earlier than 7 PM. They fill up around 8 PM.

Seafood is Sicily's speciality. Make sure you try as many seafood dishes as possible.