7 best places to visit in SWEDEN
Curious about the best places to visit in Sweden? Sweden, a Nordic country in Northern Europe, boasts a diverse landscape, rich in flora and fauna. Its coast is dotted with thousands of islands and the country contains large areas of Europe's last surviving areas of wilderness. With a heritage rich in history and folk traditions, Sweden is brimming with treasures — palaces, castles, medieval towns and ancient churches and old ships.
Outdoor lovers won't be disappointed, too. There are plenty of hiking options in Sweden.
Sounds enticing? Want to come and explore?
But what exactly to see in Sweden? 
To help you with the task of planning we've created this list of some of the best places to visit in Sweden.
7 best places to visit in Sweden
Stockholm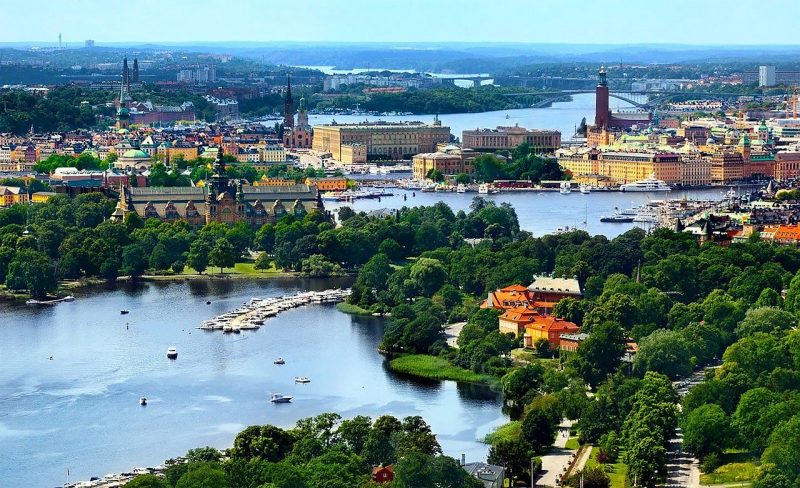 Stockholm, the capital of Sweden, is the place where most tourists start their trip to Sweden.
It's famous for its archipelago and its waterways.
That's why island hopping is a must! One of the ways to do it is to travel by ferry from island to island. Or, you can choose from a wide variety of excursions — from excursions lasting only a couple of hours to multi-day tours.
One of the best experiences in Stockholm undoubtedly is enjoying the art of the metro (subway). Visiting the metro is like visiting an art exhibition. Yes, it is this good! There are a hundred stations, and each of them has its own unique style. Check out 14 the most beautiful metro stations in Stockholm.
Definitely visit Gamla Stan, Stockholm's Old City Center! 
It is one of the most beautiful spots in the country and thus one of the best places to visit in Sweden. It is considered one of the most well-preserved historic city centres in Europe. 
Do not miss Drottningholm Palace – "The Versailles of the North".
It is the private residence of the Swedish royal family. 
The palace dates back to the 17th century and boasts extensive gardens. 
Gotland & Visby
Known as the "Pearl of the Baltic", Gotland is Sweden's largest island and a popular holiday destination.
It is known for its mild climate and sandy beaches.
Visby, a town in Gotland, is a great place for the medieval experience! Nicknamed the "City of Roses and Ruins", it boasts a medieval wall and half-timbered houses. This picturesque town is a UNESCO World Heritage Site and is arguably the best-preserved medieval city in Scandinavia.
A good time to visit Visby is early August when Gotland Medieval Week takes place. Then Visby returns to the Middle Ages, with jousting tournaments, plays, markets, street theatre, and participants in colourful medieval costumes. 
Gothenburg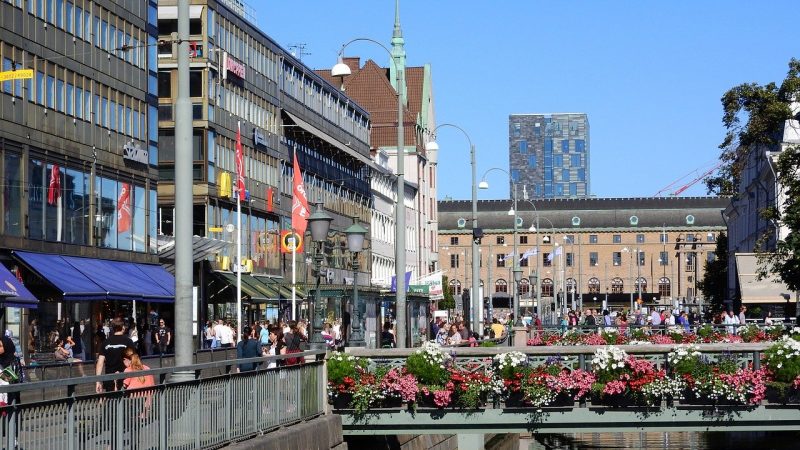 Gothenburg is Sweden's second-largest city and one of the most charming cities in all of North Europe. It's a maritime metropolis that has for centuries been one of the country's gateways to the outside world. It still is the most important port in the country.
What to do in Gothenburg? Explore its parks, quaint canals and the cobbled streets and picturesque wooden houses of Gothenburg's historical town — Haga.
Visit Maritime Museum to learn more about Gothenburg's maritime past. 
Not far from the city centre you'll find Sweden's biggest botanical garden — Gothenburg's Botanical Gardens. In fact, it is one of the largest botanical gardens in Europe. With the total area of 175 hectares, the park boasts over 16 000 species. There are greenhouses with about 4000 various plants. Other sights worth seeing are The Rhododendron Valley, the Japanese Glade and The Rock Garden.
Smögen
This trendy town is a well-known holiday resort. 
Popular among locals and tourists alike, Smögen is known as Sweden's liveliest summer town. 
Smögen is full of lovely little wooden houses, and the area outside of the town is a beautiful natural oasis. 
Take a stroll along the boardwalk and enjoy lunch or dinner in one of the waterfront cafes and restaurants. 
Take a ferry to Hållö, a nature reserve south of Smögen, and visit the Hållö Fyr lighthouse, which dates back to 1842. 
Sigtuna
Sigtuna is Sweden's second-oldest town and Sweden's first capital.
It's a quaint and historic town and a very popular tourist destination.
Situated just about 45 minutes outside of Stockholm, it is definitely a great day trip option from Stockholm. 
It's easily accessible and can be visited even if you have only a few days in Sweden, and have time only for Stockholm and its surroundings.
Visit Sigtuna's medieval churches, castles, ruins and runic stones from the Viking Area. 
Swedish Lapland & the King's Trail
Do you love wildlife, nature and snow? 
Head to Lapland, a province in northernmost Sweden which borders Norway and Finland.
Lapland is known for its cold and snowy winters, beautiful nature and the Northern Lights.
Lapland is one of the best places to visit in Sweden, especially during winter. Enjoy various activities like dog sledding, reindeer sledding and ice climbing. 
Head to Abisko to catch the Northern Lights (or Aurora).
Auroras are the result of solar wind — a stream of charged particles released from the sun that collides with oxygen and hydrogen atoms in the upper atmosphere. The collisions produce the lights of the aurora as the magnetic field of the earth draws the solar wind towards the high-latitude regions.
Remember that the Northern Lights aren't visible all year round, only during the period from September to March.
If you are into hiking, we have great news — there's a 440 km long hiking trail between Abisko and Hemavan. It's called the King's Trail or Kungsleden, and it is one of the world's most renowned trails and one of the best things to do in Sweden.
Kebnekaise is the highest mountain in Sweden, and one of the points of interest along the route.
Örebro Castle
Located on an island in Svartån, Örebro Castle is one of Örebro's most popular attractions. 
It's a medieval castle, a former prison and royal residence which dates back to the 13th century.
The castle was rebuilt in the 1890s, and then it acquired its mighty round towers.
Now it is the official residence of the county governor and has an exhibition in the Northwest Tower that highlights the castle's history. 
Sweden travel tips
Sweden is expensive. If you are on a budget, do good research and plan your trip carefully. So you don't end up broke after the trip.

Accommodation in Sweden is expensive, too. Rent a flat or a room in a shared flat using Airbnb to save some money.

Cook your own food. Eating out all the time may break your bank. To save some money on food, stay in an apartment or guesthouse with cooking facilities. 

However, some hotels are worth spending money on. The best example is the ICEHOTEL. It's a hotel made out of natural ice and snow! Truly a unique experience! By the way, it is one of the best places to see in Sweden. Being reimagined each year, it is as much a work of art as a hotel.

ICEHOTEL is not the only unique hotel you can stay at in Sweden. Check out the TreeHotel, Kolarbyn Eco-Lodge, Utter Inn and Jumbo Stay as well! 

Sweden is considered to be one of the best English speaking countries in the world. So you won't have any language problems when travelling in Sweden.

In an effort to control alcohol consumption in the country, the government of Sweden has set up Systembolaget stores. And it's the only place where you can buy alcohol in Sweden (outside of bars and restaurants) as Systembolaget has a monopoly on retail sales of alcohol.

It's really easy to travel around Sweden. The country has an extensive network of trains, coaches and buses.

They don't use the Euro in Sweden. Sweden has its own currency called the Swedish Krona (SEK).