7 best things to do in CAPE VERDE
Curious about the best things to do in Cape Verde? Cape Verde (or Cabo Verde) is an island country in the central Atlantic Ocean, just about 800 km off the coast from Senegal.
The archipelago consists of 10 volcanic islands and is a part of the Macaronesia ecoregion, along with the Azores, Canary Islands, Madeira, and the Savage Isles.
For a long time the archipelago was inhabited. But in the mid 15th century Cape Verde was discovered by Portuguese sailors, and in the 16th century, the archipelago prospered from the Atlantic slave trade.
Despite the tragic history, now it's a haven for holidaymakers looking for the ultimate sun, sea and sand experience.
What we like the most about the archipelago is that each of the islands has their own individual character and each one offers something different. 
Also each island has its own culture, food, music and dialect. 
For example, Fogo island has an active volcano, Sal and Boa Vista have stunning beaches, Santo Antão has ancient trails which are perfect for hiking, and São Vicente has mountains, music and amazing nightlife.
Also, Cabo Verde is rather untouched by tourism. So, it's the perfect place for a relaxing and rejuvenating holiday. The islands of the archipelago are peaceful and pristine with a very cool Creole culture, a mix of European and African heritage.
Sounds enticing? Do you want to visit Cape Verde?
But what to do in Cape Verde? Here is our list of some of the best places to visit in Cape Verde.
7 best things to do in Cape Verde
1. Hike to Pico De Fogo
With a height of 2829 metres above sea level, Pico do Fogo is the highest peak of Cape Verde and West Africa. It is an active stratovolcano situated on the island of Fogo. 
It may sound fearsome, but Pico De Fogo actually is one of the most popular and fascinating places to visit in Cape Verde. And hiking to Pico De Fogo certainly is one of the best things to do in Cape Verde.
It's advisable to hire a local guide or join a group to hike Pico De Fogo.
2. Visit Sal
Sal is the most popular beach destination in Cape Verde. It is known for its resorts and relaxing atmosphere. Sal also is Cape Verde's most developed island for tourism.
Swimming in the turquoise water, diving and doing various water sports are the most popular activities for tourists in Sal.
The diving sites are superb on the island! In Sal you'll see beautiful reefs and two shipwrecks forming an amazing artificial reef.
The best waves are on Ponta Preta beach. So, this is the best place for windsurfing and kite surfing.
Explore Pedra de Lume salt crater. It's an extinct volcano and a natural salt lake with a radius of 900 m. The salt crater is below sea level and is the lowest point in Cape Verde. 
3. Explore the coastline and mountains in São Vicente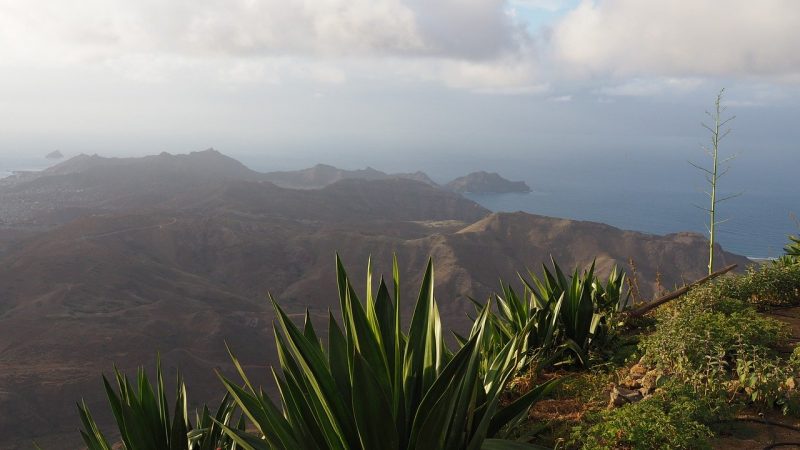 Sao Vicente is home to marvellous beaches and great hiking trails.
Hiking to Monte Verde, the island's highest mountain, is probably the best thing to do in São Vicente. Covered with lush green vegetation, the mountain offers stunning views of the area and the bay below.
After the tiring hike relax on one of the island's beaches.
Laginha Beach is one of the most popular beaches on the island. It is known for its beautiful water, relaxed vibe and its cocktail bars. 
Sao Pedro Beach is the perfect beach for water sports lovers.
4. Enjoy the nightlife of Mindelo
Mindelo is the cultural capital of Cape Verde. It's vibrant, and is throbbing with bars and clubs.
When travelling to Cape Verde, definitely listen to some live music in Mindelo!
Cape Verde is known internationally for morna, a form of folk music usually sung in the Cape Verdean Creole.
And Mindelo is the place to hear music and experience Cape Verdean culture. Go to Casa de Morna or Casa Cafe Mindelo to enjoy the traditional music. 
5. Visit Boa Vista dunes
Boa Vista is one of the most popular islands in the archipelago. It is known for its beaches and stunning sand dunes.
The sand dunes are formed with the sands that the winds bring from Africa.
Despite the fact that this little desert is tiny (just 5 km long and 1 km wide), the views are amazing, and the experience is unforgettable. It's really quiet there. And visiting during a full moon night is a must — a moonlit desert walk will be an unforgettable experience!
6. Spot turtles on Boa Vista
Turtle watching is one of the best things to do in Cape Verde. 
It is home to one of the largest populations of loggerhead turtles, and most of the turtles nest on Boa Vista.
The months between June and October are the best for turtle watching.
7. Enjoy the scenery of Santo Antão 
Santo Antão is the remotest island of the archipelago, and totally worth a visit.
Santo Antão is an extremely beautiful and lush island with plenty of hiking options. It boasts jagged peaks, terraced fields and thick forests.
Hike the scenic trails of Santo Antão and enjoy the views. 
Do not miss Delgadinho mountain ridge, too. The views from the ridge are stunning.
Many travellers consider Santo Antão the best island in Cape Verde for hiking. It's possible to go on a day trip to Santo Antão from São Vicente.
Cape Verde travel tips
If you are a citizen of the EU, you don't need a visa to travel to Cape Verde. But you have to complete a

pre-arrival registration

in order to enter Cape Verde. This allows travellers to stay in Cape Verde for up to 30 days.

Even though so many tourists come to Cape Verde on package holiday, you shouldn't be afraid to travel in Cape Verde on your own. It's completely safe to travel in Cape Verde. And there's much more to Cape Verde than its beaches and resorts.

In the major cities, public buses run periodically and taxis are common.

Car rental is the best option for tourists. Car rental is widely available on the most popular islands (Sal, Santiago, Sao Vicente, Boa Vista).

There are regular flights between the major islands. There are ferries too, but they are rather unreliable.

Cape Verde is a year round destination. The high season is from June until mid-August. But the best time to visit is between November and June. The temperatures then are pleasant — in mid-to-high twenties. And there's hardly any rain. If you plan to surf, the best time is winter months (and Christmas holidays).

The currency is the Cape Verdean Escudo or CVE. Some islands accept Euro as currency as well as Escudo.