Fantastic Natural Wonders Of Ireland You Must See
Ireland is a small island with some seriously stunning natural wonders. Here you can feel the power of the Atlantic ocean waves crashing against cliffs or experience a complete solitude while wandering down one of the magical pathways with breathtaking landscapes. Ireland has plenty of magical places just right under our noses!
The Cliffs Of Moher
These mighty cliffs reign strong reaching a height of 214 meters over the Atlantic Ocean. The Cliffs of Moher are one of the most visited natural wonders in Ireland and that's certainly with a good reason! They offer spectacular and awe-inspiring views, just like on all the postcards and guidebooks. Experience the raw power of nature by taking a walk along the trail, it's fantastic!
Slieve League
These breathtaking cliffs are the highest sea cliffs in Europe with a height of 600 meters (nearly three times higher than the Cliffs of Moher!). They are situated on the North West coast of Ireland and are truly breathtaking. In order to fully enjoy this wonder it is a good idea to do the Cliff walk where incredible views of the Atlantic Ocean, Donegal Bay, and the Sligo mountains will open up!
The Burren
Located in County Clare Ireland you can find the Burren. It's a unique landscape and means the fertile rock. It seems as if it's completely barren but with a closer look, you will discover a diverse variety of flora with a combination of Mediterranean, alpine and arctic plants. The Burren owns three-quarters of Ireland's species of flowers.
The Giants Causeway
The Giants Causeway is a natural landscape which was formed 60 million years ago as a result of an intense volcanic activity. It consists of 40,000 interlocking basalt columns. This historical wonder is a Unesco world heritage and it has to be seen to be believed!
Wicklow Mountains
Wicklow is also known as the garden of Ireland due to very contrasting terrains. The area has stunning green pastures valleys and lakes (one of the most beautiful examples is Glendalough), as well as Barron hilltops which are usually covered with blanket bog and are awash with colour. In Wicklow area, you can also find Ireland's biggest waterfall – Powerscourt Waterfall.
So, if you are spending time in Dublin, a journey into the Wicklow mountains is highly recommended!
Coumshingaun Corrie Lake, Waterford
This remarkable lake was created by glacier movement during the ice age. It has formed in a mountainside, which makes it exciting to reach. Take a mountain walk to experience the magnificence of the natural world.
The Ring of Kerry
This is the most scenic tourist trail of Ireland. The route runs 179 kilometers (111 miles) through south-western Ireland offering some of the most jaw-dropping landscapes of the country. The Ring of Kerry includes glacial lakes, a mixture of lush meadows, sea ravaged coastline and some highlights such as the Kerry Way, Beara Peninsula and the Killarney National park. The Ring of Kerry has literally incredible views around every corner!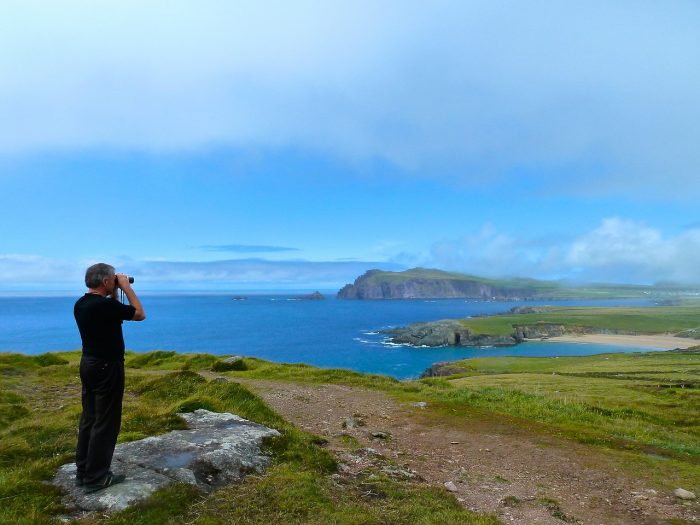 Connemara National Park
Connemara is known for its wild countryside and herd of native ponies. Within the boundaries of the National Park, you can discover three of the Twelve Bens – Benbrack, Bencullagh, and Benbaun. Here are also plenty of hiking and climbing trails.
In addition, another highlight of Connemara National Park is the magnificent Kylemore Abbey, one of the most beautiful castles in Ireland.
Skellig Islands, Kerry
Skellig Islands are two small, rocky 'pyramids' emerging out of a dark blue sea about 12 km west of County Kerry. Skellig Michael is the only island that allows visitor landings and is definitely for the adventure seekers. It can be pretty rough since there is no shelter or toilets on the island. To get to the monastery you need to face a dizzying 180m climb with steep stairs. The sudden wind gusts and sheer (often slippery) terrain it's not suitable for people with limited mobility or for children.
There's a reason why it's been used as a shooting location for the newest Star Wars trilogy — it truly looks out of the world!

Local tour guides and excursions in Ireland:
City tour, Cliffs of Moher tour, Giant Causeway, Wild Wicklow tour and many more. Book tours, attractions, and activities on the world's largest online platform GET YOUR GUIDE. Best price guarantee!
Cheap flights to Ireland:
Look for flights on MOMONDO, where you can compare fares from more than 1000 airlines and travel sites, giving you the best rates.