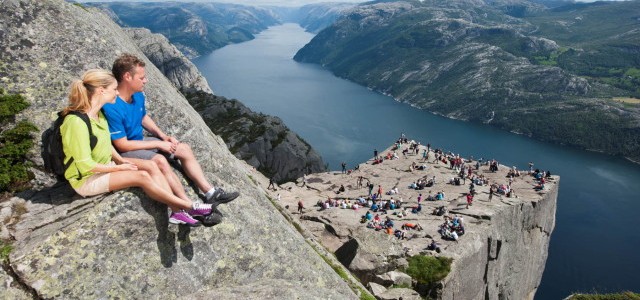 Flights from Vilnius to STAVANGER €19 both ways!
Cheap flights to Stavanger from Vilnius, tickets from €19! Find cheap flights to Stavanger from Vilnius and book your ticket at the best price! Flights to Stavanger (Norway) from Vilnius cost only from €19.98 both ways for Wizzair Discount Club Members and from €29.98 for all others!
Stavanger  is a city and municipality in Norway. The city is the third-largest urban zone and metropolitan area in Norway (through conurbation with neighbouring Sandnes) and the administrative centre of Rogaland county. The municipality is the fourth most populous in Norway. Located on the Stavanger Peninsula in Southwest Norway, Stavanger counts its official founding year as 1125, the year Stavanger cathedral was completed. Stavanger's core is to a large degree 18th- and 19th-century wooden houses that are protected and considered part of the city's cultural heritage. This has caused the town centre and inner city to retain a small-town character with an unusually high ratio of detached houses, and has contributed significantly to spreading the city's population growth to outlying parts of Greater Stavanger.
Travel dates:
September – November
Some examples:
Sun 27/09/15 – Wed 30/09/15
Sun 18/10/15 – Wed 21/10/15
Sun 25/10/15 – Sun 01/11/15
Sun 01/11/15 – Wed 04/11/15
Wed 04/11/15 – Sun 08/11/15
and many others
Where to book?
Hand baggage 
10kg 42x32x25 cm – free of charge. Backpack, bag or carrying case
For full conditions or in case of booking please visit WizzAir directly. To become WDC member or to read full conditions of the membership please check here.
Keep following our blog and LIKE our Facebook page, Google+ page, Twitter page
Number of tickets for this price is limited!
Accommodation:
1) Compare thousands of travel sites and save up to 80 % on Hotels Combined.


2) If you are interested in booking apartment or room then definitely visit AIRBNB (here you will get €23 bonus credit for accommodation after registration).
Have a look at Trip Advisor when planning your holiday to find out whats hot and whats not when it comes to all the local attractions.
To know more about Stavanger, you can visit and read more in Wikitravel here
Printscreen: