Many New Routes in Europe by WizzAir: tickets from €19!
Many New Routes in Europe by WizzAir: tickets from €19 one-way! WizzAir lunched many new routes: book your ticket at the best price! Flights will cost only from €19 one-way for Wizzair Discount Club Members and from €29 for all others!
Wizz Air Hungary Ltd. is a Hungarian low-cost airline with its head office on the property of Budapest Liszt Ferenc International Airport in Budapest. The airline typically uses secondary airports serving many cities across Europe, Israel and the United Arab Emirates. It has the largest fleet of any Hungarian airline, although it is not a flag carrier, and currently serves 35 countries. Its Jersey based parent company, Wizz Air Holdings Plc, is listed on the London Stock Exchange and is a constituent of the FTSE 250 Index.
Routes:
NEW VARNA BASE + 5 NEW ROUTES
Wizzair will open 27th base in Varna in July 2017 and fly from Varna to these new destinations:

✈ Dortmund

✈ Eindhoven

✈ Larnaca

✈ Munich Memmingen

✈ Milan Bergamo
9th AIRCRAFT IN BUCHAREST
A new A320 aircraft joined the fleet at Bucharest base! This plane will be flying on newest routes from Bucharest:

✈ Billund

✈ Hanover

✈ Lamezia Terme

✈ Tenerife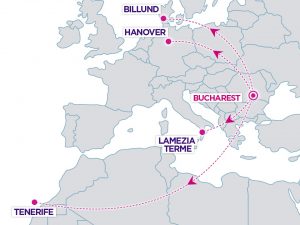 6 NEW ROUTES FROM CLUJ-NAPOCA
Thanks to the addition of a 6th aircraft, Wizzair will fly you from Cluj-Napoca to these amazing new destinations:

✈ Bratislava

✈ Larnaca

✈ Malta

✈ Stockholm Skavsta

✈ Baden-Baden

✈ Frankfurt Hahn
Where to book:
Visit WizzAir
More detailed information about Wizz Air baggage allowance and fees at www.airlinesbaggage.com
Keep following TravelFree.info blog and LIKE our Facebook page, Google+ page, Twitter page
For full conditions or in case of booking please visit WizzAir directly. To become WDC member or to read full conditions of the membership please check here.
Accommodation:
1) Compare thousands of travel sites and save money using the world`s largest hotels search TRIVAGO.
2) If you are interested in booking apartment or room then definitely visit airbnb.com (here you will get $25 bonus credit for accommodation after registration).
Have a look at Trip Advisor when planning your holiday to find out what's hot and what's not when it comes to all the local attractions.
Car rental:
You can find the best car rental prices on Rentalcars.com