6 best places to visit in CAMBODIA
Cambodia is one of the most popular destinations in Southeast Asia. All thanks to its massive Angkor Archaeological Park and the Angkor Wat temple which is one of the largest religious monuments in the world. But there's way more to it than the world's famous magnificent temples and remains of the ancient Khmer capital.
In addition, Cambodia has beautiful nature, lovely little towns with colonial architecture and beautiful tropical islands with pristine white-sand beaches.
Cambodia is a budget-friendly country, and that is why so many young backpackers flock to Cambodia. But also mature luxury travellers will enjoy their holiday. One will find beautiful luxury resorts and fine dining restaurants in Cambodia.
Have you decided to spend your next vacation in Cambodia, and now wondering what to see in Cambodia?
To help you with this task we've created a list of some of the best places to visit in Cambodia.
6 best places to visit in Cambodia
1. Phnom Penh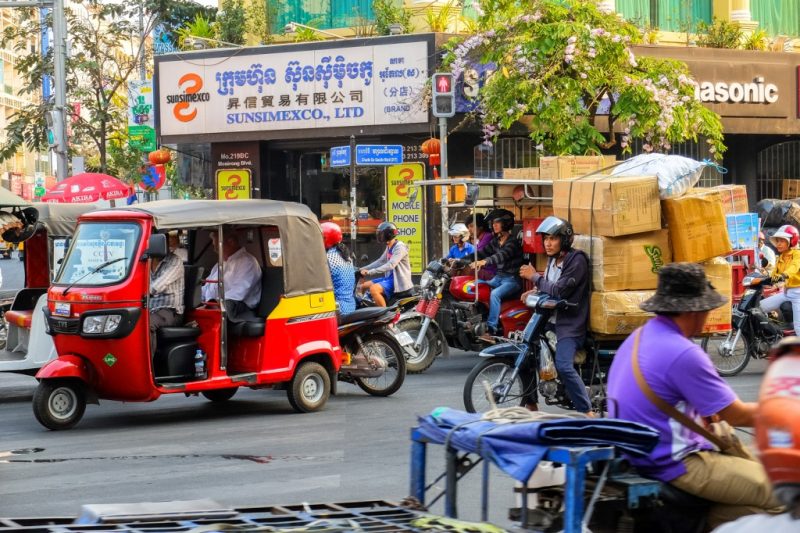 While it's not the most interesting and the most beautiful place in the country we would still recommend you to visit Phnom Penh, the capital of Cambodia. Because it's a place where one can learn more about the history and culture of this country.
Visit the infamous killing fields of Khmer Rouge and Tuol Sleng Genocide Museum to learn more about the gruesome history of Cambodia.
When you have paid remembrance to those who died during the Khmer Rouge regime, head to the National Museum of Cambodia to see traditional Khmer art and antiquities.
With its large bustling markets, Phnom Penh is also a good place for shopping. Do not limit yourself to the touristy Central Market. Russian Market (Phsar Toul Tom Poung) and Night Market (Phsar Reatrey) are also great places to shop for souvenirs and clothes.
2. Angkor Archaeological Park
Head to Angkor Archaeological Park to learn more about the ancient history of Cambodia and see the perfect example of Khmer temple architecture, just like it was centuries ago.
With an area of over 400 km2, Angkor archaeological site contains remains of the capital of the Khmer Empire, Angkor. These remains are of ancient temples and buildings.
When walking in the complex you'll feel like you've gone back to the past. It's amazing how some of the buildings have survived the centuries, and still stand tall. However, many ancient buildings have been renovated.
Do not limit yourself only to the main temple, Angkor Wat. Visit also the other temples in the park.
There are thousands of temples, and you won't manage to visit even half of them but you can see at least a few of them.
Our favorite and, in our opinion, most impressive temples are Angkor Thom, Preah Khan, Ta Prohm, Phnom Bakheng, Banteay Srei, and the Bayon Temple.
Rent an electric motorcycle (regular motorbikes are not allowed!) or a bicycle to unhurriedly explore the archaeological park and its temples.
We suggest you visit Angkor Wat during the sunrise, then head to your hotel for a rest and come back to the park in the afternoon when it's not that hot. Thus you'll also avoid the crowds.
In order to spend more time in the complex purchase a 3 or 7-day pass.
3. Tonle Sap lake
When travelling to Siem Reap and Angkor do not miss the Tonle Sap lake.
Situated not far from the Angkor Wat temple complex, the Tonle Sap lake is one of the best places to visit in Cambodia
Tonle Sap is a large lake and an attached river with the same name, Tonle Sap. The Tonle Sap River connects the lake to the Mekong River.
The water level in Tonle Sap lake varies through the seasons. In the rainy season, it can reach 14 meters, and flood the nearby villages.
There are several floating villages that are open to tourists: Chong Kneas, Kampong Phluk, Mechrey, and Kampong Khleang.
Note, that during the dry season the water level in the lake is low, and it's not flooding the surrounding villages. So, there's no water in the floating villages. Instead between the stilted homes, there are regular streets, and life goes on just like in any regular village.
4. Kep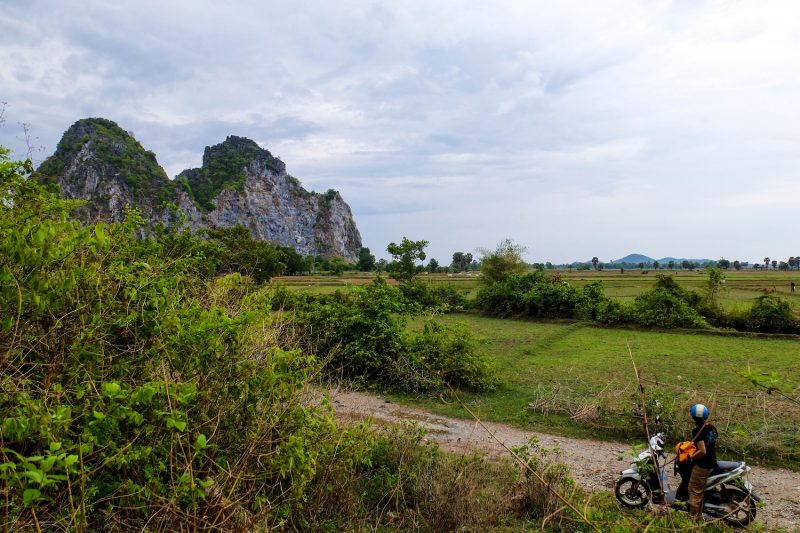 Visit Kep, a coastal province in southern Cambodia, to see the rural life and relax by the beach with the locals.
There's also beautiful nature in the Kep area. Rent a scooter and head to Phnom Kampong Trach Cave which is an impressive limestone cave in rural Kep. On your way there you'll witness the village life of Cambodia.
After a tiring day of exploring the area head to one of the many seafood restaurants in Kep to try the green pepper crab. The dish is what Kep is most famous for.
On another day go for a hike in Kep National Park. There is an eight-kilometre trail that offers great views of the area in a few places along the trail.
5. Kampot
Situated on the bank of the river Praek Tuek Chhu, Kampot has a relaxing vibe and is famous for its French colonial architecture.
But the lovely town is not the only thing Kampot has to offer. Kampot is another good place where to enjoy Cambodia's beautiful nature.
Kayaking along the Praek Tuek Chhu river is one of the things you can do in Kampot. The Praek Tuek Chhu boasts beautiful scenery, and kayaking is a cheerful thing to do. Also, ride up Bokor mountain to the Bokor Hill Station. If the day is clear you can enjoy unobstructed views of the area, and even of nearby Vietnam!
There are also beautiful views and places to stop by along the way to the top of the mountain. As well as a couple of jungle trails and a waterfall.
6. Koh Rong Samloem
Cambodia doesn't only have impressive ancient temples, but it has also beautiful beaches and pristine islands.
Head to Koh Rong Samloem to get away from the bustling cities and heavy traffic of Cambodia.
Kong Rong Samloem is a perfect place for a relaxing holiday by the beach. Swim in the turquoise waters and hire snorkelling equipment to see the beautiful exotic fish and corals.
The best snorkelling spots on the island are Sunset Beach and Lazy Beach.
The best time to visit Koh Rong Samloem is between the middle of November and late April, but the peak season is until February when it's still not too hot. However, if you have a choice, try to avoid the island during the Chinese New Year. It can get super crowded then.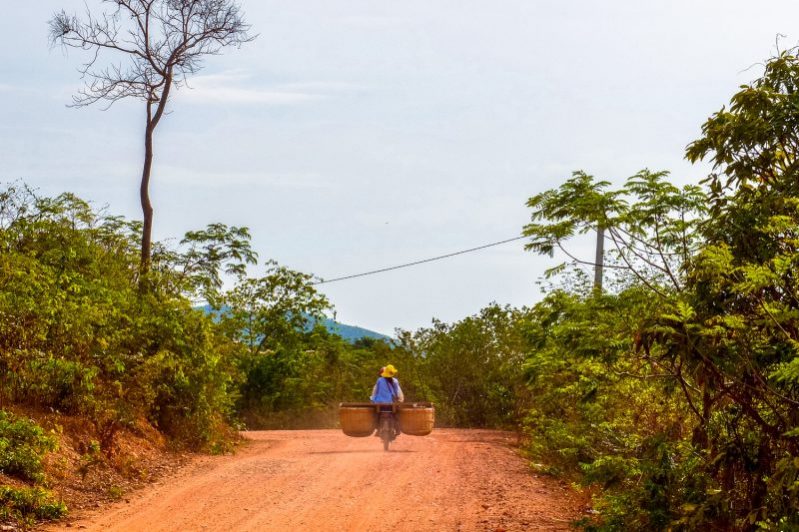 Cambodia travel tips
It's easy to get a visa for Cambodia. You can receive a one-month tourist visa on arrival at one of the international airports (Phnom Penh, Siem Reap or Sihanoukville), and at several land borders.
There are two currencies in Cambodia: the Cambodian Riel and the United States dollar. The US dollar is Cambodia's unofficial second currency. You can pay with dollars almost everywhere.
Prepare small dollar bills in $1 and $5. The $1 bills are especially useful. They will come in handy in local buses, tuk-tuks and when buying snacks from the roadside stalls.
If you are travelling on a budget take a local city bus to get from the Phnom Penh airport to the city.
To save money and time use ride-hailing apps, such as Grab and Pass App, when travelling in Phnom Penh.
You can get anywhere in Cambodia by bus. It's not the fastest way, but buses of the major companies are decent. And the tickets are cheap. Getting around by air in Cambodia is also an option. There are direct flights from Phnom Penh to Siem Reap, and from Siem Reap to Sihanoukville.
People in Cambodia are warm and welcoming, but still, there are a few scams you should know about when travelling to Cambodia. The majority of them are just a nuisance, but still, it's an unpleasant feeling to know that you have been scammed. Do research before your trip and you'll be fine.