Best places to visit in BARBADOS
Planning a trip to Barbados and wondering what are the best places to visit in Barbados? 
Barbados is an island country in the Caribbean. Home to tranquil beaches lined by swaying palm trees, Barbados attracts visitors from all around the world.
The country boasts 100 km of beautiful coastline, but it's not the only notable thing about this paradise island. Caves, botanical gardens, coral reefs, and fun activities such as surfing, snorkelling with turtles, shipwreck diving and hiking. Well, there's everything for everybody here!
Sounds interesting? 
Check out our list of the best things to do in Barbados for some travel inspiration!
7 best places to visit in Barbados
Bridgetown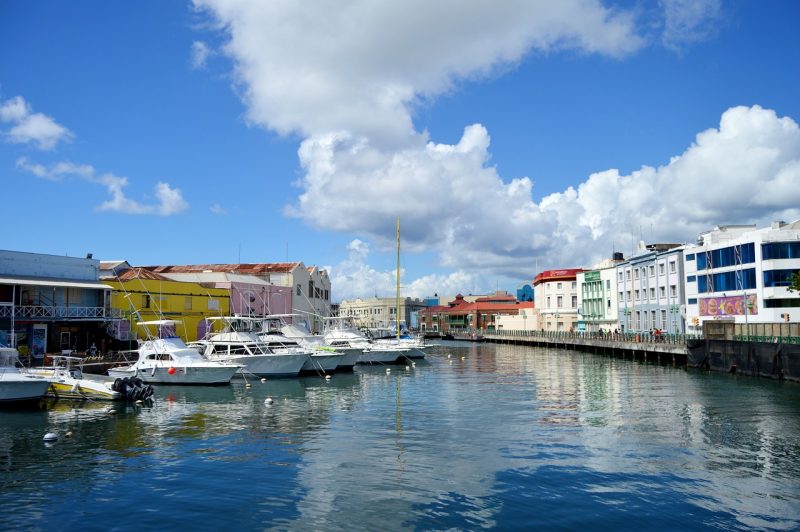 Bridgetown is the capital of Barbados.
It is a hub for the island's local buses and has a cruise ship port. The city offers several interesting landmarks and sights, such as:
Barbados Museum — a museum that depicts the island's rich history and features various exhibitions.

Careenage — the heart of Bridgetown; riverfront lined with warehouses which have been converted into shops, restaurants and bars. 

Parliament — neo-Gothic parliament buildings.

Cheapside market — a large public farmers market where you can buy fresh produce.
Barbados is considered to be the birthplace of rum. And Bridgetown is one of the best places where you can learn more about the history of this drink. Distillery tours are very popular tourist attractions in Bridgetown.
Carlisle Bay
Located only a few kilometres from the capital, Carlisle Bay is a very popular tourist destination.
There are various activities you can do in the area, such as swimming with turtles, snorkelling and shipwreck diving. In Carlisle Bay, you can see various relics, such as anchors and cannonballs from old ships, plus a lighthouse from 1885 — Needham's Point Lighthouse.
Carlisle Bay's marine park is a popular spot for scuba diving.
Harrison's Cave
Located in central uplands, Harrison's Cave is one of the best places to visit in Barbados.
The cave is situated at 210 m above sea level and was formed by water erosion through the limestone rock. Visitors can travel through the cave system by tram and can get off at certain points and get close up to the formations.
Archers Bay & Animal Flower Cave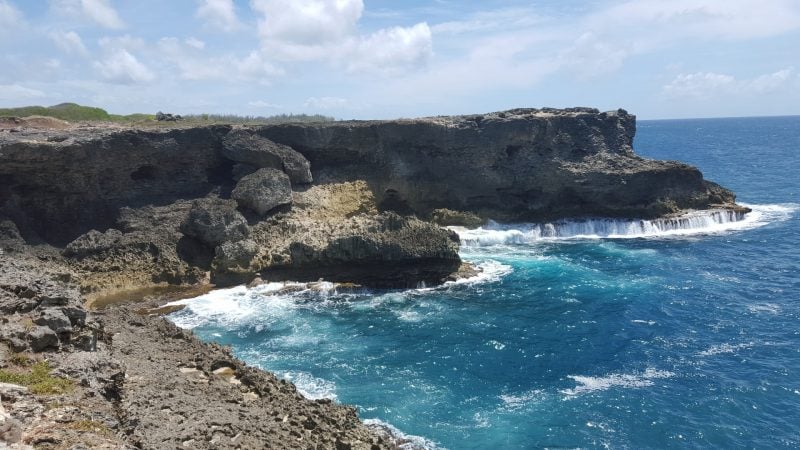 Archers Bay is a secluded bay on the North West coast of Barbados.
It is a rugged part of Barbados's coastline, and the clifftop above the bay offers breathtaking views. The bay is much less crowded than the sandy beaches of the island. So, it's a perfect place to get away from the crowds. As there are no crowds, there are no facilities. So, be prepared for that.
Visiting Animal Flower Cave is a must if you are exploring Archers Bay. It is a lone sea cave located under the cliffs. The cave gets its name from sea anemones often called animal flowers. They are marine predatory animals that can sting and paralyse passing fishes. You can still spot them in the cave.
If you are visiting Archers Bay, please remember that swimming is not recommended there. The waves are strong, and there are dangerous rip-tides too.
Andromeda Botanic Gardens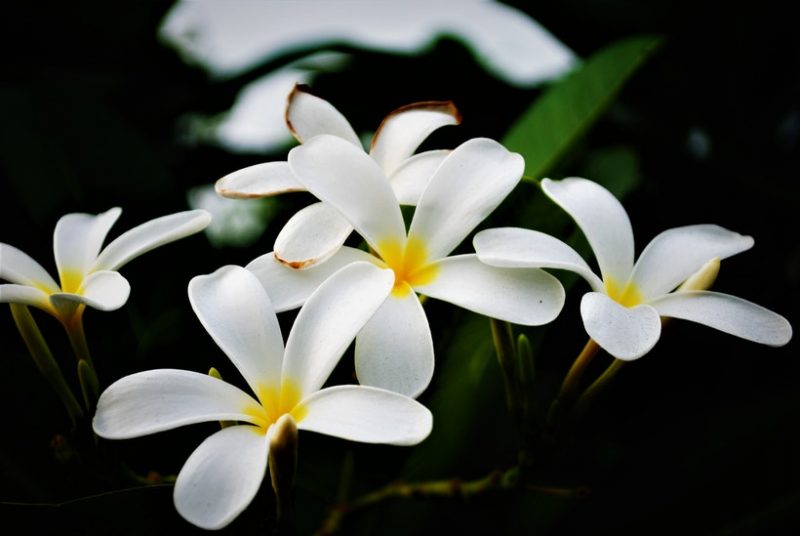 Andromeda Gardens is an awarded botanical garden in the village of Bathsheba.
There are several gardens on the island, but Andromeda Botanic Gardens is the most popular one. It's also the biggest one. It's a beautiful garden with self-guided walks through 2.4 ha planted with tropical plants, trees and flowers.
Started as a private plant collection, now it is an awarded botanical garden with biological diversity and a Partner Garden of the UK Royal Horticultural Society. It is the only garden with such a status in the West Indies.
Crane Beach
Crane Beach is known for its beautiful pink sands and turquoise waters.
It is considered to be one of the most beautiful beaches in Barbados. The beach is home to The Crane Resort — the first resort in the country. It still is one of the best luxury beach resorts on the island.
Crane Beach is undoubtedly one of the best places to visit in Barbados.
Silver Sands Beach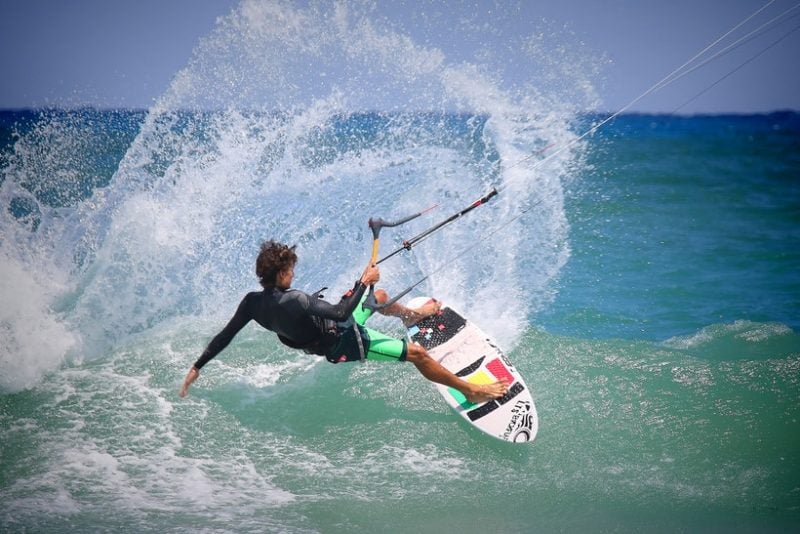 Silver Sands beach is a beautiful stretch of powdery white sand located in the south of the island.
If you get bored lying on the beach, head to Silver Sands beach — as it's perfect for water sports lovers and adrenaline junkies. It is one of the best places for kiteboarding. Not only the beach attracts kite-boarders, but also surfers and windsurfers from all around the world.
Barbados travel tips
Citizens of the EU/EEA (also — the US, Canada, Australia, New Zealand and many more) don't need a visa to travel to Barbados.

Barbados is known for its rum. Visiting a rum distillery or rum shop is one of the best things to do in Barbados. There are hundreds of rum shops on the island.

Camouflage clothing is not allowed in Barbados! You can't wear anything that has camouflage patterns — it is illegal!

Topless and nude bathing is illegal in Barbados.

The best time to visit Barbados is between December and early June when the weather is dry.

English is the official language of Barbados.

Barbados is a relatively safe destination. Just take regular precautions — don't flash your belongings and valuables, carry your backpack at the front of your body in crowded places, do not travel alone at night, etc. Find out what are the dangerous areas, and do not go there.

You can rent a car in Barbados. But remember that you will have to obtain a local driving permit to drive. Your car rental agency will help you with this. Or, you can visit the Barbados Licensing Authority office.

However, you must be careful when driving in Barbados. Lots of drivers in Barbados don't indicate for turns. Many cars and other vehicles drive without lights during the night.

You can use public transportation to travel around the island. There are government buses (blue) and private-owned buses (yellow).

Be careful when swimming, as swimming is dangerous in many places due to rip currents and strong waves.