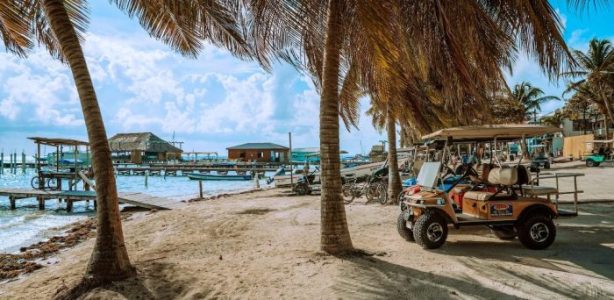 Best Places to Visit in BELIZE
Planning a trip to Belize, and wondering what are the best places to visit in Belize?
Belize is a Caribbean country which shares a border with Mexico. It's a small but rather diverse country. Boasting lush jungles, beaches, picturesque islands and species-rich coral reefs, Belize is a wonderful destination for your next vacation.
But what to see in Belize? Check out our article for some inspiration!
Here are a few of the best things to do in Belize.
7 Best Places to Visit in Belize
Belize Barrier Reef & Great Blue Hole
The Belize Barrier Reef is a World Heritage Site.
It is a series of coral reefs about 300 metres offshore. Straddling the coast of Belize, the reef is approximately 300 km long. There are several beautiful islands in the Belize Barrier Reef, such as Tobacco Caye which is a tiny island located in the middle of the reef. Laughing Bird Caye is another small island located at the southern end of the Belize Barrier Reef. These little islands boast crystal clear waters and beautiful beaches. They are great relaxing beach getaways. 
The Great Blue Hole of Belize is a huge marine sinkhole and a popular diving site. 320 metres across and 124 metres deep, it is one of the biggest Blue Holes in the world. It is a part of the Belize Barrier Reef, and one of the best places to visit in Belize.
The diving site has crystal-clear water and is known for its submerged stalactites. In the Blue Hole itself, there is not much fish. But you can spot several species of fish in the reef ring (which circles the Blue Hole). There you can see various fish such as midnight parrotfish, Caribbean reef shark, blue tang, angelfish and different kinds of coral, including brain coral. You may spot turtles, eagle rays, bull sharks and hammerheads too. You don't have to be a diver to explore the marine life of the Blue Hole. It's possible to snorkel in the reefs around it, too.
You can go on a full-day trip to the Blue Hole from Belize City, San Pedro and other coastal towns. 
Hol Chan Marine Reserve & Shark Ray Alley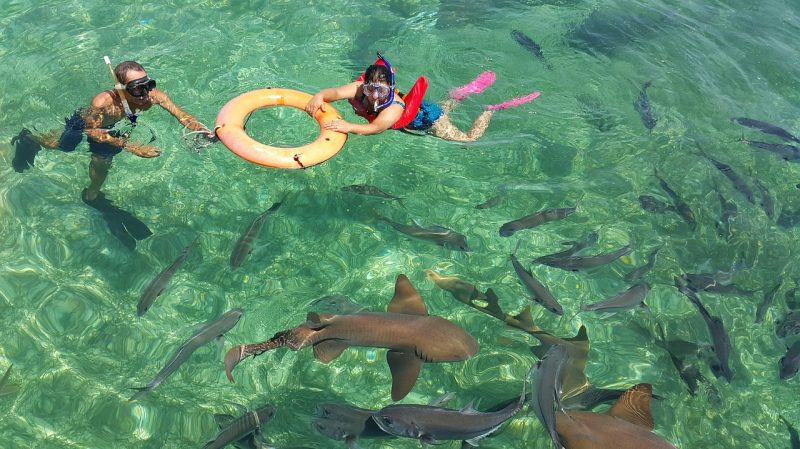 Hol Chan is a marine reserve located not far from Ambergris Caye.
It is one of the most popular diving and snorkelling sites in Belize. The marine reserve contains a range of habitats such as coral reefs, seagrass beds and a mangrove forest. Hol Chan is known for its abundance of sea life.
One of the most popular attractions in the marine park is swimming with nurse sharks and southern stingrays at Shark Ray Alley. It's a shallow sandy-bottomed area, known as a gathering place for sharks and stingrays.
Xunantunich Mayan Ruins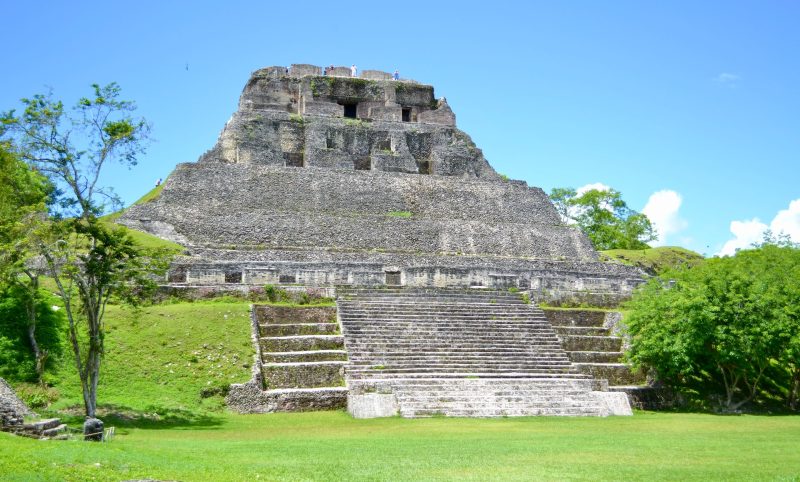 Xunantunich was an ancient Maya city.
Located in western Belize, the city dates back some 3000 years ago. It is believed that the city was inhabited already in BC 1000. Now it's an important archaeological site and a perfect example of an ancient city. Xunantunich is one of the best places to visit in Belize, as well as it's one of the most visited ones.
The city consists of several plazas surrounded by more than 20 temples and palaces. "El Castillo" is the largest and most important structure in Xunantunich. It is the second tallest structure in Belize.
Caracol 
Caracol is one of the most important Mayan ruins in Belize.
It used to be a large Mayan city. It is believed that Caracol had a population of over 100,000 people. Now the ruins consist of numerous temples, altars, ballcourts, reservoirs, observatories, hieroglyphics and other important structures and landmarks.
The Canna is the biggest and most famous structure in Caracol. It is also the tallest building in the country, and one of the best places to visit in Belize.
Ambergris Caye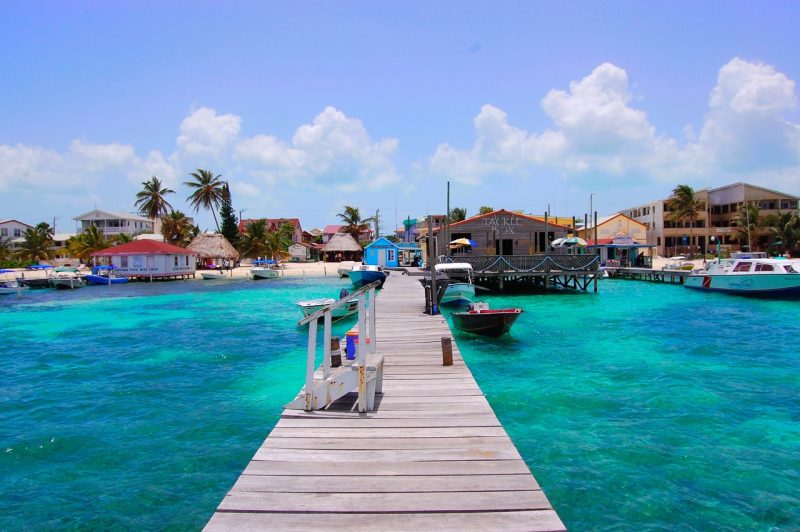 Ambergris Caye is Belize's largest island.
It is a popular water sport and diving destination. From Ambergris Caye, it's easy to get to Hol Chan Marine Reserve and the Great Blue Hole. Belize Barrier Reef is located right next to the island. The island is home to a number of dive shops which offer trips to different diving sites.
San Pedro is the main town and a gateway to the surrounding reefs and islands. There are a number of beaches in Ambergris Caye. These are broad white sand beaches, with crystal clear, aqua-blue waters. The water is shallow and quite still, and it's teeming with fish.
Ambergris Caye is one of the visited destinations in Belize.
Caye Caulker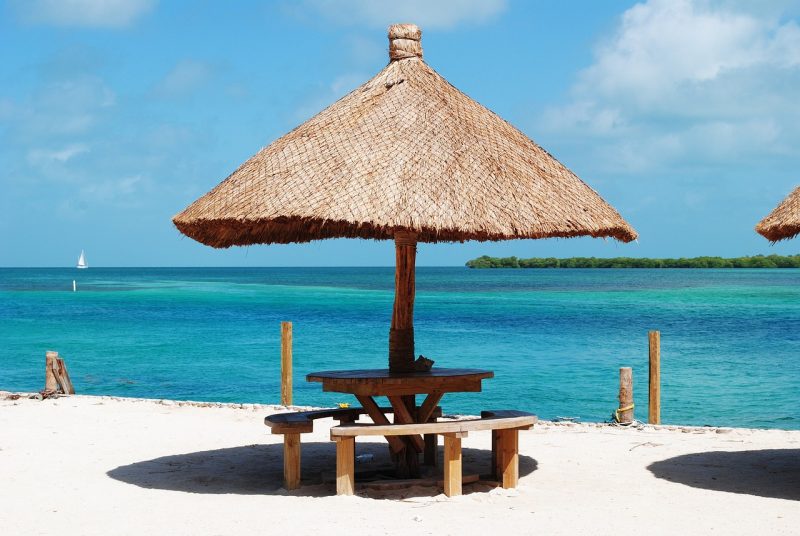 Caye Caulker is a small island south of Ambergris Caye.
In the south of the island, Caye Caulker Village, the island's only settlement, is located. In the northern part of the island, there's a dense mangrove forest reserve with diverse birdlife.
The Split divides the island in two. It's a stretch of water which has clean, deep waters. It is one of the island's very best swimming areas.
Jaguar Reserve Nature Centre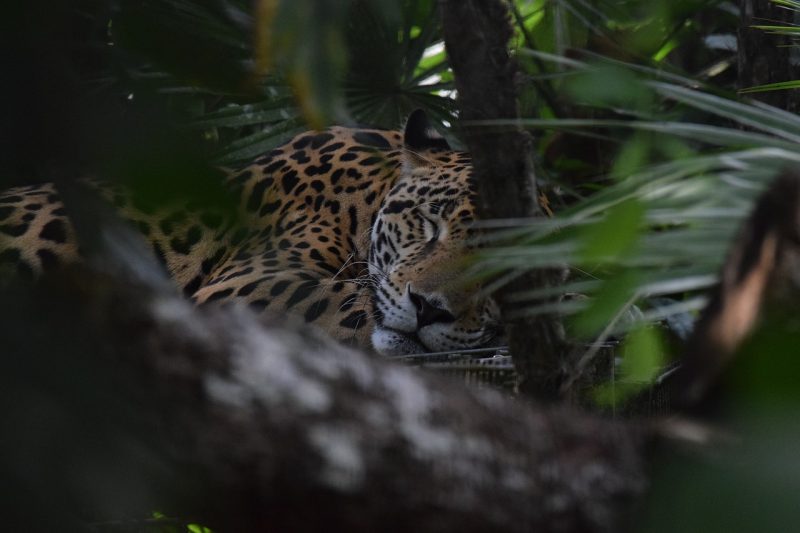 Jaguar Reserve Nature Center is a wildlife sanctuary and jaguar preserve located 25 km from Hopkins (a coastal village). The sanctuary is about 150 square miles of tropical forest. The nature centre houses and cares for injured, sick and orphaned jaguars and other animals. It is the world's only Jaguar preserve.
Jaguar Reserve Nature Centre is located in Cockscomb Wildlife Sanctuary. It is a lush rainforest, home to various animals including the howler monkeys and tapirs. There are a number of trails in the sanctuary.
Belize Travel Tips
Most probably, you don't need a visa to travel to Belize. Citizens of the EU (and many other countries) may enter Belize for a maximum stay of 30, 90 or 180 days, depending on the country.

There's an overnight bus from Cancun to Belize. If you are travelling around the Yucatan peninsula, and if you have time, consider visiting Belize, too!

The best (and cheapest) way to get around Belize is by local bus. It is possible

to rent a car

.

To travel between the islands, use a water taxi. There are also domestic flights operated by Tropic Air.

The best time to visit Belize is during the dry season which is between December and May. 

If you have USD, you do not have to exchange the money for Belize dollars. Businesses in Belize will accept US dollars.