Best places to visit in GHANA
Planning a trip to Ghana and wondering what are the best places to visit in Ghana?
Ghana is a country in West Africa. Being one of the safest destinations in Africa, Ghana is a good country for a first-time visit to Africa. Ghana may not have the most impressive natural landmarks in Africa, but it has a rich history and many fascinating historical sites. Besides the historical sites, Ghana boasts lush rainforests, waterfalls, pretty beaches and vibrant cities.
Ghana is really a wonderful destination to travel to!
So, check out our article to find out what are the best things to do in Ghana!
7 best places to visit in Ghana
Accra & Labadi Beach
Accra is the capital and largest city of Ghana.
Located on the coast, Accra and its surrounding towns boast pretty beaches. 
Ghana indeed has many beautiful beaches. And Labadi Beach in Accra is one of the most popular beaches in the country. As it's a famous beach, it gets busy — it is frequented by locals and tourists alike. If you are looking for a more quiet beach time, check out the beaches outside the city.
Always visit a local market when you are travelling to a new country. Markets are always among the best places to visit as there you can get a feel for local life, try local street food and buy fresh produce. And Accra markets are not an exception. Explore Makola market in Accra. Dominated by female traders, the market offers a wide array of products.
Accra also offers unique experiences to its visitors. Fantasy Coffins of Accra are quite well known among travellers travelling to Ghana. These are unique coffins with, let's say, peculiar designs. Car-shaped coffins, aeroplane-shaped coffins, animal-shaped coffins, beer bottle-shaped coffins, you name it. Visiting a Fantasy Coffin workshop is one of the best things to do in Ghana.
Also do not miss Aburi Botanical Garden. Located some 30 km north of Accra, it is a tranquil park with imposing trees and a relaxed atmosphere. 
Kokrobite
Kokrobite is a town on the Atlantic coast.
The town has a long beach. The close proximity to Accra makes it a popular beach destination for tourists and locals alike. However, it is not as crowded as Labadi beach in Accra. Kokrobite is a great place for relaxing.
Watch traditional fishing boats along the shore. Try local seafood dishes at one of the many beach restaurants. Enjoy live music at one of the local cafes. Shop for souvenirs and crafts at various little shops and vendors.
Cape Coast & Elmina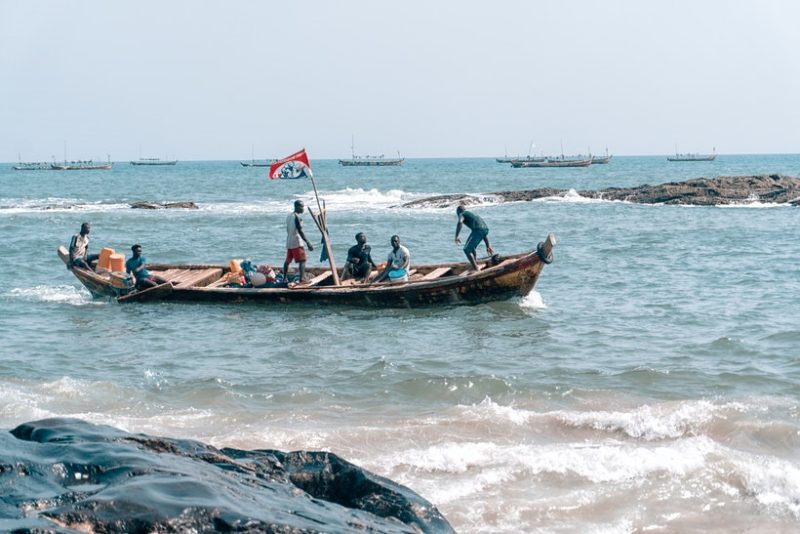 Cape Coast is a coastal city and fishing port.
The city is known for its historic sites, and, unfortunately, for its role in the slave trade.
One of the most famous landmarks in Ghana is Cape Coast Castle. It is a large whitewashed fort built by the Swedish in the 17th century. It was one of the "slave castles" of the area. There is another "slave castle" nearby, Elmina Castle. Both of these castles are very important historical landmarks, and they are a part of the UNESCO World Heritage site named "Forts and Castles, Volta, Greater Accra, Central and Western Regions".
Kakum National Park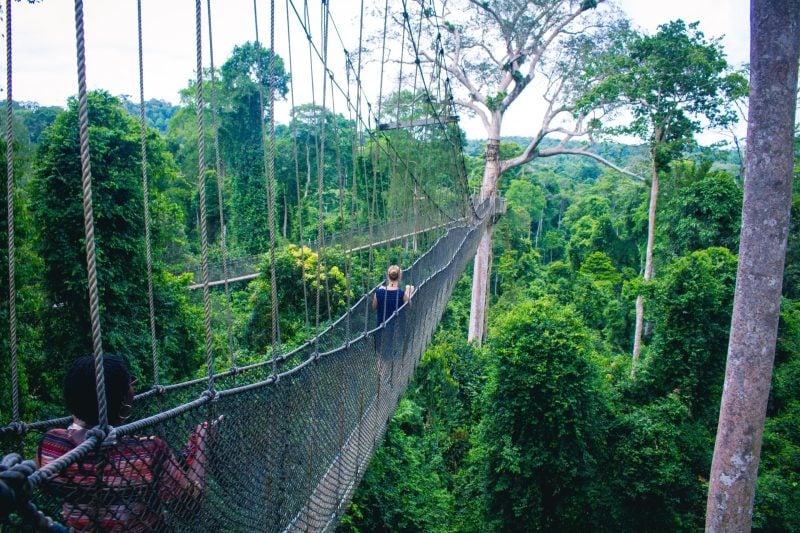 Kakum National Park is a wildlife protected area and one of the best places to visit in Ghana.
The area of the national park is covered with tropical forest which is home to several endangered species such as Diana monkey, yellow-backed duiker, giant bongo antelope and African elephant. Kakum National Park is also home to some 266 bird species, making it an Important Bird Area, recognised by BirdLife International. Several species of hornbill and grey parrot can be spotted in the protected area.
The national park is also known for its canopy walkway, the Kakum Canopy Walk.
Go on an organised tour to see the tropical forest and get a chance to spot its inhabitants.
Larabanga Ancient Mosque & Mole National Park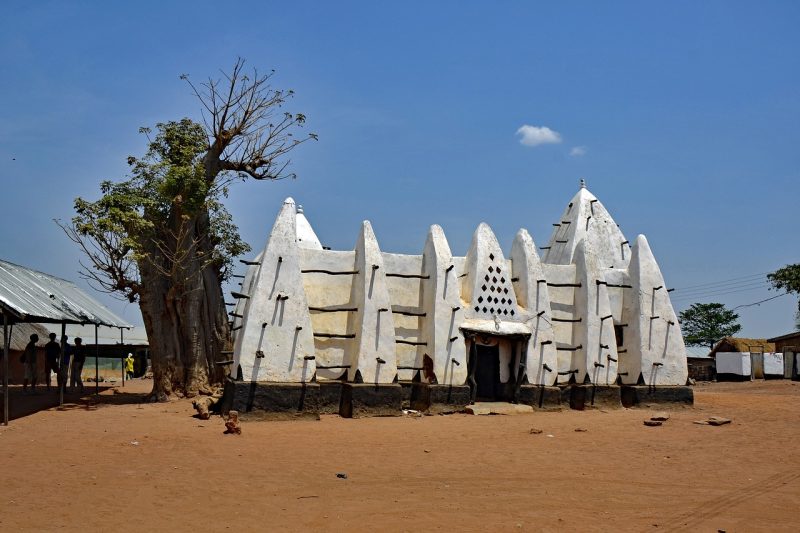 Larabanga Ancient Mosque is an old mosque built in the Sudanese architectural style.
Founded in 1421, it is the oldest mosque in the country and one of the oldest in West Africa. It is often called "the "Mecca of West Africa". The mosque has been restored several times and now it is listed by the World Monuments Fund (WMF) as one of 100 Most Endangered Sites.
If you are visiting the mosque, do not miss Mole National Park which is located nearby. It is the country's largest wildlife refuge with a diversity of species. The park is home to over 90 mammal species, including several large animals such as elephants, hippos, buffalos, and warthogs. Old World monkeys are very common in Mole National Park.
Lake Bosomtwe
Lake Bosomtwe is the only natural lake in Ghana.
Located in an old impact crater, the lake boasts beautiful landscapes. There are several villages near the lake, and the most visited one is Abono. Lake Bosomtwe is sacred to the Ashanti. The lake has become a popular recreational area.
Stay at the Lake Bosomtwe area at least for a few days to explore the different towns of the lake. There are a number of activities you can do in Lake Bosomtwe. Birdwatching, canoeing, hiking, biking and boat cruises. So many activities to choose from!
Wli Waterfalls
Wli Waterfalls are the highest waterfall in Ghana, and one of the highest waterfalls in West Africa.
The waterfalls consist of a series of falls. The Wli waterfalls are located in Agumatsa Mountain Range, which includes Ghana's highest points, Mount Afadja (885 m) and Mount Aduadu (746 m). To get to the waterfalls you'll need to walk through the forest of Agumatsa Wildlife Sanctuary. It's a beautiful protected area where you can spot different species of butterflies, monkeys and birds.
Ghana Travel Tips
You need to obtain a visa before travelling to Ghana.

There is a risk of getting malaria in Ghana. You will need to take anti-malaria tablets for the whole duration of your stay + even some time before and after your trip. Contact your doctor to learn more about antimalarials.

There is a risk of yellow fever in Ghana. A Yellow Fever vaccination certificate is required for all travellers.

Ghana is a relatively safe destination. In fact, it is one of the safest destinations in Africa. However, you must take the usual precautions — do not wander around at night, do not travel after dark, avoid taxis after dark. Non-violent crimes (theft, pickpocketing and tourist scams) are quite common in Ghana, so know how to avoid them.

The best time to travel to Ghana is during the dry season (October through March).

It can be challenging to get from A to B in Ghana. In Ghana, you can use public transport — buses, minivans (tro tro), taxis and motorbike taxis. Public transport is rather confusing and chaotic, but cheap. 

The best places to visit in Ghana you can see renting a car too. But remember that roads in Ghana are not in the best condition… You need an international driving licence to rent a car in Ghana.