Best places to visit in GUATEMALA
Planning a trip to Guatemala and wondering what are the best places to visit in Guatemala?
Guatemala is a compact country in Central America.
It is a wonderful destination, despite its bad reputation. Guatemala is known for its diverse indigenous culture, majestic volcanoes, dense rainforests and ancient Mayan sites. But these are not the only things the country has to offer. There are other amazing experiences you can't miss in Guatemala. Pretty colonial towns, beautiful lakes, bustling markets and laid-back beaches.
Sounds interesting? 
Check out our list of the best things to do in Guatemala for some travel inspiration!
7 best places to visit in Guatemala
Tikal Ruins
Tikal is the ruin of an ancient city located in the rainforest in northern Guatemala.
It is one of the largest urban cities of the pre-Columbian Maya civilization. The city dates back to the 4th century BC, but the highest point of development was in AD 200 — 900.
Now Tikal has been partially restored and is one of the best places to visit in Guatemala. The ancient city comprises the remains of an acropolis, temples, royal palaces, pyramids, residences, administrative buildings and inscribed stone monuments.
Antigua Guatemala
Antigua Guatemala (commonly referred to as just Antigua) is a splendid city in the central highlands of Guatemala.
Founded by the Spanish conquistadors in the early 16th century, it was the capital of Guatemala for some time in the past. The city contains well-preserved Spanish colonial buildings and a number of ruins of colonial churches. Overlooked by three volcanoes and filled with colourful buildings, Antigua is a very picturesque city.
Antigua is a UNESCO World Heritage Site and one of the best places to visit in Guatemala.
Pacaya Volcano
Pacaya is one of the most active volcanoes in Central America.
As the volcano is located not far from Antigua (only about an hour and a half), it is a very popular place to visit for locals and tourists alike. You can hike to the crater of Pacaya, and it's not a difficult hike. Near the top, you can see the lava. You can even roast marshmallows on it! 
The best way to visit Pacaya volcano is to go on a tour from Antigua.
Lake Atitlán
Lake Atitlán is a lake in the Guatemalan Highlands. 
It is the deepest lake in Central America, as well as one of the most beautiful ones. 
The immense lake lies in a crater, created by an eruption of a volcano. The lake is surrounded by villages that are populated by the Mayan people. In these villages, you can still witness the culture and see the traditional dress of the Mayan people. 
Lake Atitlán is home to several towns and villages, with Panajachel being the most important ones (due to the size and infrastructure). Stay at the Lake Atitlán area at least for a few days and explore the different towns of the lake.
Chichicastenango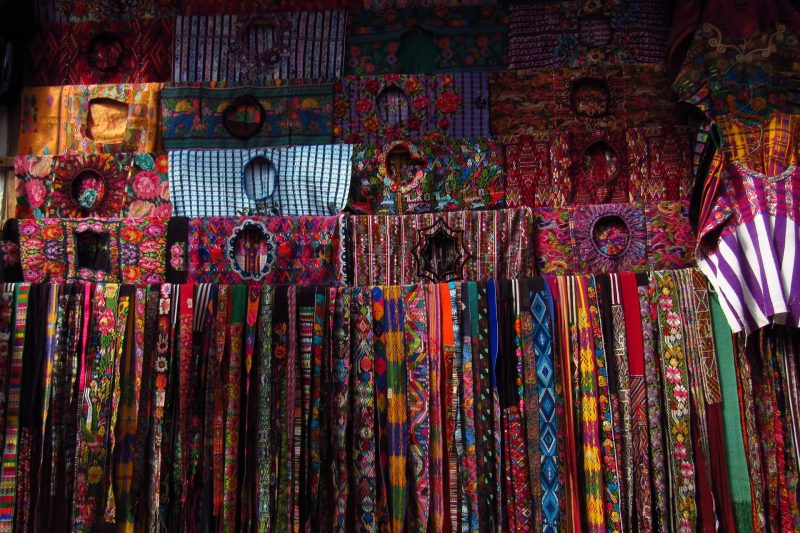 Chichicastenango is a town located 140 km northwest of Guatemala City.
It is a beautiful highland town known for its colourful and bustling market which is open on Thursdays and Sundays. There you can find textiles, colourful fabrics, pottery, ceremonial wooden masks and other crafts, as well as local fruits and vegetables. It's also a great place for trying local foods and snacks and buying souvenirs.
Chichicastenango Market is the largest market in Guatemala and Central America.
Semuc Champey
Semuc Champey is a natural limestone bridge that covers the Cahabón River.
This natural bridge is a series of stepped, turquoise pools, surrounded by jungle. It is one of the best freshwater swimming spots in the country. The surrounding area also offers rafting and caving opportunities.
The best place to get panoramic views of Semuc Champey is from the "El Mirador" viewpoint. You have to hike for about 50 minutes to reach the viewpoint, though.
Monterrico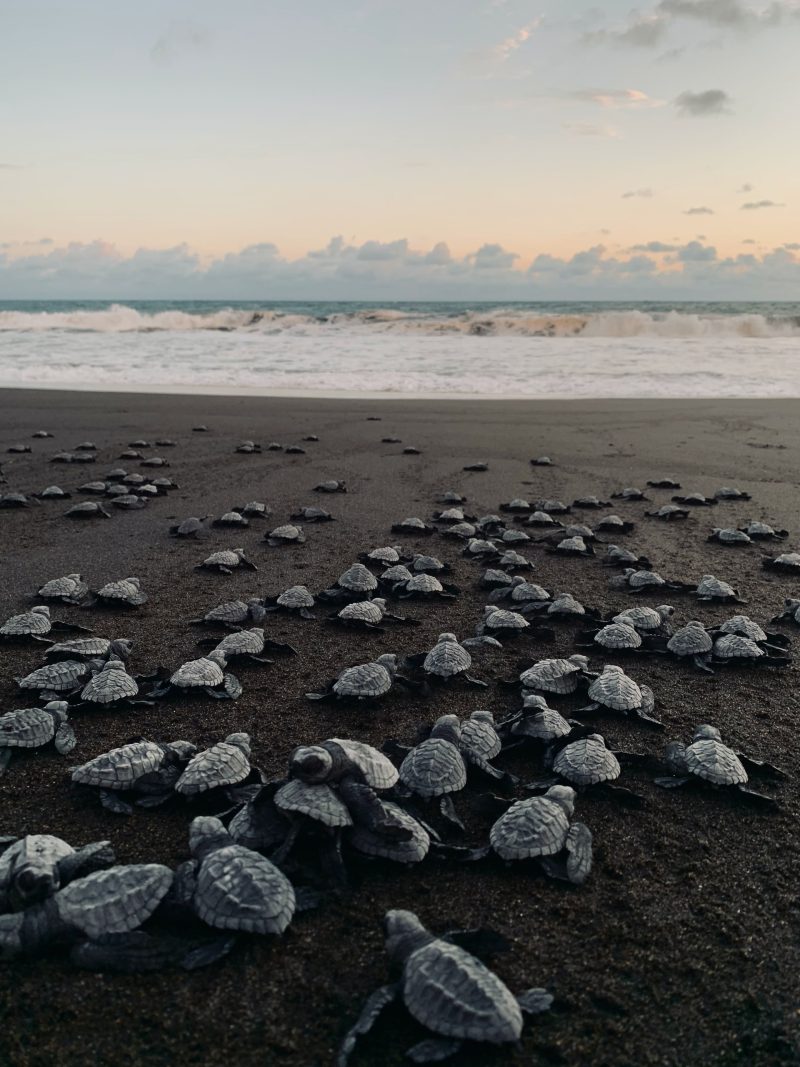 Monterrico is a town on the Pacific coast of Guatemala.
It is a small town known for its volcanic black sand beaches and laid back atmosphere. Monterrico beach is popular among both locals and foreign visitors. In fact, it is the most popular beach in the country.
Visiting Tortugario Monterrico (turtle hatchery) is one of the highlights of Monterrico. Between September and January, visitors can see and participate in the baby turtle release. Besides that, in this turtle hatchery, a number of endangered species of reptiles are raised.
Guatemala travel tips
Nationals of many countries (EU, UK, USA, Russia, etc.) can visit Guatemala without a visa for up to 90 days.

Guatemala has one of the highest rates of violent crime in Latin America. But most visits to Guatemala are incident-free, so the country is somewhat safe for tourists. But travellers still should be cautious. Do your research and only stay in safe areas. Find out which are no-go areas.

Be a sensible traveller. Don't flash your belongings and keep your wits about you. Don't travel alone at night. Also, we advise against walking alone at night. Be wary of pickpockets. Be cautious if approached by a stranger. At night, use Uber or radio cabs. Use ATMs that are attached to banks.

The best time to visit Guatemala is during the dry season which runs from November to April. 

For intercity travel, use private long-distance buses and shuttle buses. For shorter distances, you can use las camionetas ("chicken buses"). 

Guatemala's only scheduled domestic flights are between Guatemala City and Santa Elena (Flores). These flights tend to be expensive.