Best places to visit in KUWAIT
Planning a trip to Kuwait and wondering what are the best places to visit in Kuwait?
Kuwait is a small country in the Middle East. If you have already looked into what to do in Kuwait, you'll probably know that there are not too many tourist attractions. As Kuwait can be explored in just 2-3 days, we recommend you to combine a trip to Kuwait with a trip to some other Gulf Country.
Most people limit themselves to exploring Kuwait City only, but there are a few amazing places beyond the city limits, such as the desert and the famous camel farms.
Check out our list of some of the best things to do in Kuwait!
7 best places to visit in Kuwait
Grand Mosque
The Grand Mosque is the official mosque in Kuwait. 
With an area of 20 000 square metres (total land area — 45 000 sq m), it is the largest mosque in Kuwait. The Grand Mosque is often considered to be one of the most beautiful mosques in the Middle East. It boasts marble detailing, mosaics, chandeliers imported from Europe and an impressive golden central dome.
The mosque offers free guided tours during weekdays.
Souk Al-Mubarakiya
Souk Al-Mubarakiya is a traditional souk (market) and one of the best places to visit in Kuwait.
As it is at least 200 years old, Souk Al-Mubarakiya is one of the oldest souks in Kuwait.
This market is huge! A part of it is indoors, and the other part is an outdoor area. In Souk Al-Mubarakiya, you can find basically everything — from food to clothes. Shop for spices, Persian carpets, Arab antiques, traditional costumes, souvenirs, perfumes, jewellery, traditional handicrafts, dried fruits, sweets, and try local food. In the market, you can also find fresh produce.
Kuwait Towers
The Kuwait Towers are a group of three towers, with the tallest being 187 m-tall.
The towers are a symbol of modern Kuwait and a major tourist attraction. There's a 360-degree viewing deck with a rotating floor at 120 m and a restaurant at 82 m.
Al Shaheed Park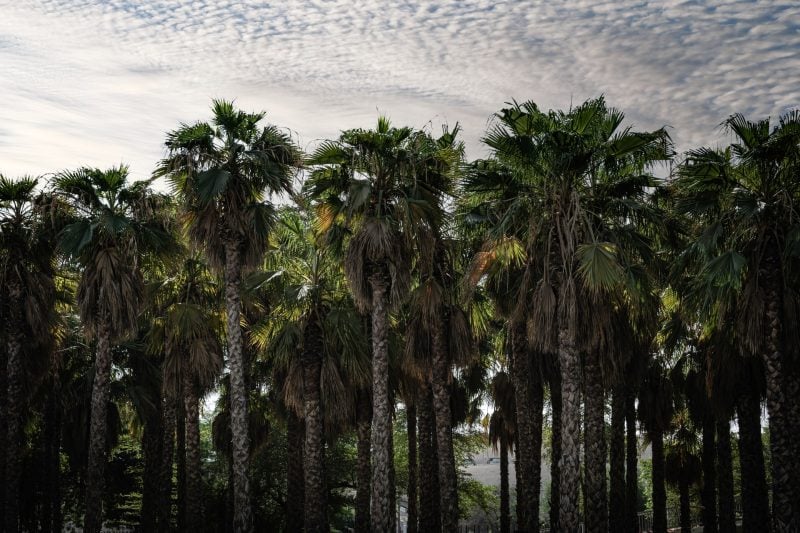 Al Shaheed Park is the largest park in Kuwait.
Park is unique — it has one of the largest over structure green roofs in the world, and it is the largest green roof project in the Arab world.
The park is known for its cutting-edge architecture and its gardens. In the park, you'll find different kinds of gardens, numerous walkways and jogging tracks, as well as outdoor sculptures. Al Shaheed Park boasts cafes, restaurants, two museums, outdoor theatres and exhibition areas as well as an illuminated fountain.
The desert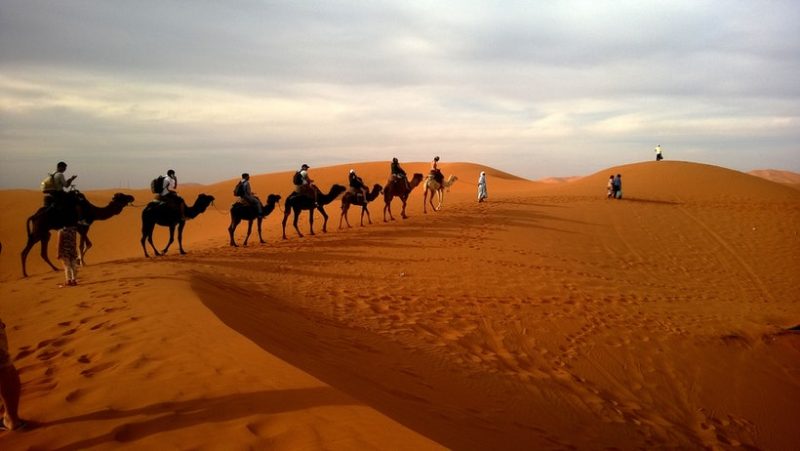 As Kuwait's area consists mostly of desert, it would be such a pity to miss it!
The best way to experience the desert is to join a desert safari. It can be booked at your hotel or through a local travel agency.
Travel agencies offer camel riding in the Kuwait desert, spending the night at a desert camp, dune bashing on a 4×4 vehicle, sand-boarding, quad-biking, traditional Arab music and dance shows, as well as other activities. Choose the excursion that appeals to you most!
Desert tours are seasonal — they are held during winter and spring (when it's cooler).
Undoubtedly, the desert is one of the best places to visit in Kuwait.
Camel Farms & Markets
Visiting a camel farm is one of the best things to do in Kuwait. 
Camel farms of Kuwait are located in the desert. The farms offer the opportunity to see camel auctions and learn more about these wonderful animals. Some offer camel rides, too.
Kuwait Camel Racing Club
Camel racing is unique to Middle Eastern countries, and you can experience it also in Kuwait. 
Camels nowadays are not ridden by humans, but by remote-controlled robot jockeys. And this fact makes camel racing a unique sight. The races take place every Saturday afternoon (about 1:00 PM) throughout autumn to early spring. 
Kuwait travel tips
Kuwait has a hot and dry arid climate with long and super hot summers. So the best time to visit Kuwait is during the autumn, winter and early spring.

Both men and women must dress modestly when visiting Kuwait. Do not wear tight-fitting and revealing clothing.

Women must make sure their knees and shoulders are covered, and the clothes must not be tight. Pack lightweight, loose-fitting clothing. Regular T-shirts that are not tight can be worn too. Female travellers don't need to cover their heads with a shawl, only when visiting mosques. Female travellers may wear bikinis and swimming suits only at some Western hotels. If a female traveller is visiting a public beach in Kuwait, she must wear a burkini if she wants to swim.

Loose trousers and a long sleeve shirt is the best option for a male tourist. T-shirts can be worn as well.

Alcohol is illegal in Kuwait.

You can travel around Kuwait using a taxi (expensive; not all drivers use meters) or the local bus (Kuwait Public Transport Company and The City Bus).