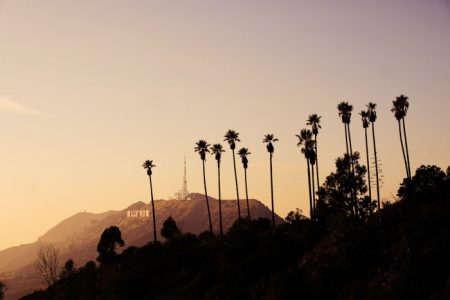 Best Places to Visit in LOS ANGELES (USA)
Planning a trip to L.A., and wondering what are the best places to visit in Los Angeles?
Los Angeles, often known by its initials L.A., is the largest city in California. Often called "the Entertainment Capital of the World", it boasts world-renowned attractions, great beaches, theme parks, and a plethora of museums.
The city is home to some of the world's best-known landmarks such as the Hollywood Sign, the Hollywood Walk of Fame, Griffith Observatory, Santa Monica Pier, Venice Beach and many more. Visiting Los Angeles is one of the best things to do on the West Coast of the USA.
But what to see in Los Angeles?
Check out this article to find out.
7 Best Places to Visit in Los Angeles
Hollywood
Located at the foot of the Santa Monica Mountains, Hollywood is home to the city's most iconic tourist sites. And it's understandable why Hollywood is one of the first places tourists visit when they arrive in L.A.
What to do in Hollywood?
Explore extravagant buildings on Hollywood Boulevard, such as Chinese and Egyptian Theatres. Get a glimpse of the iconic Hollywood Sign.
Stroll along the Hollywood Walk of Fame. It is a sidewalk that runs along Hollywood Boulevard for more than 10 blocks. There are around 2,700 stars embedded in the sidewalk bearing the names of actors, musicians, directors, producers and other important people in the entertainment industry.
Go on a tour of the Warner Brothers studio, one of the oldest film studios in the world, to see behind the scenes of the film industry. 
Visit Universal Studios Hollywood. It comprises a theme park and a film studio. Featuring several areas and interesting attractions, Universal Studios is one of the best theme parks in the United States and is one of the best places to visit in Los Angeles with kids.
Take a tour of Universal Studios film studio to see some of the former movie sets.
Catalina Island
Catalina Island is a small rocky island located off the coast near L.A.
If you want to escape the hustle and bustle of Los Angeles, Catalina Island is the place to go.
This scenic island is known for its pretty beaches and diving spots. Relaxing on a beach, diving, golfing, hiking and biking are some of the most popular things to do in Catalina. Kayaking and glass bottom boat tours are very popular too. 
Visiting Catalina Island is one of the best things to do in Los Angeles with kids.
Griffith Park & Hollywood Sign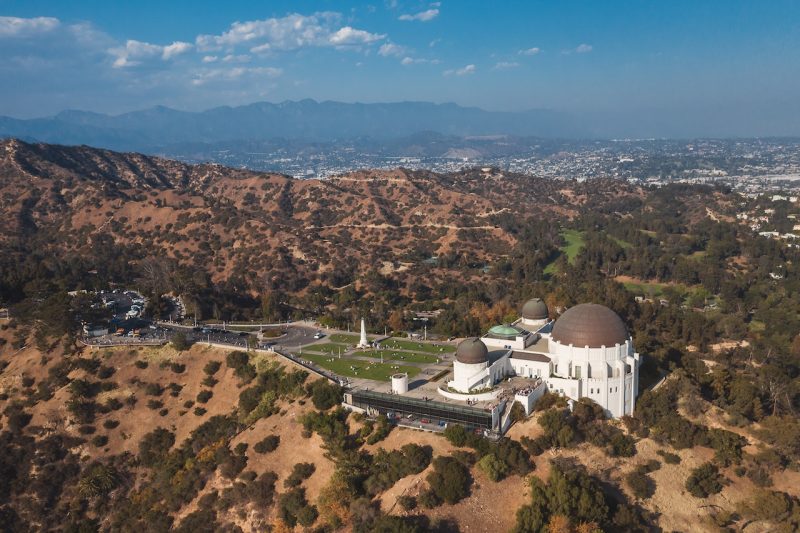 Griffith Park is a municipal park located in the Santa Monica Mountains.
It is one of the most famous municipal parks in the United States, but it is wilder and more rugged than other popular parks of the country.
Griffith Park is a very popular place for walks and hiking. The park offers great views of Downtown L.A. and features some of the best attractions in Los Angeles such as the Griffith Observatory and Los Angeles Zoo.
The Griffith Observatory is the most-visited public observatory in the world, and it offers a few great tourist attractions.
The park offers a number of walking trails. Including a trail to the Hollywood Sign, the most iconic landmark in L.A.
The Getty Centre 
The Getty Centre is an art museum and one of the best places to visit in Los Angeles.
The centre comprises impressive buildings and pavilions containing a large collection of pre-20th-century European art (paintings, sculptures, manuscripts and photographs). 
Besides the art, the Getty Centre boasts a number of courtyards, sculptured gardens and fountains that are aesthetically pleasing and impressive. Do not miss Robert Irwin's Central Garden and the Cactus Garden. 
Admission is free, but you need to book a time slot prior to your visit. 
Santa Monica & Venice
Santa Monica and Venice are among the most iconic areas in L.A.
Both are known for their beaches, and lively, buzzing atmosphere. Santa Monica has a historic pier which is home to an amusement park and aquarium. Venice is also known for its canals (hence the name), colourful murals and street performers. 
Malibu
Many don't venture away from the beaches of Venice and Santa Monica.
But you should! Because the best beaches are located a bit further away from the city. One of the best L.A. areas for beaches is Malibu.
Reachable by bus (if you don't have a car) from Santa Monica, Malibu is a great place to visit. It offers peaceful stretches of sand, some of them backed by impressive rock outcroppings.
The best beaches in Malibu are:
Point Dume State Beach;

El Matador State Beach;

Zuma Beach; 

Westward Beach.
Joshua Tree National Park, California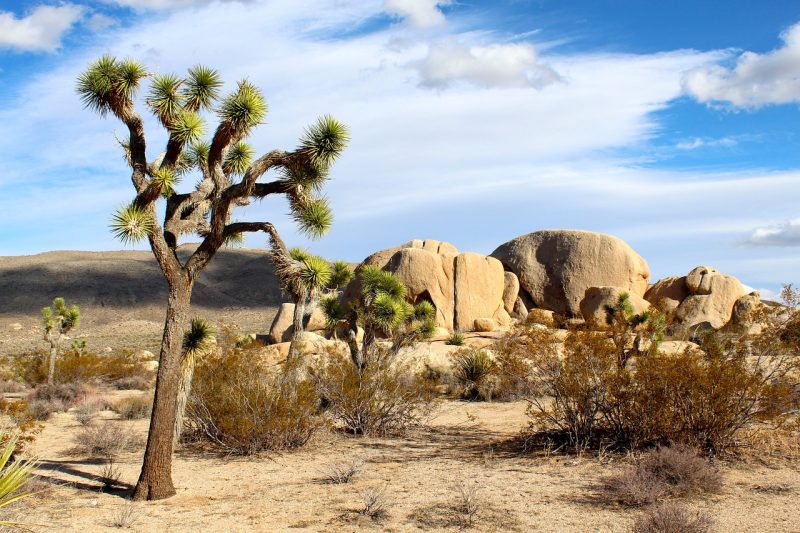 Located a 2-hour drive away from Los Angeles, Joshua Tree National Park is a must when visiting the city.
The National Park is known for its signature Joshua trees (hence the name) and lunar landscape with giant boulders and unique geologic formations. Joshua trees are desert plants, native to the Mojave Desert, the driest desert in North America.
The national park boasts numerous, well-maintained hiking trails and stunning campgrounds. One of the most popular hikes in the area is the relatively easy and scenic Hidden Valley Nature Trail. The trail is surrounded by large boulders and hills and is only one mile (1.6 km) long. So, it's suitable for most people.
Avid hikers will have plenty of options too, as there are a number of longer routes. 
What else there is to see in Joshua Tree National Park?
Key's View offers sweeping views of the desert, valley and the surrounding mountains. 
Located not far from Key's View, the Lost Horse Mine is a historic gold and silver mine in the Lost Horse Valley. It produced gold and silver which today would be worth approximately $5 million.
Cholla Cactus Garden is another fascinating sight in the national park, especially if you are interested in plants. This cactus-filled area has a loop walking trail.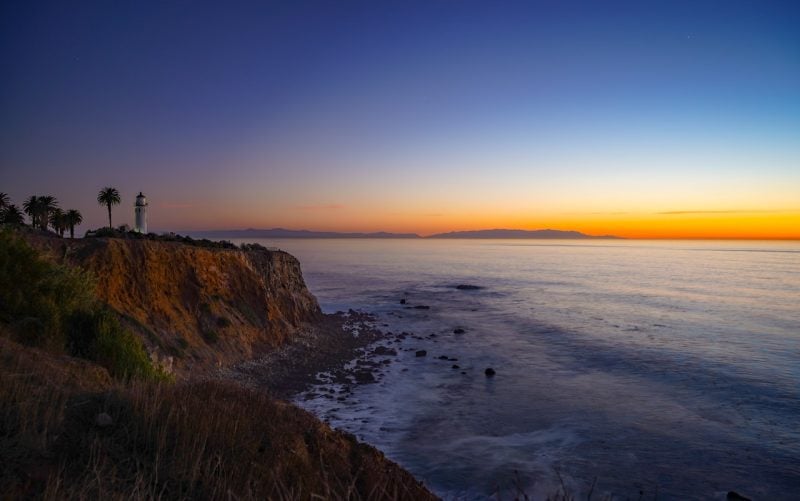 Los Angeles Travel Tips
Citizens of many European countries don't need a visa to travel to the U.S. but are required to obtain an electronic authorisation (ESTA).

There is only one official ESTA website and that is

 https://esta.cbp.dhs.gov

. The official fee is $14.00. All other sites offering this service are third-party, and they charge extra. 

Tipping is customary in the United States. A tip of 18 or 20% on top of the bill is standard.

The power plugs and sockets are of type A and B. The standard voltage is 120 V. Buy a travel adapter and converter to safely use your electronics.

Do not limit yourself to visiting only Los Angeles. Rent a car and explore the county. 

Even though L.A. is not known as a bike-friendly destination, parts of it can be explored on a bike. There are a few bike paths, including the 26-mile-long one in Santa Monica that runs along the waterfront and boasts views of the Pacific Ocean. 

Evenings and nights are cool in L.A. Even in the summer. So pack something warm.

Los Angeles doesn't have a city centre. The city is very spread out. So, don't expect to be able to explore the city on foot.

The best way to get around L.A. is by rental car. But it can be done using public transport too. In fact, the public transport network in L.A. is considered to be 'one of the best public transportation networks in the United States. 

There are a few great free museums in Los Angeles. Make sure you visit at least one of them.