Best places to visit in MAURITIUS
Planning a trip to Mauritius and wondering what are the best places to visit in Mauritius?
Mauritius is an Indian Ocean island nation. It is a melting pot of cultures and traditions and has a lot to offer to its visitors. But mostly it's the palm-lined beaches, crystal clear waters, reefs and beautiful scenery that attracts visitors from all around the world.
Sounds wonderful? Do you want to come and explore?
Check out our article about the best things to do in Mauritius for some travel inspiration.
7 best places to visit in Mauritius
Le Morne Brabant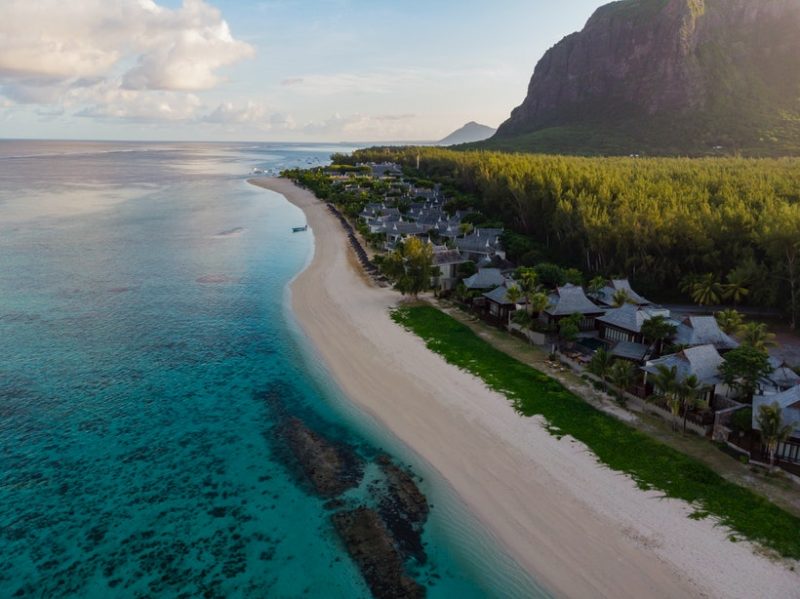 Le Morne Brabant is a peninsula surrounded by a picturesque lagoon.
It is a UNESCO World Heritage Site and one of the best places to visit in Mauritius. The peninsula is dominated by a 556 m-tall rocky mountain that offers a scenic and challenging climb to the top with sweeping views. You can enjoy a beautiful view of the Le Morne peninsula from one of the viewpoints of Ebony Forest Chamarel.
With views of the majestic Le Morne Mountain, Le Morne Public Beach is one of the best beaches in Mauritius. It is a 4 km-long stretch of white sand with clear waters. At the southern tip of the peninsula, there's a famous kitesurfing spot called "One Eye".
Port Louis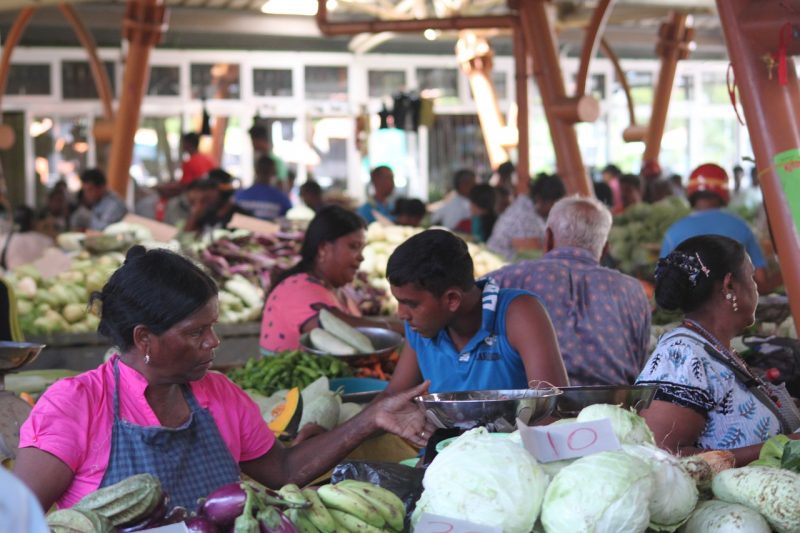 Port Louis is the capital city of Mauritius. 
It is the economic, cultural and political centre of Mauritius, as well as its most populous city. There are several interesting places to visit in the capital of Mauritius.
The most important landmark in the city is Aapravasi Ghat — the second of the two UNESCO World Heritage Sites in Mauritius. Aapravasi Ghat is the remains of the immigration centre that was built by the British to import labourers mostly from India. Because of that, now 68% of the population is of Indian ancestry. 
Do not miss the Port Louis Central Market, a popular and bustling open-air market. It's a great place where you can get a feel for local life, try local street food and buy fresh produce. You will also find a wide range of spices and souvenirs. But it's not advised to shop for spices and souvenirs here, as the prices are sky-high, even after haggling.
After exploring the city, head to Le Pouce mountain which is located not far from Port Louis. At 812 m, it is the third highest mountain in Mauritius. It is accessible by scenic trails and features a summit that resembles a thumb.
Chamarel & Black River Gorges National Park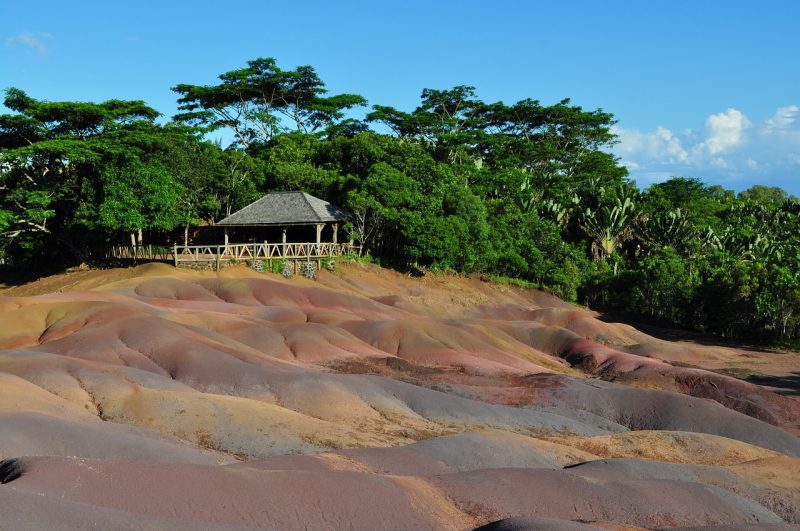 Located not far from Le Morne Brabant, Chamarel is a popular destination for tourists.
Offering a variety of tourist attractions, Chamarel is one of the best places to visit in Mauritius.
Explore Chamarel Seven Colored Earth Geopark, a geological formation that features sand dunes with sand of seven distinct colours. Visit Chamarel Waterfall — an 83 m-tall, a picturesque waterfall formed by the Saint Deors River. Ebony Forest Reserve Chamarel offers scenic hiking trails and beautiful views of the nearby Le Morne Brabant peninsula.
Go on a hiking trip in Black River Gorges National Park which is located not far from Chamarel. Enjoy the views at its several viewpoints — Macchabée Viewpoint, Alexandra Falls Lookout, Black River Gorge Viewpoint. Hike Piton de la Petite Rivière Noire, the highest mountain on the island.
Grand Bassin
Grand Bassin (Ganga Talao) is a sacred crater lake in the heart of Mauritius.
It is a place for Hindus to meditate, pray and make offerings. Along Grand Bassin, there are temples dedicated to various Hindu gods: Lord Shiva, Lord Hanuman, Goddess Ganga, and Lord Ganesh.
There are several huge Hindu sculptures as well. Mangal Mahadev is a 33 m tall statue of Shiva with his trident, located at the entrance of Grand Bassin. There's also a large statue of an important Hindu deity, Durga Mata.
Flic En Flac Beach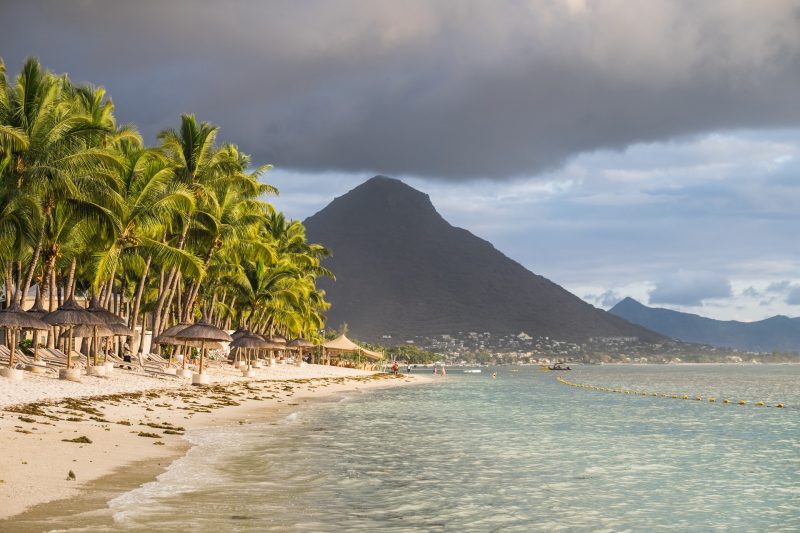 Flic En Flac Beach is one of the most beautiful beaches in Mauritius.
With a length of some 10 km, it is one of the longest beaches on the island, and one of the best places to visit in Mauritius. Thanks to calm and shallow waters, Flic En Flac Beach is perfect for snorkelling. It is also one of the best dive sites on the island, especially for beginner divers.
What else? You can enjoy tasty local food at various restaurants and cafes on the beach.
Ile aux Cerfs
Ile aux Cerfs is a beautiful island near the east coast of Mauritius. 
It is famous for its sandy beaches which are among the best in Mauritius.
The small island is known as a popular water-sports spot. There you can enjoy speedboat rides, parasailing, banana boat rides and other fun activities. Snorkelling is also good on Ile aux Cerfs.
The best golf course in Mauritius is located in Ile aux Cerfs.
Trou aux Biches Beach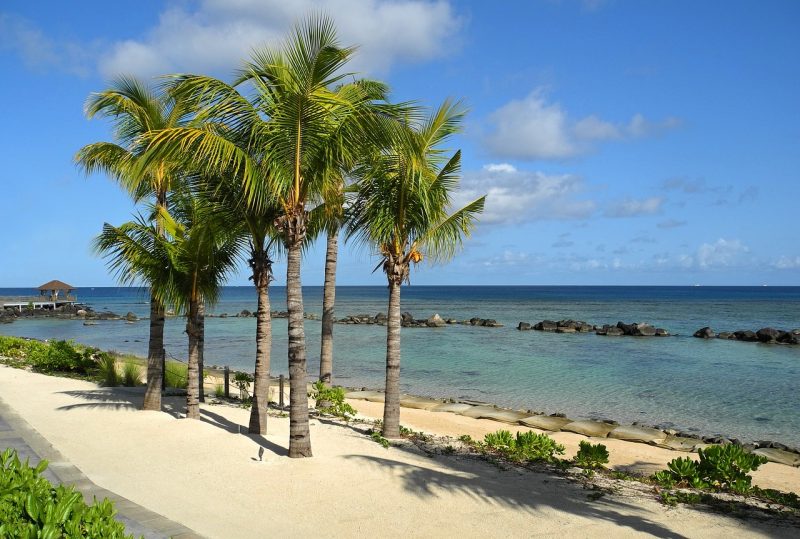 Trou aux Biches Beach is one of the best beaches in Mauritius.
It is 2 km long, with ideal conditions for swimming and snorkelling. Lined with palm and casuarina trees, this idyllic beach with clear turquoise waters is also a popular sunset spot.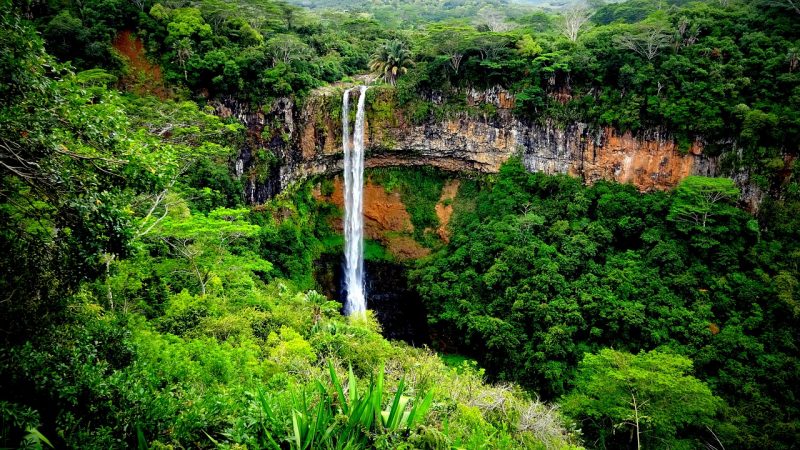 Mauritius travel tips
Nationals of many countries (EU, UK, USA, Canada, Australia, Russia, etc.) may stay in Mauritius without a visa for 90 days. 

The best time to visit Mauritius is during the dry season which runs from May to November. The most popular time to visit Mauritius, however, is in September, October and November when the island experiences sunny and dry weather and warm temperatures.

Is Mauritius safe? Yes! In fact, it is considered to be one of the safest destinations in Africa.

Mauritius uses European and British electricity plugs. Hotels and guesthouses in Mauritius can have either of the two. Bring an adapter, just in case.

If you want to have flexibility, the best way to get around Mauritius is by car. Just remember that they drive on the left side of the road, just like in the UK.

If you are on a budget, you can travel around the island on local buses.