Best places to visit in SAUDI ARABIA
Have you heard that Saudi Arabia has opened to tourists? What are the best places to visit in Saudi Arabia for a more exciting trip to this wonderful country?
Saudi Arabia is the largest and most populous country in the Arabian Peninsula. It is also the largest country in the Middle East by land area. 
Most of Saudi Arabia is desert, and it is home to the largest oasis in the world. However, the country is known for its strict regulations and application of Sharia law. Only recently Saudi Arabia opened to leisure tourists, but before that people could only travel to the country for work, business and pilgrimage purposes. 
Saudi Arabia is a wonderful country that has a lot to offer — its rich culture and heritage, ancient towns, desert with unique rock formations, rock-cut tombs with elaborately ornamented façades, beautiful natural wonders and even pristine beaches.
Sounds like a wonderful place to visit? 
So, check out our list of the best things to do in Saudi Arabia for some travel inspiration!
7 best places to visit in Saudi Arabia
Al-'Ula & Hegra
Al-'Ula is an ancient city in the desert and a popular tourist destination in Saudi Arabia.
Definitely plan a visit to the Old Town of Al-'Ula! It has ancient markets, mosques, castles and other buildings that are about seven centuries old. The oldest building in the Old Town is Musa Bin Nusayr Castle.
Do not miss the rock formations, e.g., Elephant Rock, Face Rock, Rainbow Rock and others. They all are situated in the desert around Al-'Ula, some closer, some further from the city.
What else? Situated 20 km north of the town of Al-'Ula, Hegra is the most well-known site in the area and one of the best places to visit in Saudi Arabia. It is Saudi Arabia's first UNESCO World Heritage Site. Hegra is a well-preserved remain of a Nabataea settlement. It is popular with its 131 monumental rock-cut tombs with elaborately ornamented façades.
Explore Al-'Ula Oasis as well by taking the Al-'Ula Oasis trail. The trailhead starts near Dadan, one of the ancient cities
Edge of the World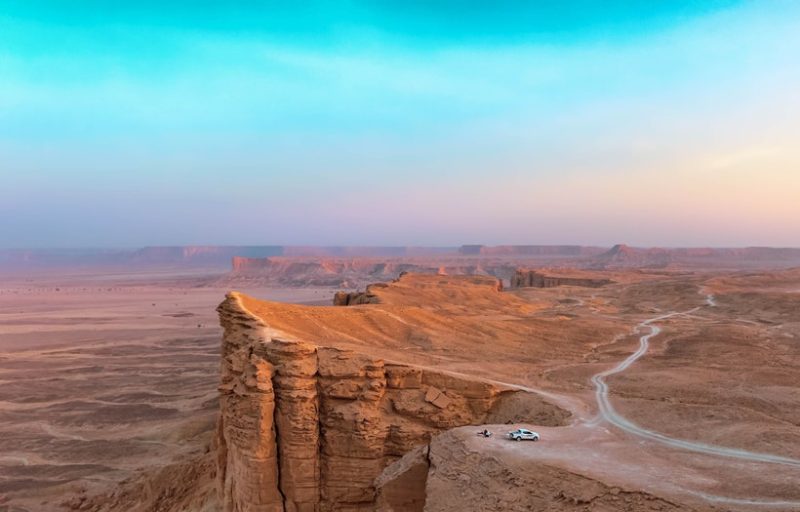 The Edge of the World (Jebel Fihrayn) is one of the most famous destinations in the country.
Jebel Fihrayn is a set of 300-m-high cliffs which offer an uninterrupted view of the surrounding plains and the horizon. The cliffs got their name because of this view. Standing atop the cliffs you'll indeed feel like standing at the edge of the world.
At-Turaif District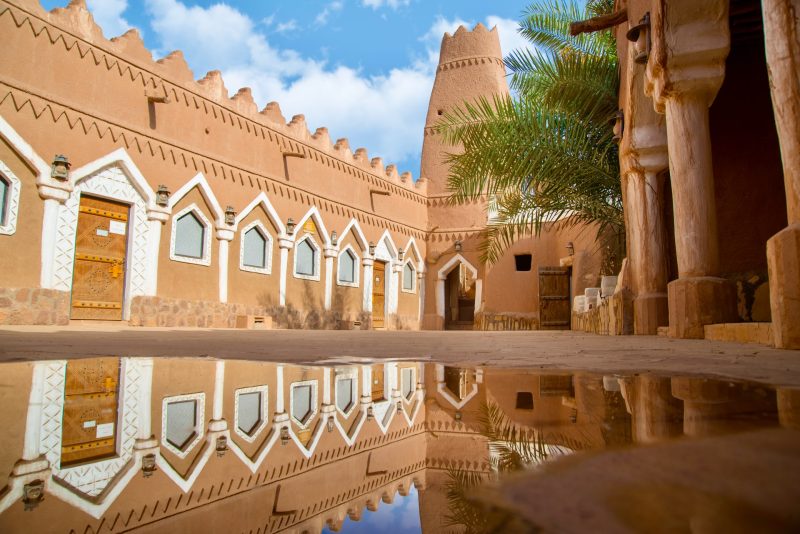 At-Turaif is a historic district and open-air museum located some 15 km from Riyadh centre.
Founded in the 15th, the district is known for its numerous palaces, ancient mosques and unique clay-mud buildings with triangular openings in the façade. At-Turaif District is regarded as one of the most important historical sites in Saudi Arabia. By the way, it was the first capital of the Saudi State, from 1744 to 1818. It was also the original home of the Saudi royal family.
Now At-Turaif District is a UNESCO World Heritage Site and one of the best places to visit in Saudi Arabia.
Jeddah
Jeddah is the second-largest city and the commercial centre of Saudi Arabia.
The historic centre of Jeddah, called Al-Balad, is a UNESCO World Heritage site. It is filled with old structures and marvellous historic buildings, some of them 500 years old.
There are several interesting museums you can visit in Jeddah. Some of them are set in extremely beautiful buildings, especially Al Tayebat City Museum and Al Nassif House. Do not miss Al Rahma Mosque — the famous floating mosque of Jeddah.
If you miss the sun and sea, then visit one of the city's private beaches. Silver Sands is the most popular for ex-pats and tourists. Silver Sands Beach is a stretch of white sand with clear blue waters and palm trees. Amenities are OK — there you'll find sunbeds, showers, bathrooms and changing rooms. There's a cafe as well. Western clothing (and bikinis) are allowed. The entry fee is quite high (around 40 USD), and the entrance is not conspicuous, and you can easily miss it. You need to bring a passport. The guards will keep your passport, and issue you a day pass.
Wadi Tayyib Al Ism
Wadi Tayyib Al Ism (also called "The Valley of Moses") is one of the most beautiful natural wonders in Saudi Arabia.
It is a spectacularly deep canyon that opens out to the beach on the coast of the Red Sea.
It is possible to hike the length of Wadi Tayyib Al Ism. Hike through the valley surrounded by 600-metre-high granite cliffs that fall into the Gulf of Aqaba. Enjoy the beautiful views of the unique oasis with a stream of crystal-clear water and numerous palm trees.
Umluj
Umluj is a seaside town on the coast of the Red Sea.
The town is a gateway to the surrounding islands where pretty, unspoilt beaches can be found. In total, there are 104 little islands. Often called the "Maldives of Saudi Arabia", Umluj is one of the best places to visit in Saudi Arabia, especially if you love beaches.
With white fluffy sands, crystal clear waters and a serene atmosphere, Umluj islands are great for relaxation, fishing trips, boat tours, and water sports. As the Red Sea has some of the best and most beautiful corals in the world, Umluj is a fantastic place for diving and snorkelling. In the waters around Umluj, you can spot sea turtles, dugongs, dolphins, beautiful corals and plenty of colourful fish.
If you are travelling to Umluj, do not miss Harrat al Unayyir, an impressive lava field with craters and volcanic cones.
Asir Mountains
The Asir Mountains is a mountainous region running parallel to the Red Sea.
These mountains are a part of the Sarawat Mountain range. The area consists of rocky mountains, plains, and valleys, and offers several hiking trails. With an elevation of 3133 metres, Jabal Sawdah is the highest point in the Asir Mountains and Saudi Arabia.
If you want to travel to the Asir Mountains, head to Abha which is the gateway to these mountains. With an elevation of 2270, Abha has a nice, moderate climate.
Saudi Arabia travel tips
You need a visa to travel to Saudi Arabia. Citizens of many countries can apply for an eVisa online.

The best time to visit Saudi Arabia is from October to March.

The best way to explore the country is to rent a car.

Travelling by plane is the best way to get from one main city to another. There are also multiple bus and train routes in Saudi Arabia.

Public spaces may be segregated. Entrances and seating areas are separate for men and women.

Public display of affection is not allowed in the country. 

Both men and women must dress modestly when visiting Saudi Arabia. Do not wear tight-fitting and revealing clothing.

Women should wear a long skirt, maxi dress or loose-fitting trousers. Blouses should be loose-fitting too, with long sleeves and high necklines. Men must cover their shoulders and legs. Loose trousers and a long sleeve shirt is the best option for a male tourist. Shorts and tank tops are not permitted, but you can wear them in resort pool areas and Western compounds. 

Women are not required to wear an abaya anymore. The headscarf is also not compulsory for women, but in some places, it may be still required. Definitely pack one and carry it with you.

Drink Alcohol is illegal in Saudi Arabia.

Female travellers may wear bikinis and swimming suits at some private beach resorts, private pools and western compounds. If a female traveller is visiting a public beach in Saudi Arabia, then she must wear a burkini if she wants to swim.