LAST MINUTE! One-way flights from Katowice, Poland to Dominican Republic for €170
Cheap one-way flights from Katowice to the Dominican Republic for €170 by LOT (Rainbow Tours)! Find the cheapest flights from Poland to Puerto Plata, Dominican Republic and book your ticket at the best price! Tickets cost 170 EUR one-way / 799 PLN.
Curious about the best places to visit in Dominican Republic? Even though so many people travel to the Dominican Republic on package tours, there's definitely more to the Dominican Republic than the sun and the sea. Make sure you get away from the resort you are staying at! You'll find plenty of amazing places in this country. The Dominican Republic indeed has a lot to offer to its visitors! Colonial neighbourhoods, dramatic limestone caves, stunning waterfalls, biodiverse national parks — all of this and even more await you! But where to start? What are the best places to visit in the Dominican Republic? To help you with the task of planning your trip to this amazing country, we've created a list of some of the best places to see in the Dominican Republic.
Dominican Republic
The Dominican Republic is a beautiful Caribbean country with stunning beaches, historic cities, and natural wonders. Here are some of the best places to visit in the Dominican Republic:
Punta Cana: This resort town on the eastern coast of the Dominican Republic is famous for its beautiful beaches, turquoise waters, and all-inclusive resorts.
Santo Domingo: The capital of the Dominican Republic is the oldest city in the New World and is a UNESCO World Heritage Site. It has a rich history, beautiful colonial architecture, and excellent museums.
Samaná Peninsula: Located on the northeastern coast of the Dominican Republic, the Samaná Peninsula is known for its beautiful beaches, lush mountains, and whale watching.
La Romana: This city on the southeastern coast of the Dominican Republic is known for its beautiful beaches, golf courses, and luxury resorts.
Puerto Plata: Located on the northern coast of the Dominican Republic, Puerto Plata is known for its beaches, historic buildings, and a cable car ride to the top of Mount Isabel de Torres.
Jarabacoa: This mountain town in the centre of the Dominican Republic is known for its stunning natural beauty, including waterfalls, rivers, and hiking trails.
Bayahibe: This small fishing village on the southeastern coast of the Dominican Republic is known for its beautiful beaches, clear waters, and excellent snorkelling and diving opportunities.
Cabarete: Located on the northern coast of the Dominican Republic, Cabarete is a popular destination for water sports enthusiasts, with excellent kiteboarding and windsurfing opportunities.
Las Terrenas: This beach town on the northeastern coast of the Dominican Republic is known for its beautiful beaches, lively nightlife, and excellent restaurants.
Boca Chica: This beach town near Santo Domingo is popular with locals and tourists alike, known for its clear waters, vibrant atmosphere, and excellent seafood restaurants.
Route:
Katowice – Puerto Plata
Travel dates: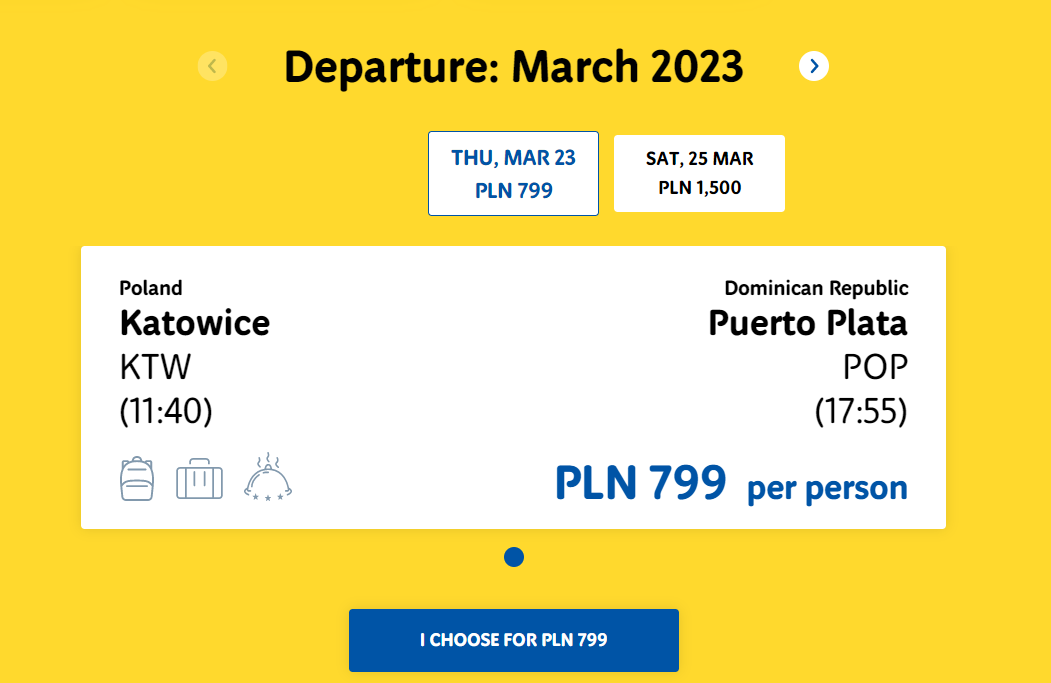 Where to book:
Visit RAINBOW TOURS
Baggage policy:
Checked baggage + Hand baggage + Meals are included!
FOLLOW US ON SOCIAL MEDIA:

Keep following TravelFree.info blog and LIKE our Facebook page, Twitter page, Telegram
!! IMPORTANT !! We have created a Facebook group to get only the hottest travel deals and error fares. Join now! After that, you are welcome to discuss topics about travelling! 
Do not miss the next TRAVEL DEAL! SIGN UP HERE and get exclusive travel offers to your email box.
Accommodation:
Agoda is transforming travel for millions of customers across the globe. Part of Booking Holdings, Agoda is one of the world's largest online travel accommodation platforms with a network of over 2,000,000 vacation rentals and hotels worldwide.
Cancelled or delayed flight?
If your flight is cancelled or delayed by 3+ hours, you may get a refund of up to €600. Check it out at SkyCop.
Tours and excursions:
Do not have time to think about accommodation and tours, but have you heard about Tourradar? Multi-day tours to every part of the world, for example, Safaris, Treks, Coach trips, Cruises, White Water Rafting, Mountain Biking, Sailing, Kayaking, Overland Trips and many more.
Have a look at Trip Advisor as well when planning your holiday to find out what's hot and what's not when it comes to all the local attractions.
Car rental:
You can find the best car rental prices at AutoEurope.com.
For over 60 years, Auto Europe has been a leader in worldwide car rental services and helped over 10 million travellers find the best options when travelling abroad. Through long-term relationships with top suppliers, for example, Hertz, Avis, Enterprise, Europcar, National, Budget, Dollar, Buchbinder and Peugeot AutoEurope offer travellers the best rates at 20,000 pickup locations in over 180 countries worldwide.
Insurance:
Worldwide travel medical insurance for Nomads. Only from $37 / 4 weeks worldwide, affordable travel medical insurance for anyone, especially for long-term travellers and digital nomads.
Save money with a Free Debit card:
Free Debit card by Revolut, N26, Monese or Transferwise, etc. with no fees? Sounds too good to be true, but believe it or not, this exists already for years. This should help protect your pocket. All these cards are great choices for international travellers, get your FREE card: https://travelfree.info/best-free-debit-cards-for-travellers/
CURVE
. Manage all of your bank accounts from one smart card using an app.
 M

ake your first transaction, after that y

ou can enjoy £5 absolutely free with the Curve discount when 
you 
sign up to Curve. Do not miss a great opportunity!
Delivery
Wolt – is an online food ordering and delivery service that takes orders via a mobile app. It was founded in 2014 in Helsinki. Wolt allows any restaurant to sign up as a merchant, mediating the order from the customer, taking care of the delivery and automatic payment by credit card. Get a 15 EUR free coupon for the sign-up.
Learn new skills
Skillshare is an online learning community with thousands of classes for creative and curious people, on topics, for example, Design, Business, Photography, Tech, and More. It's an online, subscription-based e-learning community platform. Get SkillShare Free Premium Membership for 2 months.