Mediterranean Cruise from Barcelona, Spain for €299 (5 days)
5-day: Mediterranean Cruise from Barcelona, Spain for €299 per person in an inside cabin for 2 persons. Get a cheap cruise by Costa Fortuna. The price includes a FULL BOARD (ALL MEALS are included), Participation in onboard events and all port fees and taxes!
Costa Fortuna is a cruise ship that is part of the Costa Cruises fleet. It was built in 2003 by Fincantieri in Italy and is named after the Italian city of Fortuna. The ship has a tonnage of around 102,587 gross tons and a length of approximately 272 meters (892 feet). It can accommodate over 2,700 passengers and has a crew of about 1,050.
Costa Fortuna features a variety of amenities and facilities to enhance the cruising experience for its guests. These include multiple restaurants, bars, lounges, swimming pools, Jacuzzis, a theatre, a casino, a spa, a fitness centre, sports facilities, and a shopping area. The ship offers a range of entertainment options and activities, including live shows, themed parties, and organized excursions at ports of call.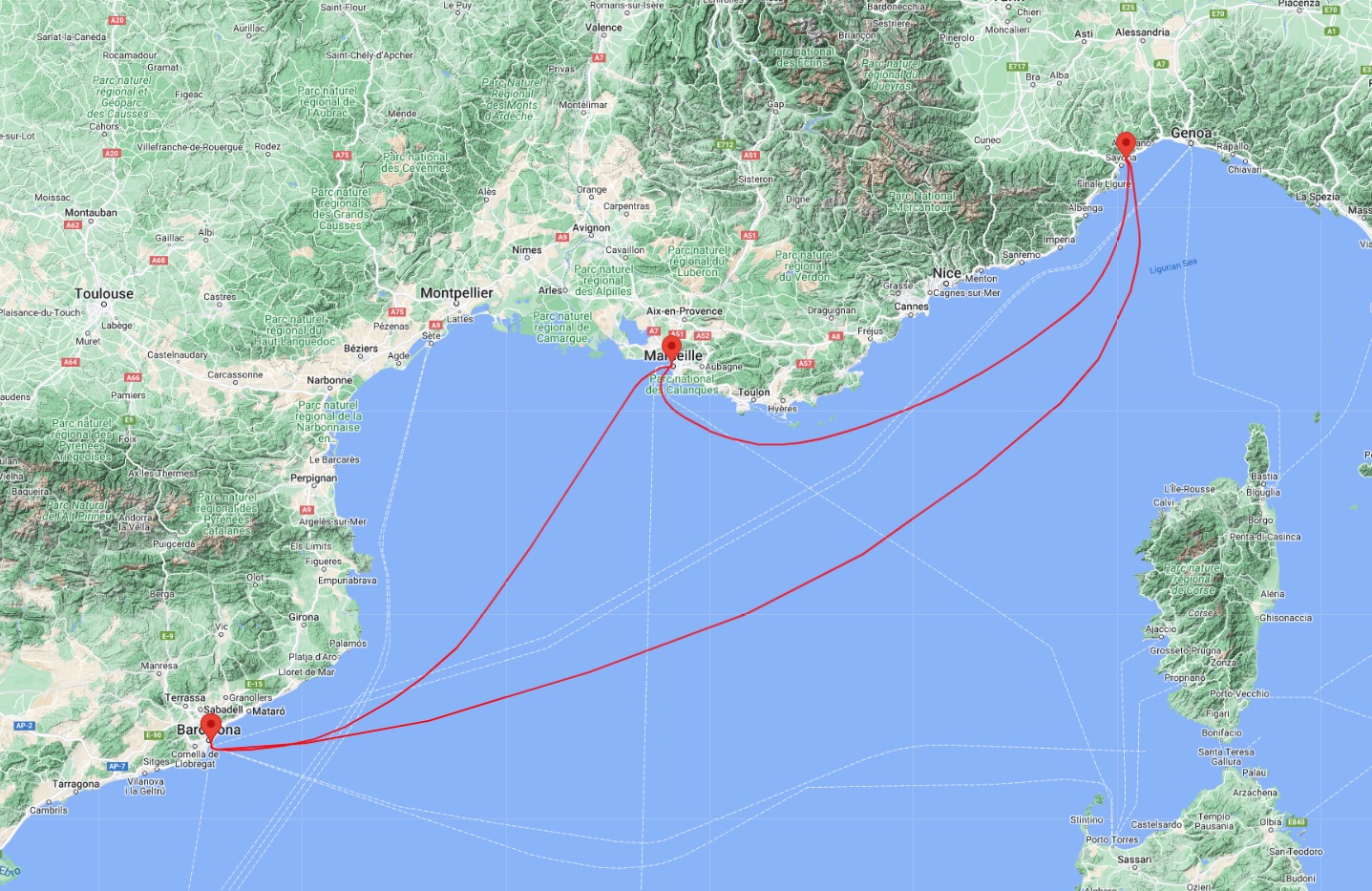 Travel dates:
10 – 14 November 2023
BOOK >>HERE<<
Route:
Day 1 – Barcelona, Spain
Day 2 – Marseille, France
Day 3 – Savona, Italy
Day 4 – Sea
Day 5 – Barcelona, Spain
Where to book Mediterranean Cruise from Barcelona:
Visit www.e-hoi.de
The website is in the German language, please use Google Translate if it is needed
FOLLOW US ON SOCIAL MEDIA:

Keep following TravelFree.info blog and LIKE our Facebook page, Twitter page, Telegram
!! IMPORTANT !! We have created a Facebook group to get only the hottest travel deals and error fares. Join now! After that, you are welcome to discuss topics about travelling! 
Do not miss the next TRAVEL DEAL! SIGN UP HERE and get exclusive travel offers to your email box.
Accommodation:
Agoda is transforming travel for millions of customers across the globe. Part of Booking Holdings, Agoda is one of the world's largest online travel accommodation platforms with a network of over 2,000,000 vacation rentals and hotels worldwide.
Cancelled or delayed flight?
If your flight is cancelled or delayed by 3+ hours, you may get a refund of up to €600. Check it out at SkyCop.
Tours and excursions:
Do not have time to think about accommodation and tours, but have you heard about Tourradar? Multi-day tours to every part of the world, for example, Safaris, Treks, Coach trips, Cruises, White Water Rafting, Mountain Biking, Sailing, Kayaking, Overland Trips and many more.
Have a look at Trip Advisor as well when planning your holiday to find out what's hot and what's not when it comes to all the local attractions.
Car rental:
You can find the best car rental prices at AutoEurope.com.
For over 60 years, Auto Europe has been a leader in worldwide car rental services and helped over 10 million travellers find the best options when travelling abroad. Through long-term relationships with top suppliers, for example, Hertz, Avis, Enterprise, Europcar, National, Budget, Dollar, Buchbinder and Peugeot AutoEurope offer travellers the best rates at 20,000 pickup locations in over 180 countries worldwide.
Insurance:
Worldwide travel medical insurance for Nomads. Only from $37 / 4 weeks worldwide, affordable travel medical insurance for anyone, especially for long-term travellers and digital nomads.
Save money with a Free Debit card:
Free Debit card by Revolut, N26, Monese or Transferwise, etc. with no fees? Sounds too good to be true, but believe it or not, this exists already for years. This should help protect your pocket. All these cards are great choices for international travellers, get your FREE card: https://travelfree.info/best-free-debit-cards-for-travellers/
CURVE
. Manage all of your bank accounts from one smart card using an app.
 M

ake your first transaction, after that y

ou can enjoy £5 absolutely free with the Curve discount when 
you 
sign up to Curve. Do not miss a great opportunity!
Delivery
Wolt – is an online food ordering and delivery service that takes orders via a mobile app. It was founded in 2014 in Helsinki. Wolt allows any restaurant to sign up as a merchant, mediating the order from the customer, taking care of the delivery and automatic payment by credit card. Get a 15 EUR free coupon for the sign-up.
Learn new skills
Skillshare is an online learning community with thousands of classes for creative and curious people, on topics, for example, Design, Business, Photography, Tech, and More. It's an online, subscription-based e-learning community platform. Get SkillShare Free Premium Membership for 2 months.