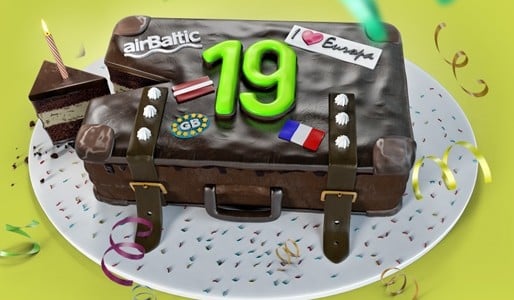 19€ discount code on flights to ALL destinations by airBaltic
Celebrate airBaltic's 19th Birthday together. Use the discount code airbaltic19 during booking and get a 19€ discount on a round-trip flight to any airBaltic destination!
AirBaltic have prepared a video greeting for everyone: have a look!
Discount code: airbaltic19
To book a flight: www.airbaltic.com
The e-voucher discount code applies only to airBaltic-operated round-trip flights booked on airBaltic.com between 17/10/2014 – 20/10/2014 and flown between 07/01/2015 – 22/03/2015; both outbound and return flights must be selected within the designated travel period. The e-voucher code airbaltic19 cannot be combined with any other codes. If you are not sure how to use the code, please click here for reference. For transfer and/or return flights – please note that both flight sectors must be flown. If not – denied boarding will apply. The number of seats available with a discount is limited. Special conditions apply.
Keep following our blog and LIKE our Facebook page "Travelfree" we promise to keep you up to date with any price drops!
Accommodation:
There are some great accommodation options listed on booking.com or if you are interested in booking apartment or room then visit airbnb.com (here YOU WILL GET € 20 BONUS CREDIT after registration).