7 Best places to visit in North India
India. A spiritual land. A land of extreme contrasts. A land of yoga and meditation. A land of spicy food. A land of elephants. The list goes on and on. But what India really is? What describes it best? It's all of this and so much more. India is so vast and so diverse that you can't really describe it. You will experience and see so many things when travelling in India.
You will be shocked and humbled by the poverty in India.
You'll feel enlightened after observing various religious practices and ceremonies.
You'll be stunned by the beauty of nature in India – caves, tall mountains, valleys, forests, deserts, jungles, even beautiful beaches. Or, you'll just be annoyed at people trying to trick you and sell you stuff you don't need. That can happen too.
India is so vast, and it's not possible to write about all the places one can visit there. To make this task easier, in this article we will focus on North India only.
Here is a list of some of the best places to visit in North India.
7 Best places to visit in North India
1. Taj Mahal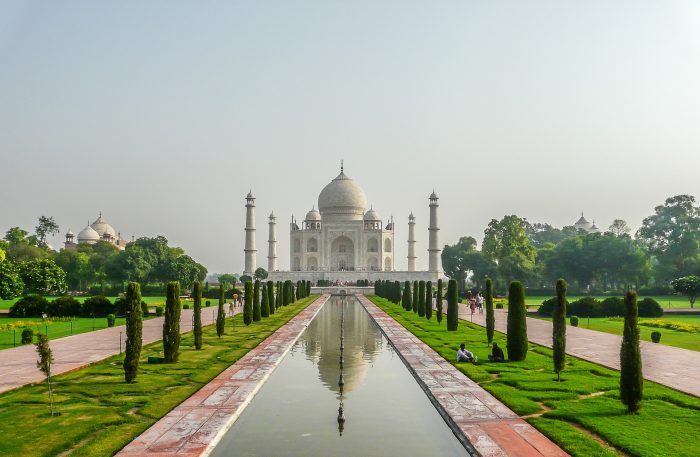 The Taj Mahal, one of the New 7 Wonders of the World, probably is the most popular place to see in India. It is so popular that many tourists are questioning if it's not overrated and is still worth seeing. Believe me, it is!
However, do not spend too much time in Agra, which is home to this iconic mausoleum. Agra is a dirty and chaotic city with not much to see.
Travel to Agra on an early train to get to the Taj Mahal in time for sunrise. After you have explored the Taj Mahal, visit the Red Fort. It's an eye-catching, historical landmark. After the visit to the fort, head to the train station and catch a train back to Delhi.
Remember, book train tickets at least a few days in advance, as the tickets sell out quickly. Or,  arrange a day trip to Agra at your hotel or at one of the local tourism agencies. Choose only a reputable agent!
2. Amritsar
Amritsar is a city in the state of Punjab, not far from the border of Pakistan.
Amritsar is known for its Golden Temple (Harmandir Sahib), which is a place of worship for Sikhism. The temple is especially beautiful during the sunrise.
Another shrine worth a visit is the Silver temple (also known as Shree Durgiana Tirath). It is a Hindu temple, but its architecture is very similar to the Golden Temple.
Many tourists come to Amritsar to see the Wagah-Attari border-closing ceremony which takes place every evening. It's one of the most interesting (and, let's admit, bizarre!) tourist attractions we've ever seen. Both of the countries make an impressive show every evening, at the end of which the flags are lowered in a ceremonial manner.
Depending on where you sit, you might even glimpse the ceremony on the other side, in Pakistan.
3. Varanasi
Varanasi is the holiest city in India, and one of the Hindu pilgrimage centres in India.
Varanasi is situated on the banks of the river Ganga and is known for its iconic river ghats and religious ceremonies that take place there.
Also, it is known for its cremation ghat which runs 24/7. The Hindus believe that if their ashes are scattered over the waters of the Ganges, then they will escape the cycle of rebirth and their souls will go to heaven.
We recommend you take a sunrise Ganges boat tour to enjoy the beautiful morning skies and see how the city is waking up.
Also, go on an evening boat tour of the Ganges and its ghats. Every evening a powerful spiritual ritual, Ganga Aarti, takes place at holy Dasaswamedh Ghat. Varanasi is one of the three holy cities where Ganga Aarti performance takes place. You will be able to observe it from the boat instead of standing in the crowd.
4. Jaisalmer and Thar desert
Jaisalmer, a town in Rajasthan, is located in the heart of the Thar Desert. Its unique architecture and its desolate surroundings make it magical, just like a place from a fairy tale.
Most tourists travel to Jaisalmer to go on a desert safari trip. The most popular ones are overnight and 2-day desert safari trips.
First, you explore the desert on jeeps, then ride on a camel's back to get to the sand dunes. Remember, Thar desert is not only sand dunes. In fact, the majority of it is just a desolate sandy area with little bushes and tough plants. So, don't be disappointed with what you see!
5. Old Delhi
Delhi consists of several districts. New Delhi serves as the capital of India. But Old Delhi is the city's old quarter.
It might be super busy and chaotic, and it lacks the organization and modernity of Delhi's newest areas, but it is definitely worth a visit! You may get a glimpse of what it was centuries ago.
In Old Delhi, you'll see traditional spice markets where spices are being transported just like centuries ago. There you'll also find big and small old mosques. One of the oldest and best known Jain temples – Sri Digambar Jain Lal Mandir – is situated there, as well as beautiful Hindu places of worship.
Jama Masjid, one of the largest mosques in India, also is located in Old Delhi.
6. Haridwar and Rishikesh
Haridwar and Rishikesh are cities Uttarakhand state.
These two cities are really close to each other. In fact, if you are travelling to Rishikesh by train, you have to pass through Haridwar, as there are no trains to Rishikesh. From Haridwar, you should take a bus to get to Rishikesh. So, why not make a longer stop in Haridwar. For a day or two?
Haridwar is an ancient city, and one of the most important pilgrimage sites in India. In fact, it's one of three holy sites where Ganga Aarti is performed.
Rishikesh, on the other hand, is the perfect place for nature and adventure lovers. In fact, it's one of the best places for adventure sports in India. River rafting, bungee jumping, flying fox, mountain biking, trekking, and many more. And it's the World Capital of Yoga.
7. Ladakh
Ladakh, a region in Jammu and Kashmir, is a place of extreme beauty! It's the land of snows and high passes. Known for its fabulous, almost supernatural landscapes.
There are so many amazingly beautiful places to visit in Ladakh.
Take in the beauty of Pangong Tso, a mountain lake situated at a height of about 4350 meters. Or Tso Moriri, another beautiful high altitude lake in Ladakh.
When travelling to Ladakh, you can't miss Leh. It's the largest town of the region and home to the ancient Leh Palace and several beautiful Buddhist monasteries.
It's also possible to go hiking in the Ladakh region. There are several routes for both newbie and experienced hikers.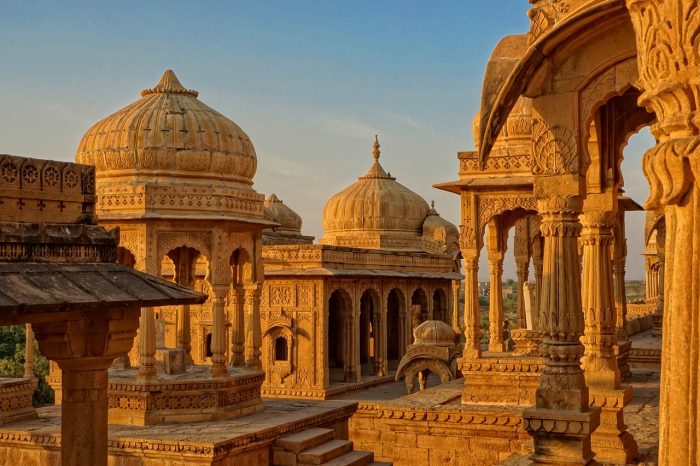 Applying for an Indian visa
If you plan to travel to India for less than 60 days, apply for an e-Visa. Even though the online application form is quite lengthy, the process itself is not difficult.
When applying for an e-visa, you must use the Official e-visa application system. All the other sites offering this service are third party, and they charge extra. The official e-visa fee is 25 USD, 80 USD or 100 USD, depending on nationality.
All you have to do is fill in the online application form, upload a digital copy of your passport, upload a photo, and pay a visa fee. You have to write down the address of your (first) hotel, and write down the date of arrival and departure.
Even though the e-Visa is granted in a few days' time, we recommend you apply at least a couple of weeks in advance, just in case.
With an e-Visa, you can arrive at 28 international airports and 5 seaports.
If you plan to stay in India longer than 60 days, visit the embassy and apply for a 6-month tourist visa.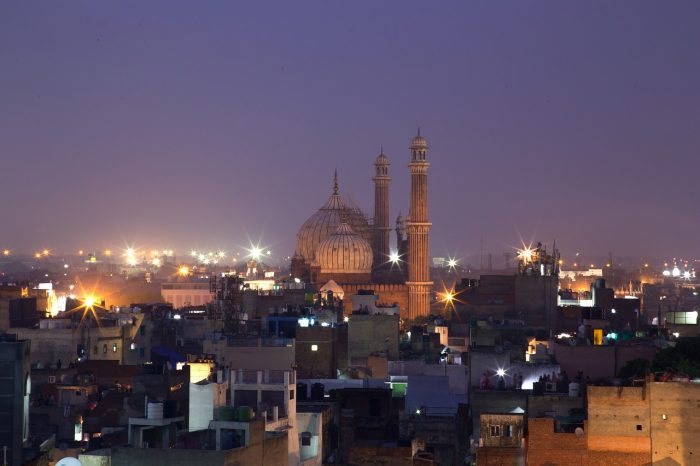 India travel tips
India is a vast country. Even travelling only in the north is time-consuming. A trip from Delhi to Amritsar could take 8 hours by train. Consider flying to save time.
If you plan to travel by train, book train tickets at least a few days in advance. The train is a very popular method of transport, and tickets sell out quickly. Luckily, there's a tourist quota for trains in India. Book train tickets at the train booking offices for foreign tourists (International Tourist Bureau), or at reputable travel agencies. You can also book train tickets online.
Dress modestly, especially in the places of worship! Pack clothes that cover your knees and shoulders. Lightweight loose-fitting trousers and shirts are the best, both for male and female travellers.
People in India are warm and welcoming, but still, there are a few scams you should know about when travelling to India. The majority of them are just a nuisance but some of them are scary and serious enough to get you into trouble. Do research before your trip and you'll be fine.
Weather conditions are diverse, even in the north alone. Some places in North India (like Ladakh) can be accessible by road only during the summer, while places like Delhi, Agra, and Jaisalmer then experience monsoon showers. So, plan according to the weather.