7 Best Places to Visit in Vietnam
Vietnam, a large country in Southeast Asia, is famous for its diversity, ancient history, and beautiful landscapes. In recent years Vietnam has become quite a popular tourist destination, especially among those who love to travel on a budget to exotic and faraway lands.
To enjoy the scenery to the fullest many backpackers and budget travellers rent or buy a motorbike in Vietnam and travel on it from South to North, or vice versa.
But you don't have to be adventurous to see the beauty of Vietnam. Hop on a bus or train and go explore this beautiful country! But where to go to Vietnam?
To help you with the task of planning we have created this list of some of the best places to visit in Vietnam.
7 Best Places to Visit in Vietnam
1. Sapa
Sa Pa is a hilly district in northwest Vietnam. It's a perfect place for nature lovers and hikers.
Sapa overlooks the terraced rice fields of the beautiful Muong Hoa Valley.
Sapa is home to a few ethnic minorities, as well as the highest mountain in Vietnam – Fansipan. Its height is 3143 m, and it is located 9 km from Sapa town.
There are several Sapa hiking trails you can do on your own. Or join a guided tour to explore this beautiful area. If you enjoy hiking in the mountains, summit Fansipan!
When travelling to Sapa, do not miss its authentic villages where ethnic minorities live.
2. Ha Long Bay
Ha Long Bay is one of the best places to visit in Vietnam (if not THE best!) and also in all of Southeast Asia.
In fact, when you search for Vietnam pictures on Google, you'll see so many of them are photos of this amazing wonder of Mother Nature. Ha Long Bay, a UNESCO World Heritage Site, has an area of around 1,553 km2 and consists of around 2000 little limestone islands.
Join a day or an overnight cruise to enjoy this beauty and see the bay's characteristic limestone towers up close!
Some of the best Ha Long Bay cruises also offer kayaking.
3. Hoi An
Hoi An is a quaint, historic coastal city in central Vietnam, just 30 kilometres south of Da Nang.
Hoi An is known for its ancient Old Quarter. It used to be a trading port, dating back to the 15th century. One of the most popular landmarks is the Japanese Bridge which dates back to the 16th century.
Explore the traditional architecture of the picturesque old town, and visit the museums of Hoi An to learn more about the history of the region.
4. Dalat
Dalat is a quaint town surrounded by hills of Vietnam's Central Highlands. Because of the moderate climate and beautiful nature, Dalat is a great place for adventure sports and hiking.
Rent a scooter or a car and visit the surrounding waterfalls.
Explore the elegant French colonial buildings. Immerse yourself in the relaxed atmosphere of this town and spend lazy evenings in Dalat's many charming cafes.
When travelling to Dalat, do not miss Hằng Nga guesthouse, a.k.a the "Crazy House". It's a contemporary building, inspired by the work of the Spanish architect Antoni Gaudí and nature.
5. Mui Ne
Mui Ne is a beach resort town in Southeast Vietnam.
It's one of the most popular beach destinations in Vietnam.
Mui Ne is also known for its red and white sand dunes. Take a quad bike ride on the white sand dunes. It's cheap and very thrilling.
Exploring its dunes is not the only thing to do in Mui Ne. Fairy Stream, a soft red creek, is another very beautiful landmark of the area. Visit the ancient Po Shanu Cham Towers for sweeping views of the area. And if you are up to a longer ride, go and see Ke Ga Lighthouse. You get there by scooter or taxi and then take a boat. The boat ride takes less than 10 minutes, and boats are there at all times during the day.
6. Ho Chi Minh City
Ho Chi Minh, a megalopolis in South Vietnam, is a place where old and new collides, and European influences sit side by side with traditional Vietnamese values.
Tall skyscrapers tower above the low historical and colonial buildings. Beautiful churches and Buddhist temples. Fancy restaurants and local hole-in-the-wall cafes. Parties until the small hours of the morning. This is Ho Chi Minh, a city full of diversity, and a very interesting place to visit.
7. Tam Coc
Tam Coc is one of the most beautiful places in Vietnam, yet one of the most underrated ones.
It's known for its beautiful nature and its similarity to Ha Long Bay. Tam Coc, in fact, is often called  "Halong Bay on land".
Tam Coc covers a large, swampy area. There you'll see beautiful rice terraces, impressive limestone mountains rights next to rivers, and cliffs, as well as several caves.
Tam Coc is a part of Tràng An scenic area that is a UNESCO World Heritage Site.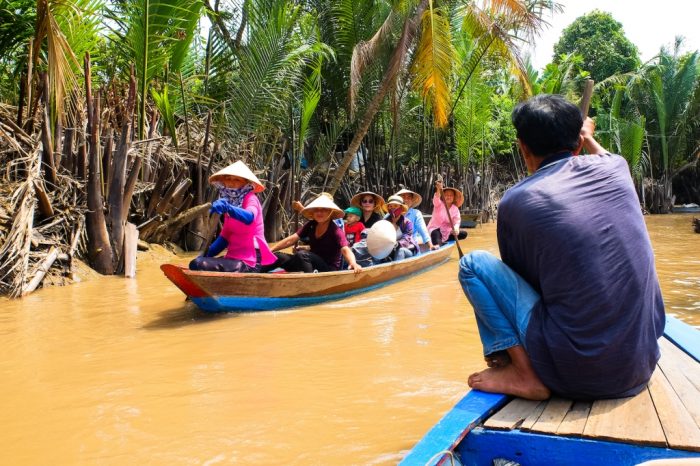 Vietnam Visa
You might need a visa to travel to Vietnam. While citizens of some countries in the EU don't need a visa to travel to Vietnam, provided that the stay does not exceed 15 days, the majority of people will have to arrange a visa.
Applying for a Vietnam visa is a very easy and straightforward process. First, you need to apply for an invitation letter. It's easy, and it doesn't take long to get one.
So many local companies offer this service for a fee. Just Google "Vietnam visa invitation letter" and then choose a reputable agent that will issue this document.
With your invitation letter, you also will receive an application form. Print both of these documents and fill in the form. Take two passport size photos.
Once you have arrived at one of the international airports in Vietnam (Hanoi, Ho Chi Minh City, Da Nang or Nha Trang), go to the visa counter. Hand in your passport, completed application form, invitation letter, and 2 photos. And wait for your name to be called.
In some 10-15 minutes (if there are not too many people) your visa is ready! Collect your passport, pay a visa fee, and go through passport control to get your new visa stamped. Easy!
If you plan to travel by land, apply for a Vietnam e-visa.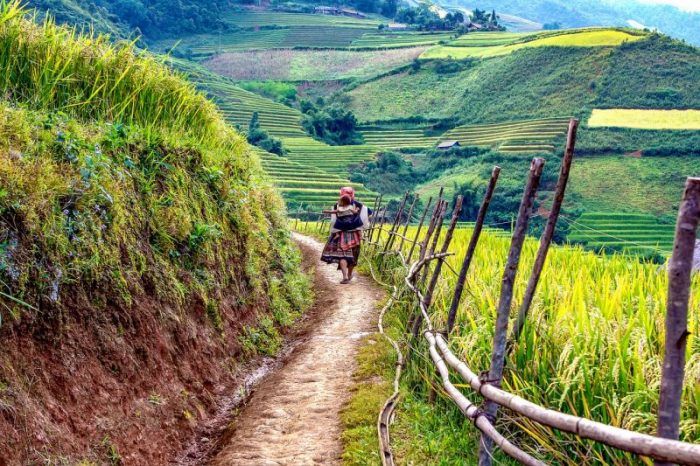 Vietnam Travel Tips
Travelling in Vietnam is easy. Even though Vietnam has less tourism infrastructure than neighbouring Thailand, it's easy to get around in Vietnam. You can travel around Vietnam by bus, train or plane. The cheapest option is the bus. Flying is not expensive either (a plane ticket from Hanoi to Ho Chi Minh City costs as little as 35 EUR).
Vietnam is larger than you think. As the country is spread out, it takes a lot of time to travel from the south to the north. If you want to explore both South and North Vietnam, fly to save time.
Always be careful when crossing the street, even pedestrian crossings, as the traffic is hectic and almost no one stops to let the pedestrians cross. In fact, not many locals are walking in Vietnam.
Weather varies a lot. When it's hot in the south, it might be cool in the north. Check the weather when planning the trip and dress accordingly for the weather.
Grab, a popular ride-hailing app in Asia is widely used in Vietnam. The motorbike taxi option is available in the app, too. Both Grab motorbike and Grab car are cheap and efficient ways to travel around cities in Vietnam.