7 Top Things To See in Singapore
Singapore is an island city-state in Southeast Asia which is known for being super modern, super clean and very safe. Singapore is a global hub for finance, technology, and tourism. Also, it is home to the best airport in the world – Changi International Airport. Impressive, isn't it? But that's not all! Singapore also is the greenest city in all of Asia!
Despite it being so modern and innovative, Singapore is a very new country. It proclaimed its independence from Malaysia in 1965. And it has transitioned from a developing to a developed country in just one generation!
Just like Malaysia, Singapore is a multi-cultured country. People of so many countries live and work here, and, of course, they leave their fingerprints in Singapore. Having an international atmosphere, Singapore has it all – anything, from religious shrines to fancy bars and expensive clubs.
7 Top Things To See in Singapore
We've made a list of favorite things to see and do in Singapore to help you prepare for your trip to this amazing country.
1. Marina Bay and Marina Bay Sands
Marina Bay is a place where all the tourists go when they come to Singapore. And, boy, it is a GREAT place from where to start exploring this modern city-state!
There you will get to see so many things Singapore is famous for – the iconic Marina Bay Sands Hotel, the futuristic man-made trees, Singapore's lotus-shaped ArtScience Museum, the skyscrapers and banks of the Business District, as well as the statue of Singapore's official mascot Merlion – a mythical creature with a lion's head and the body of a fish.
The SkyPark Observation Deck on the 57th level of the Marina Bay Sands hotel is a great place where you can enjoy the beautiful view of the city from above.
2. Gardens by the Bay
(Flickr, Gardens by the Bay, Cloud Forest)
Have you seen photos of a few huge, man-made trees dominating the Marina Bay skyline? Yep, those are a part of the futuristic park Gardens by the Bay.
Gardens by the Bay is the best park we've seen so far.
The entrance to the park is free. There are several parts and gardens in this park. Restaurants and eateries, plenty of bathrooms, plenty of benches, and free hot water. Isn't it perfect?
When you have seen all of it and want more there are also a couple of paid attractions: Cloud Forest & Flower Dome, and OCBC Skyway.
By the way, the world's tallest indoor waterfall is located in the Cloud Forest. Isn't it amazing?
3. The Free Light Shows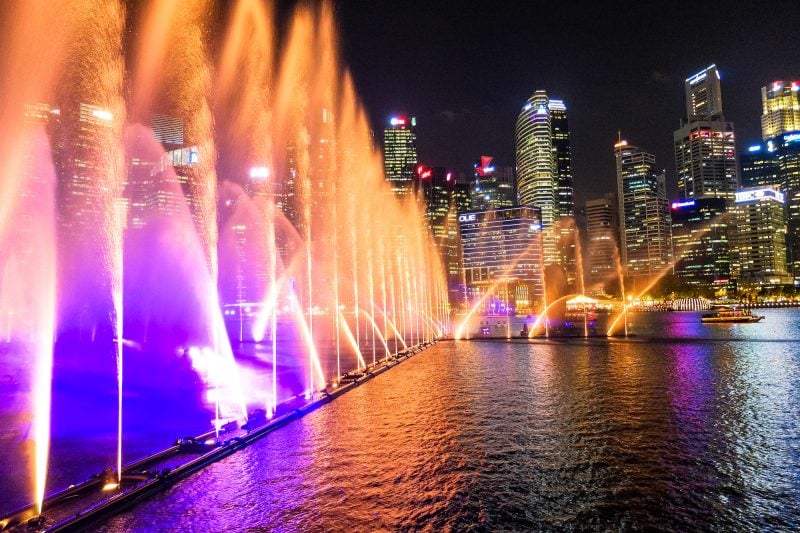 (Flickr, Marina Bay Light Show)
Singapore is beautiful during the day, and even more beautiful during the night. Especially a few particular areas during the daily light and music show.
Locations and timings:
A light and water show at Marina Bay "Spectra" – daily, 8:00 – 8:15 PM and 9:00 – 9:15 PM. On Fridays and Saturdays also at 10 PM (until 10:15 PM).
A Light and Water Show at Gardens by the Bay "Garden Rhapsody" – daily, 7:45 – 8 PM, 8:45 – 9 PM.
Sentosa Crane Dance on Sentosa island, at the Waterfront – daily, 8:00 – 8:15 PM.
You can manage to see the two first shows in one evening. Go to Marina Bay shortly before 8 PM and see the 8 PM show. Then head to Gardens by the Bay to see the 8:45 PM show. The next evening go to Sentosa to see the Crane Dance light show.
These three light shows are spectacular, and you shouldn't miss them. And the most amazing thing – the admission is free!
4. MacRitchie Reservoir Park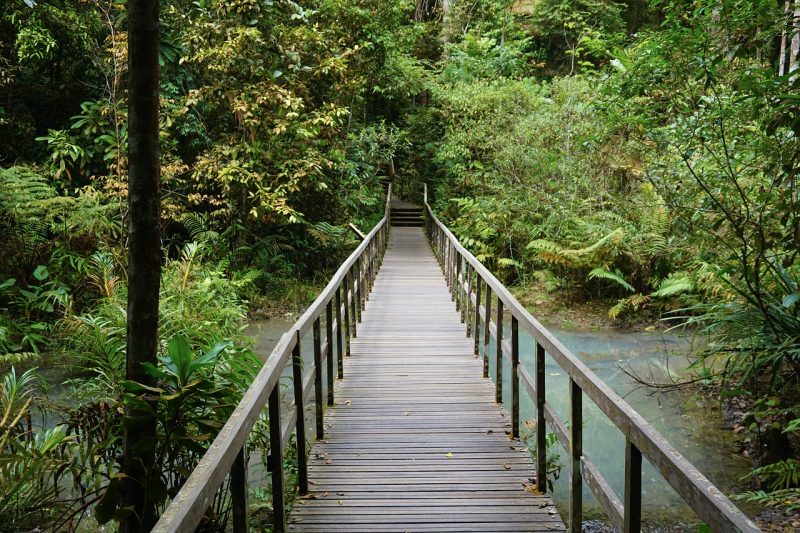 I have already mentioned that Singapore is a green city with plenty of parks and gardens. MacRitchie Reservoir Park is one of them.
MacRitchie Reservoir Park is a large park in central Singapore, which surrounds Singapore's oldest reservoir.
It's a great place where to relax after a day in the busy city. Go for a walk on one of the trails and enjoy the amazing treetop walk.
5. Sentosa Island
(Flickr, Sentosa island)
To provide hardworking Singaporeans with a place to relax and have fun, Singapore has built a whole island for fun and recreation! Now it is attracting not only the locals but also foreign tourists.
Sentosa is a man-made island off the coast in the South of Singapore. It can be easily reached by the Sentosa Express tram, cable car, or on foot.
Sentosa offers various attractions both for adults and kids. There are a couple of man-made beaches built from reclaimed land and imported sand.
On Sentosa island, you'll find a large aquarium – S.E.A. Aquarium – which is home to 100 000 marine animals of over 1000 species. An amazing theme park – Universal Studios – is also a great place to have fun, even for an adult.
6. Little India
(Flickr, Little India)
Little India, home to several colourful Hindu temples and beautiful mosques, is one of the historical neighbourhoods in Singapore.
Head there to experience a bit of India – its colours, tastes and smells.
There you'll find countless eateries and restaurants serving traditional Indian food, and so many different stores selling products and clothes made in India.
A large electronics shopping complex, Sim Lim Square, is located very close to Little India. 8 floors of little stores selling all kinds of electronics and accessories. This is a paradise to nerds!
7. Singapore Botanic Gardens
Singapore Botanical Gardens is a UNESCO World Heritage Site. Actually, it's the only tropical garden that is honoured as a UNESCO World Heritage Site. Also, it's one of the best parks in Asia.
Singapore Botanic Gardens is another great place where to go when you are tired of the buzz of the city.
There are different zones and attractions in the botanical gardens. The main attraction is the National Orchid Garden which has a collection of more than 1,000 species and 2,000 hybrids of orchids.
The entrance to the gardens is free. But you have to buy a ticket if you want to visit the Orchid Garden (SG$5).
—
Singapore Travel Tips
You don't need a visa to travel to Singapore. Citizens of most European Union countries are entitled to visa-free entry for up to 90 days.
Singapore is jokingly called "The Fine City". Not only it's a fine place to live and to travel to but also because of the strict laws and so many fines the government inflicts. Please, take the law and all the warning sign boards seriously!
Travelers have to declare all tobacco products when entering Singapore. There's an import tax on cigarettes and other tobacco products. Also chewing gum is banned in Singapore. But don't worry if you have an opened pack of gum in your pocket. You won't be fined for it.
Metro (MRT) is cheap, fast and efficient. In my opinion, it is the most convenient way of traveling around the city. All the places we've told you about are reachable by the metro. Public buses is another option. Download "MyTransport Singapore" (iOS and Android) app to view public bus routes and schedules.
Combine the visit with a trip to Malaysia. Singapore is a tiny country, and a few days is more than enough to see Singapore. You can travel to Malaysia overland, or fly. Both options are really cheap. Citizens of most European Union countries don't need a visa to travel to Malaysia. Check out our article on the best places to visit in Malaysia!
To save money on accommodation stay outside the city centre in neighbourhoods like Little India, Chinatown and Geylang. You can reach those neighbourhoods easily by metro (MRT).
Tipping isn't expected in Singapore.