7 best places to visit in ARGENTINA
Curious about the best places to visit in Argentina? Argentina is a large country in South America. It is the eight-largest country in the world by area and the second-largest country in South America. Best known for Tango, football, and dramatic landscapes of Patagonia, the Andes and Tierra del Fuego, Argentina is full of surprises.
It offers so much to its visitors. The country is home to some of the Andes' highest peaks, several of which top 6000 m. In Argentina, you'll find some of the most vibrant cities in Latin America. And most importantly, its nature is just stunning. That's why Argentina is a nature lover's paradise.
But where to start? What to do in Argentina? 
Argentina's size and diversity can make it hard to know where to start. 
That's why we have created this list of some of the best places to see in Argentina. Check it out!
7 best places to visit in Argentina
Buenos Aires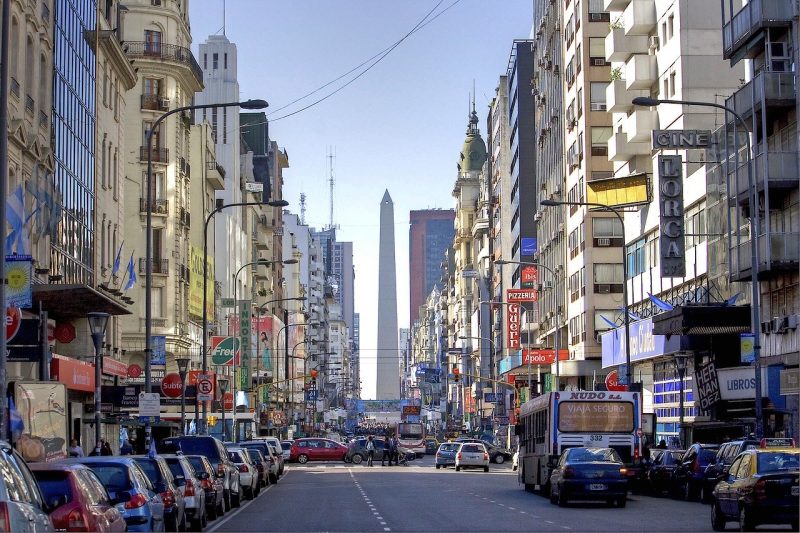 Buenos Aires is a cosmopolitan metropolis that has it all — great restaurants, awesome shopping, exciting nightlife and beautiful tango venues.
Buenos Aires is both elegant and ragged. Despite its ragged edge, it's so seductive and fun! It certainly attracts visitors from all around the world. Here's the proof — Buenos Aires is one of the most visited cities in Latin America. 
What to do in Buenos Aires, besides eating, drinking, shopping and nightlife?
Enjoy the huge murals throughout Buenos Aires. One of the murals, "El regreso de Quinquela", even used to be one of the biggest murals in the world painted by a single artist. 
Visit Plaza de Mayo. Formed in 1884, it is the city's main square.
Do not miss La Boca. With its colourful houses and pedestrian street (the Caminito), La Boca is one of the best places to visit in Buenos Aires. Come here to enjoy open-air tango and buy "tango-related" souvenirs. 
Los Glaciares National Park
Los Glaciares National Park is full of natural wonders — 47 large glaciers, mountains and lakes.
It is a UNESCO World Heritage site and one of the most beautiful national parks in Argentina.
The park is a part of Southern Patagonian Ice Field which is known for its massive ice fields. 
The most popular glacier in the park is Perito Moreno. It is the world's third-largest reserve of fresh water. The glacier is also Argentina's most famous glacier, and one of the most important tourist attractions in the Argentinian Patagonia.
Other stunning glaciers which you must not miss are  — Upsala and Onelli glaciers. 
Mount Fitz Roy is another treasure of this national park and, more importantly, one of the symbols of Patagonia.
Tierra del Fuego
Tierra del Fuego archipelago is the southernmost tip of South America, shared by Argentina and Chile. Tierra del Fuego is Spanish for "Land of Fire".
Nicknamed the "End of the World", the archipelago offers dramatic views and great hiking.
Head to Parque Nacional Tierra del Fuego to enjoy scenic hikes. Some of the most popular are Glaciar Vinciguerra, Laguna Esmeralda, Cerro del Medio and Glacier Martial. All of them are easy/moderate, and it takes just a few hours to complete these treks.
Aconcagua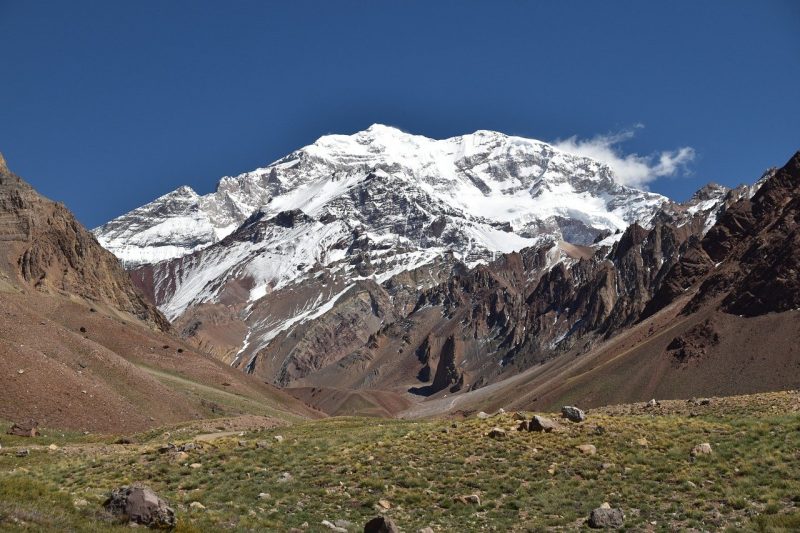 With a height of 6961 m, Aconcagua is the highest mountain in the Americas and the highest outside of Asia.
Head to Aconcagua Provincial Park and hike all the way up to the first base camp (Confluencia). 
It's a six-hour return hike, and the permit costs just 10 EUR. In order to get this permit, you have to show your passport.
There are other, longer, hikes, too.
It's also possible to climb Aconcagua, but it takes days, and the permit costs waaaay more — at least several hundred dollars (price depends on the season). However, climbing alone is not recommended. Climbing tour costs about 5000 USD (+ the permit).
Iguazú Falls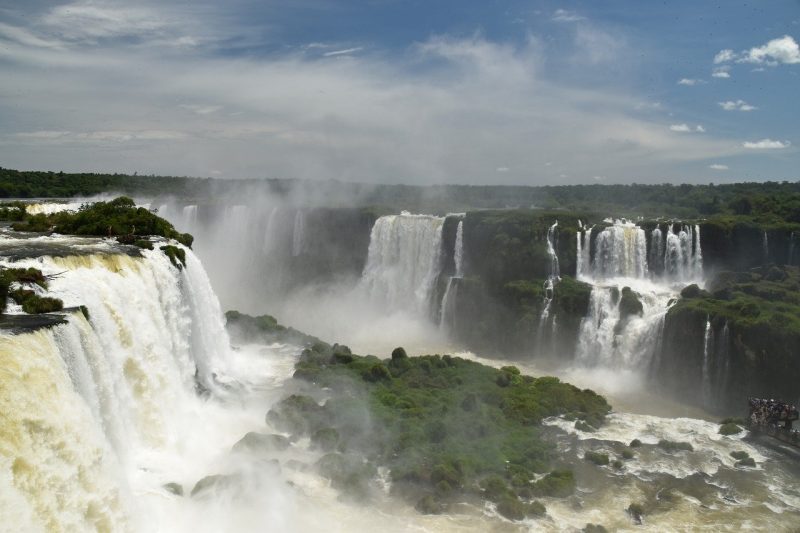 Iguaçu Falls are waterfalls located on the border of Argentina and Brazil.
Made up of hundreds of waterfalls, it is the largest waterfall system in the world, and it has the highest flow rate in South America.
This immense and scenic set of waterfalls is surrounded by lush rainforest and is truly one of the most spectacular waterfalls in the world.
Multiple walkways let you enjoy the beauty of nature and the immense waterfalls.
Do not miss La Garganta del Diablo (The Devil's Throat) which is a set of 80 m-high waterfalls that fall into a narrow gorge. It is one of the most spectacular sights in the national park.
Quebrada de Humahuaca
Quebrada de Humahuaca is a narrow and arid mountain valley located in the province of Jujuy. It is about 155 km long and has several notable landmarks.
Thanks to its impressive natural environment and importance as a major trade route, Quebrada de Humahuaca has been inscribed on UNESCO's World Heritage List.
Serranía del Hornocal is a range of mountains known for its jagged and uniquely "coloured" rocky face.
Cerro de los Siete Colores is another iconic mountain in the valley. Cerro de Los Siete Colores is Spanish for "Hill of the 7 Colours". As the name suggests, it has a unique colour range, and it is what the mountain is known for.
Punta Tombo and Península Valdés
Punta Tombo is a peninsula in the Atlantic Ocean. 
Around half a million Magellanic penguins come there every year to mate and nest. And it is one of the world's largest Magellanic penguin colonies.
Visiting Punta Tombo and watching penguins in their natural environment is among the best things to do in Argentina.
Located some 150 km from Punta Tombo, Península Valdés is dry and desolate land and a popular whale-watching spot.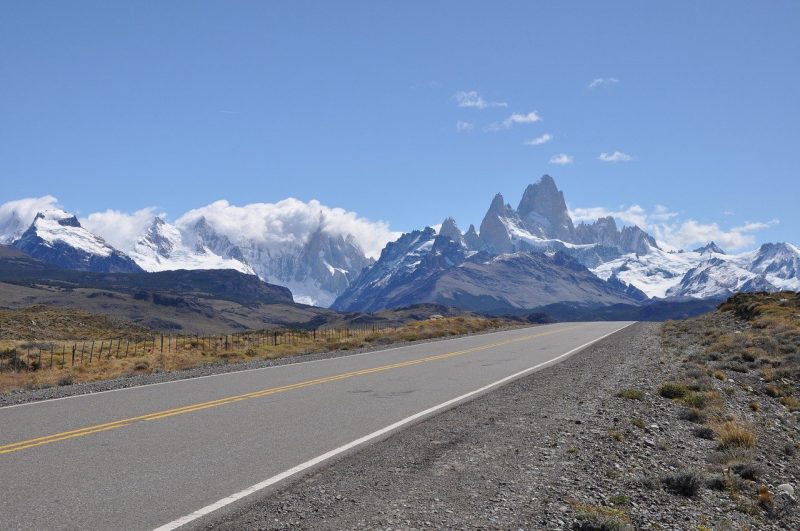 Argentina travel tips
You don't need a visa to travel to Argentina. Citizens of the E.U. (and many other countries) may enter Argentina for a maximum stay of 90 days without a visa.

Comfortable buses run on set schedules. Be warned though, buses are expensive in Argentina. Use Urquiza and Andesmar to find the cheapest deals.

Fly to save time. If you book in advance, the ticket will cost the same or only a bit more than a bus. 

If you plan to visit Patagonia, book buses and accommodation well in advance. It's an extremely popular tourist destination, and hotels and tickets sell out quickly, especially in the high season.

Argentina's seasons are the reverse of those of the northern hemisphere. Remember that when booking your trip.

Argentina is not cheap. Plan your trip carefully, do your research on prices and budget accordingly.

ATMs are unreliable, and the withdrawal fees are high. Bring cash and exchange it in Argentina.

Argentina is one of the safest countries for travellers in Latin America.

But petty crime, such as pickpocketing and bag snatching, is common. Be a sensible traveller. Don't flash your belongings and keep your wits about you. Don't travel alone at night. During the nighttime, use taxis instead of public buses.

Although Argentina is one of the safest countries in Latin America, Buenos Aires can be unsafe. Do your research and stay only in safe neighbourhoods. Do not walk at night.
For more information check website of Argentina Tourism Board