7 best places to visit in AZERBAIJAN
Curious about the best places to visit in AZERBAIJAN? Although not really popular with holidaymakers, Azerbaijan has great potential and a lot to offer to its visitors.
Craggy Caucasian peaks, lovely Caspian beaches, ancient forests, high-altitude villages and desert badlands, all of that you will find Azerbaijan. It's a country of contrasts. It's neither Europe nor Asia. 
With Baku being "the next Dubai", Azerbaijan faces some changes while still being very traditional.
Sounds enticing? Want to come and explore?
But what exactly to see in Azerbaijan? 
To help you with the task of planning we've created this list of some of the best places to visit in Azerbaijan.
7 best places to visit in Azerbaijan
Baku
Is Baku the next Dubai?
Oil and gas have brought wealth to Azerbaijan and turned its capital into a glitzy and modern metropolis.
Dazzling modern skyscrapers of 21st-Century Baku contrast with the Soviet Era buildings and a UNESCO-listed walled Inner City, the most ancient part of Baku.
With the height of nearly 190m, Flame Towers dominate Baku's skyline. It's a trio of flame-shaped skyscrapers that consist of serviced apartments, offices and a hotel, and a great place to visit in Azerbaijan.
You might already know that Azerbaijan is famous for its carpets. To learn more about this trade, visit Azerbaijan Carpet Museum. It displays Azerbaijani carpets of various weaving techniques and materials from various periods. 
If you want to spend some time on a beach in Baku, don't be surprised to see dirty beaches. Oil pollution causes problems and limits the number of picturesque beaches in Azerbaijan.
Khinaliq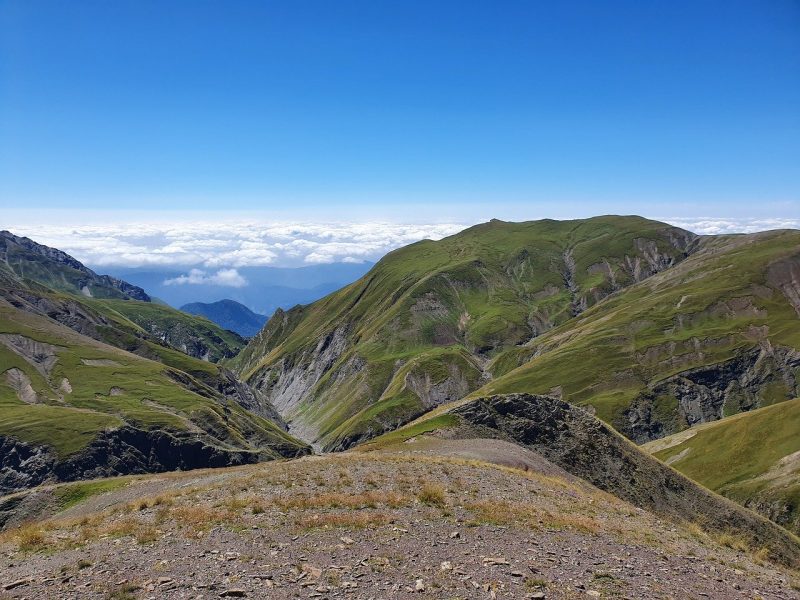 While in Azerbaijan, you have a unique chance to visit one of Europe's highest permanent villages — Khinaliq.
Not only this Caucasian village is one of the highest in Europe but also one of the oldest. It dates back thousands of years back to the Caucasian Albanian period. 
The village is known for beautiful landscapes and traditional way of life.
Come and enjoy the views of green rolling hills — these landscapes are considered to be some of the most stunning in Azerbaijan.
Sheki (Şəki)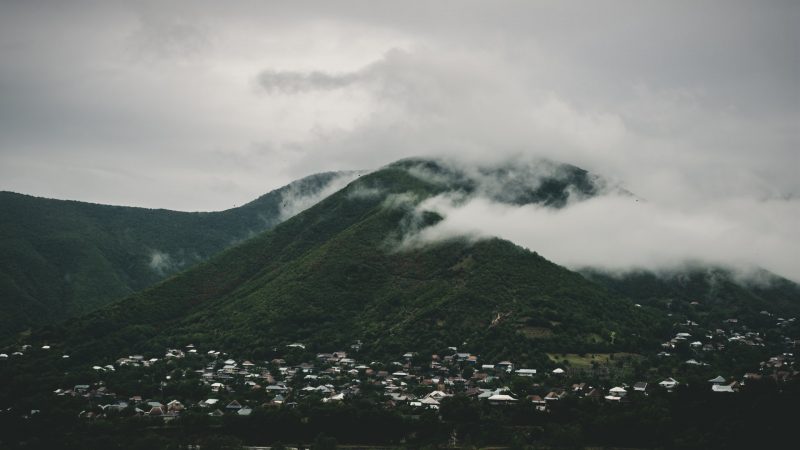 Dating back 2500 years, Sheki is one of the oldest human settlements in all of the Caucasus.
Once a Silk Road city, now it's one of the most picturesque towns and a World Heritage site.
Surrounded by beautiful lush mountains, beautiful Sheki boasts a unique 18th century Palace of Shaki Khans and a picturesque Historic Centre of Sheki which have been listed as UNESCO World Heritage Sites in 2019.
Palace of Shaki Khans is an ornate palace boasting spectacular wall paintings and decorations inside and out. Stained-glass windows add to the charm.
The Historic Centre of Sheki is filled with cobbled streets and medieval architecture and is a nice retreat from the hassle and buzzle of the larger cities.
Mud volcanoes near Qobustan
Azerbaijan has more mud volcanoes than any other country in the world.
350 of the 800 mud volcanoes of the world are in Azerbaijan.
Mud volcanoes are a wonderfully weird natural phenomenon. They are small but fascinating hills that are messy, bubbling, and sometimes explosive. Instead of magma, these volcanoes spew mud.
Some of them can spew mud and fire to a height of whooping 1000 m. Crazy, huh
Shahdag National Park
Shahdag National Park is one of the ten national parks in Azerbaijan, and it is one of the most beautiful ones.
It is home to the country's most spectacular peaks and scenic mountain trails. 
Mt. Shahdag trek is one of the best-known hikes in the area. The best way to see the mountain is to join an organized group. The company will take care of everything, including the permits to the national park. Book a place in advance — at least 3 weeks before your trip.
Nabran and the Caspian Sea
One of the best things to do in Azerbaijan is to swim in the Caspian Sea, which actually is not a sea — it's a lake. And the largest lake in the world at that.
Water in the Caspian Sea indeed is salty but the saline content is lower than that of other seas and oceans.
There are several resorts along the coast of the Caspian Sea, but Nabran is one of the most famous ones.
Known for its water park, Nabran has some fairly good beaches. In fact, the waters are the cleanest you can find in Azerbaijan. But don't expect clear waters and white sand beaches of Bora Bora. There is no such thing in Azerbaijan. 
Unfortunately, the Caspian Sea is quite dirty. 
So it's not perfect for diving and snorkelling, two of the most popular water sports.
Göygöl National Park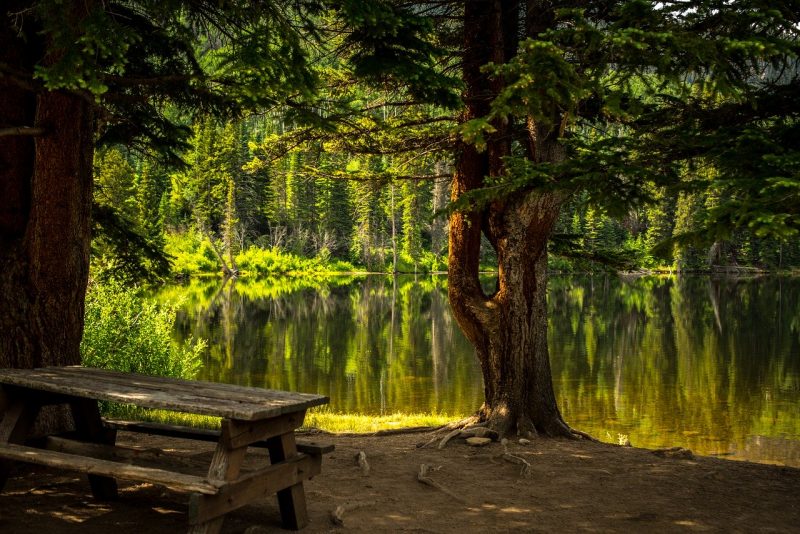 Spanning 127.55 square kilometres, Goygol National Park is home to the most beautiful and cleanest lakes in Azerbaijan, Lake Göygöl.
Thanks to its natural beauty, the park now is a popular tourist destination and one of the best places to visit in Azerbaijan. 
The area of Göygöl is almost entirely covered by forests and has a rich flora. The national park is an extremely beautiful place where one can enjoy the fresh air and peaceful walks.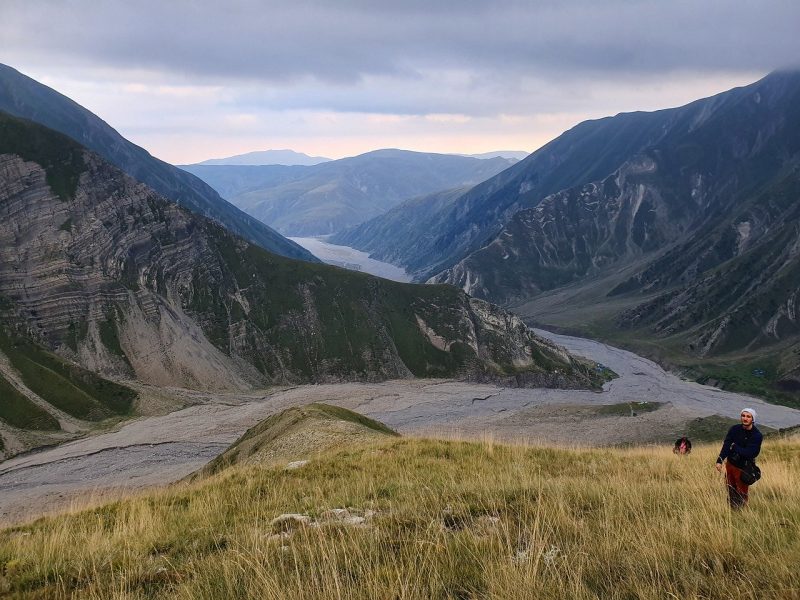 Azerbaijan travel tips
Most nationalities require a visa to enter Azerbaijan. Europeans can get an electronic visa. Citizens of Russia, Georgia, Belarus, Ukraine and a few other countries can visit Azerbaijan without a visa for up to 90 days.

All foreign tourists visiting Azerbaijan for more than 10 days have to register themselves with the government. It must be done within the first few days. Failing to do so will result in fines. Also, you can ask your hotel/hostel/guesthouse to help you register.

Despite the hundreds of kilometres of Caspian Sea coastline, there are no picturesque beaches in Azerbaijan. Be prepared for that and don't be disappointed when you visit a beach in Azerbaijan.

Use ride-hailing apps such as Yandex or Uber to book a taxi to avoid taxi scams. Especially when travelling to and from the airport. Always do verify the taxi license plate before getting in, though. 

The best time to visit Azerbaijan is from April to June and September to October. However, if you want to visit the villages in the mountains, the best time to come is during the summer. But be prepared, that in the lowlands of Azerbaijan the temperature could reach 40°C.

There are several scams tourists face in Azerbaijan. The best way to avoid them is to make research and learn about them. 

Local buses in Baku don't take cash. You have to buy a transport card in advance. You can use the same card in the city's metro.