7 best places to visit in CUBA
Curious about the best places to visit in Cuba? Without too much modern interference, Cuba has changed very little in the past few decades. 
It's a unique place where tourists can experience life as it was decades ago.
Enjoy the unique atmosphere and architecture in UNESCO-listed cities of Cuba, enjoy the beautiful landscapes, swim in the blue waters and relax on a beach with a drink in hand. Sounds intriguing, doesn't it? It does to me.
Cuba indeed has a lot to offer to its visitors!
But what exactly to see in Cuba? 
To help you with the task of planning we've created this list of some of the best places to visit in Cuba.
7 best places to visit in Cuba
Havana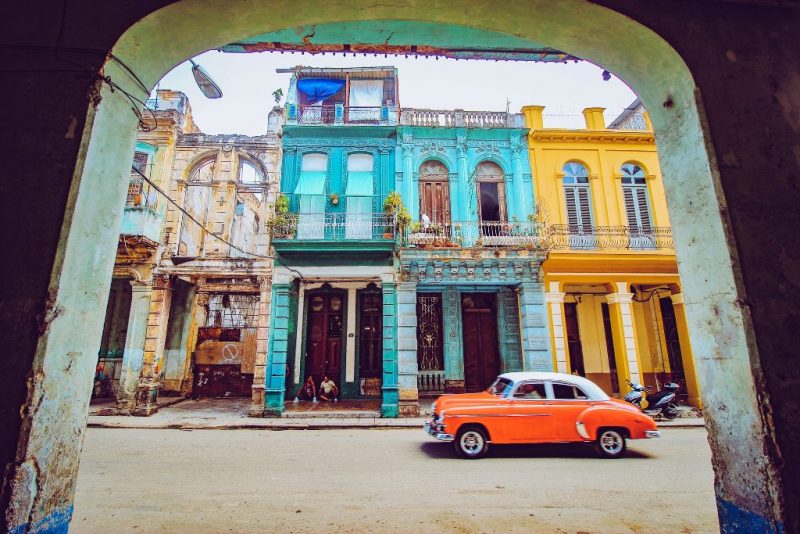 As most flights are going to land in Havana, Cuba's capital city, it's where most tourists start their Cuban adventure.
Havana is a city of contrasts — the grand National Capitol Building and the colourful renovated colonial buildings contrast with old houses on the brink of collapse.
Explore Old Havana which, according to UNESCO, is the most impressive historical city centre in the Caribbean. It's a mix of Baroque and neoclassical monuments and colourful private houses. Old Havana has some of the best-preserved histories in Cuba.
Old Havana and its Fortification System are a UNESCO World Heritage site. 
Stroll along the Malecón which is a famous waterfront promenade and one of Havana's most popular areas.
Take a tour of Havana in a classic vintage car which is one of the best things to do in Cuba.
Love music and dancing? We have great news! Havana has a great vibe and is brimming with nightclubs and live-music venues. By the way, Cuba is one of the most musically diverse countries on the planet!
Trinidad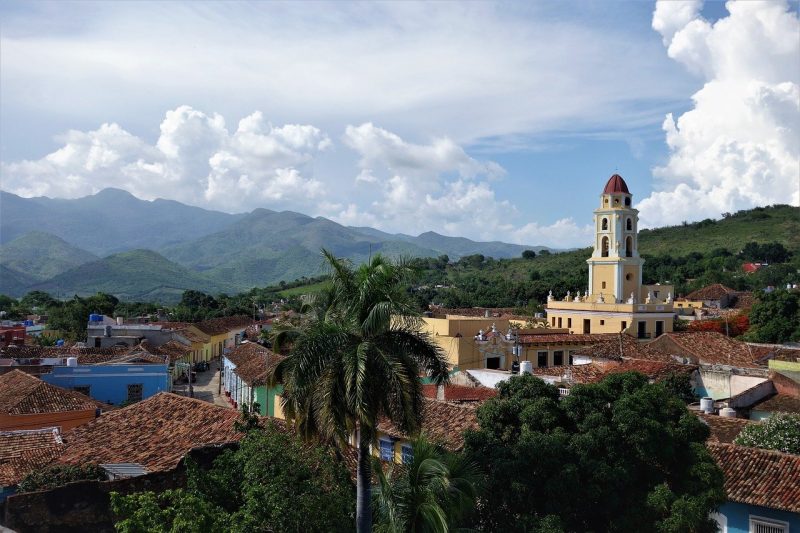 Located some 320 km from Havana, Trinidad is a town in central Cuba and a UNESCO World Heritage Site.
Trinidad is known for being a well preserved mid-19th-century town.
The most picturesque part of the town is its centre where no motor vehicles are allowed.
Explore its pretty cobbled streets, and soak in the colonial beauty. The buildings are well-preserved, and some of them even have original furniture and other original colonial artefacts.
Located just 12 km from Trinidad, Playa Ancon is a great place for sun-seekers and beach lovers.
Valle de Viñales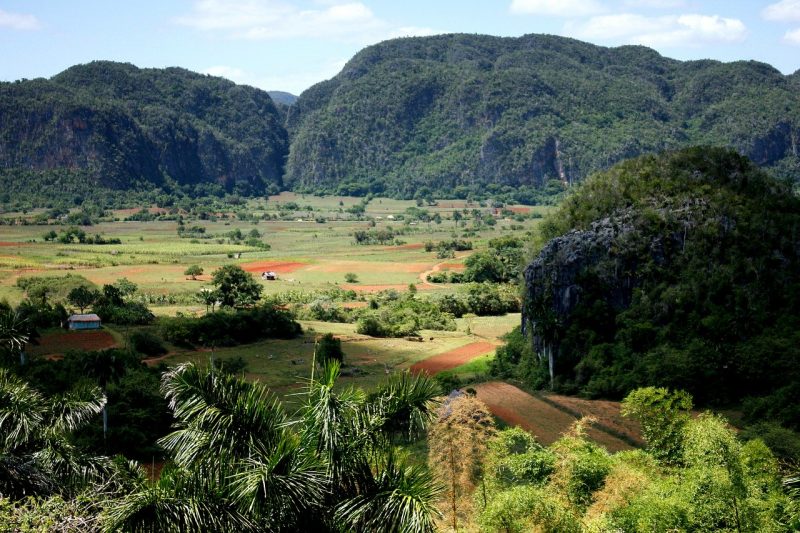 Valle de Viñales is a valley characterised by a dramatic karst scenery.
Boasting beautiful natural landscapes, Viñales Valley attracts many tourists and is one of the best places to visit in Cuba.
With so little traffic on rural roads, cycling is the best way to explore this area. And biking around Viñales Valley is one of the best things to do in Cuba.
Hop on a bicycle and enjoy the views of dramatic limestone outcrops and green tobacco fields, and visit the valley's amazing viewpoints.
The terrain is relatively flat, so you don't have to be an experienced mountain biker to do this.
Varadero beach (and other, much quieter beaches)
Some of the most popular Cuban beaches are in Varadero. These long and wide beaches are tourist-heavy and backed by resorts and restaurants.
Yes, for many it may sound like hell. But for some still, it's a paradise.
So yes, Varadero is not for everyone. But it's worth a visit if you don't mind crowds or have limited time. It's located just 2.5-hour drive away from Havana, Cuba's capital city.
If you prefer quiet beaches, head to Península de Guanahacabibes which is the complete opposite of Varadero. It lacks major tourist infrastructure and has tranquil beaches. It offers great diving spots.
You'll find good beaches in Bahía de Cochinos (the Bay of Pigs), too. But it's better known for some of Cuba's best diving.
Baracoa
Founded in 1511, Baracoa is the oldest city in Cuba. 
Located near the eastern tip of Cuba, Baracoa is also the country's most remote city. 
Unlike the tourist resort of Varadero, Baracoa has a secluded and quiet black sand beach. 
The city is known for its beautiful surroundings — rivers, waterfalls and lush forests. Many travellers come to hike El Yunque, a mountain with a height of 575 meters famous for its flat top.
Cienfuegos
Cienfuegos is a city on Bahía de Cienfuegos, a bay on Cuba's south coast.
Dubbed 'Pearl of the South', Cienfuegos is a UNESCO World Heritage site and a popular tourist destination. It's known for its grand eclectic French-inspired 19th-century architecture.
But architecture is not the only thing why you should visit Cienfuegos.
Enjoy the beauty Jardín Botánico de Cienfuegos, a botanical garden not far from the city. It is Cuba's oldest botanical garden. 
Visit Laguna Guanaroca, a mangrove-rimmed saline lake southeast of Cienfuegos, which has lots of flamingos and is an excellent place to go birdwatching.
Do not miss El Nicho, a stunningly beautiful waterfall, 1.5-hour drive away from Cienfuegos.
Cayo Largo del Sur
Cayo Largo del Sur, a small resort island off Cuba's southern coast, isn't very Cuban, but there you'll find some of the best beaches in the country.
As a plane is the only option to get there, it is not an option for everyone. Definitely not for those who are travelling on a budget, as it's quite expensive.
The beaches of Cayo Largo del Sur are quiet and undeveloped, deserted and paradise-like with white sands and blue waters.
The island is perfect for relaxing on the beach, diving and snorkelling. But be warned — apart from that there's nothing to do. So, if you are not interested in these activities, this place is not for you.
You can find naturist-friendly beaches in Cayo Largo del Sur. Sea turtles lay their eggs on Playa Tortuga. Cayo Iguana, an island off the northwest tip of Cayo Largo, is home to hundreds of iguanas. 
Voted as the third most beautiful beach in the world in 2016 by TripAdvisor Travellers Choice, Playa Paraiso is a serene and almost untouched beach known for its pristine white sandy coastline and sparkling turquoise water.
Cuba travel tips
Tourists require a tarjeta de turista (tourist card). It's valid for 30 days and can be acquired from a travel agency. There are two types of tourist cards. Travellers departing from the USA need a pink card, and travellers flying from the rest of the world need to get a green card.

In order to be allowed to enter Cuba, you must have a round trip ticket. No one-way tickets!

There are two currencies in Cuba — Cuban convertibles (CUC) and Cuban pesos (CUP). Tourists mostly use CUC, and often prices for tourists are shown in CUC. CUC is also the more valuable of the two currencies. However, we suggest you carry a small amount of CUP for small expenses like street food and bus fare. Travellers can exchange Cuban currency at banks, hotels, and government currency exchange houses. Avoid unofficial currency exchanges, as currency scams are common in Cuba.

There are a growing number of ATMs, but only

non-US (!)

credit and debit cards are accepted.

Travel between cities in Cuba by bus. Viazul is the most popular option among tourists.

Stay at Casas Particulares, private homestays, to experience everyday Cuban life. They're also cheaper than hotels.

December – April is the high season in Cuba and also the best time to visit the country. There's a hurricane risk between June and November and a higher chance of rain.