7 best places to visit in GEORGIA
Georgia, a former Soviet republic, is a confluence between the East and the West. The country is known for its stunningly beautiful lush nature and extremely hospitable people. But these are not the only reasons it is attracting more and more visitors every year. 
Home to high mountains, medieval towns, Black Sea beaches and also, surprisingly, space-age architecture Georgia is a great place for your next vacation!
But what to see in Georgia? To help you with the task of planning a trip to Georgia we have made this list of some of the best places to visit in Georgia. 
7 best places to visit in Georgia
1. Tbilisi
Tbilisi is the capital of Georgia. Just like the whole of Georgia, Tbilisi also is a mix of the East and the West. While the oldest architecture is carefully preserved in Tbilisi, new shiny buildings are being built, too.
Music Hall, Ministry of Internal Affairs and the Bridge of Peace are just a few of the unique structures in Tbilisi.
Tbilisi Old Town District is completely the opposite. No sleek structures, no elegant lines, no glass, and concrete. But it doesn't mean that the buildings are ugly. Quite the opposite – Tbilisi Old Town is one of the most interesting places in Georgia. Cobbled streets, old stone churches, old leaning buildings, and beautiful little houses painted in various colors.
Many local art shops, wine bars, and artsy cafes could also be found in the Old Town.
2. Stepantsminda
Stepantsminda, formerly known as Kazbegi, is a small town in north-eastern Georgia. Surrounded by mountains, this little town is the gateway to various treks.  
Just like with any capital anywhere else in the world, modern Tbilisi is different from the rest of Georgia. And Stepantsminda is one of the best places to see a completely different side of Georgia.
One of the most iconic sights in Stepantsminda area is Gergeti Trinity Church – an ancient church perched on a hill at an elevation of 2170 meters, with Kazbek mountain in the background. 
It's a beautiful place not far from Stepantsminda – only 2 hour-long trail away from the town.
With an elevation of 5054 m, mount Kazbek is one of the major mountains of the Caucasus and the third largest peak in Georgia. Also, Kazbek is a dormant volcano, and the second-highest volcanic summit in the Caucasus (after mt. Elbrus).
Hiking to the Gergeti Glacier is another awesome thing to do in the area. But this trek takes way longer than the hike to the Gergeti Trinity Church – up to 10 hours in total.
3. Villages of Svaneti
Svaneti, one of the most remote areas in Georgia, is a medieval land of ancient houses and old watchtowers. A stroll along the streets of Svaneti villages will throw you back into the past – into the Middle Ages.
There are several villages in the beautiful Svaneti region.
Ushguli is one of the most popular ones, but it's also a very remote village. There's only one road going to Ushguli, and the ride is bumpy but very beautiful. Don't let this discourage you! This place is stunning, and worth the bumpy ride.
Mestia is the central village of Svaneti, and it's easier to get to. Take a night train from Tbilisi to Zugdidi, and then from there take a minibus. Or even better – you can fly to Mestia from Kutaisi or Tbilisi.
To enjoy the beautiful scenery of Svaneti, snowy peaks and alpine meadows, hike from Mestia to its neighboring villages.
The hike to Chalaadi Glacier is among the top things to do in Svaneti. It takes around 6 hours to get there from Mestia town.
Another great place to visit in Svaneti is Chazhashi village. It is truly is a medieval village with more than 200 unique ancient buildings. The village is located very close to Ushguli, just a 10 minute walk away.
If you have time, hike from Mestia to Ushguli. It takes 4 days. There are guesthouses on the way, or you can sleep in a tent.
4. Batumi
Batumi is Georgia's Black Sea capital. 
Head there to enjoy its party atmosphere and soak in the sun, spending lazy time on the beach with a drink in hand.
Batumi Boulevard is considered the "Party Capital of Georgia". Thousands of people visit its beachside restaurants, bars and clubs, and party till dawn. The busiest time is June to mid-September because that's when the weather is at its best.
5. Mtskheta
Mtskheta is one of the oldest cities in Georgia. In fact, it used to be the country's capital from the 3rd century BC to the 5th century AD.
Now due to their historical significance, some cultural monuments in Mtskheta are listed as a UNESCO World Heritage Site (they're called the "Historical Monuments of Mtskheta").
If you have only a few days to spend in Georgia, definitely don't miss Mtskheta! It is located just 25 kilometers north of Tbilisi, country's capital.
6. Vardzia Cave Monastery
Vardzia is a cave monastery built in the slopes of Erusheti Mountain in southern Georgia. Being such a unique place, Vardzia Cave Monastery is one of the best places to visit in Georgia.
The caves stretch along the mountain for around 500 meters and are positioned in up to 19 tiers.
A few monks still live in this mountain monastery.
7. Gudauri Ski Resort
If you are visiting Georgia during the winter, one of the best things to do in Georgia then is to visit one of its ski resorts.
Gudauri ski resort is the most popular among international tourists. 
Gudauri ski resort is the perfect option for skiers on a budget. Lift tickets are really cheap – starting at just 10 EUR per day during the low season and 17 EUR during the high season. The slopes are open from December to late April.
The accommodation also is inexpensive. Bunk beds at hostels start at 25 EUR, double rooms – at 60 EUR.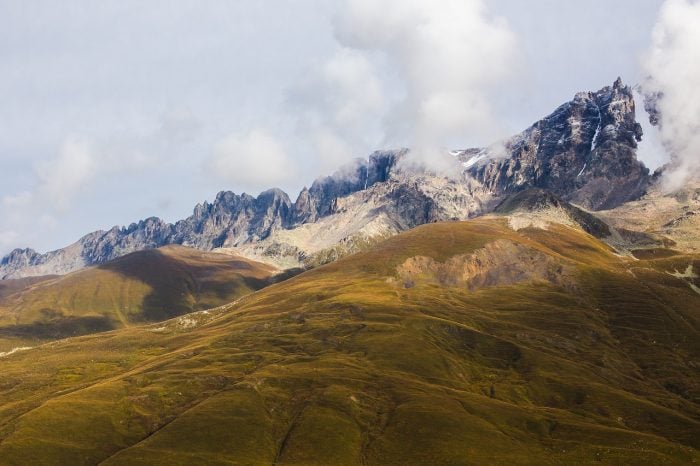 Georgia travel tips
EU citizens (and citizens of several other countries as well) don't need a visa to travel to Georgia.

Major cities have quite developed public transport systems. Tickets are cheap. 

It's quite easy to travel around Georgia. Probably the most convenient way to travel is by train. Georgian Railway stretches across the country. The railway goes from Tbilisi to Borjomi, Kutaisi, Batumi, Kobuleti, Zugdidi and many other places across the country. Download the Georgian Railway Tickets app to purchase your ticket in advance.

Where you can't get by train, you will get by a local mini-bus (marshrutka). It might not be the most convenient way, but it is cheap and very popular means of transport.

Not many people in Georgia speak English. It is best if you know at least some Russian. As Russian is lingua franca in Georgia, your Russian language skills will come in handy.

Georgia is one of the oldest wine regions in the world. You can't leave Georgia without trying its wine!