7 best places to visit in ISRAEL
Israel is one of the best autumn destinations for Europeans. While it's dark, rainy and gloomy in many places in Europe, it's still sunny and warm in Israel. As it is located not too far from Europe, it takes only four to five hours to get there from major European cities. Making Israel a great destination for a quick getaway.
Many people come to Israel only for the sun and sea, but these are not the only reasons why you should visit Israel.
Israel is perhaps best known for its holy sites.
Israel is a Holy Land, and the home of Joseph, Mary, and Jesus. Also, Jerusalem, the country's capital, is one of the oldest cities in the world and is considered a holy city by three major religions. So, thus it is a pilgrimage destination not only for Christians but also for Muslims and Jews.
In 2018 Israel received 4 million tourists, and tourism is one of Israel's major sources of income.
Coming to Israel, and don't know what to do in Israel?
To help you with the task of planning, we have created this list of some of the best places to visit in Israel.
7 best places to visit in Israel
1. Jerusalem
I know this goes without saying, but Jerusalem is a must when traveling to Israel. Whether you are religious or not, visit this magnificent old city!
Jerusalem is one of the oldest cities in the world and it is considered a holy city by three major religions – Islam, Christianity, and Judaism.
The oldest part of the city is the Old City, which has four quarters in the Muslim Quarter, the Armenian Quarter, the Christian quarter and the Jewish quarter.
Traveling to Jerusalem is like travelling back in time. Jerusalem Old City boasts well preserved historical and religious monuments. 
2. Tel Aviv
Tel Aviv is the second-largest city in Israel, and it is the party capital of Israel and the Middle East. By the way, it is one of the world's best nightlife destinations.
Tel Aviv has great beaches (which stretch over 10km along the Mediterranean) and is home to some of the best museums in the country.
Also, the city is very LGBT friendly, and it is frequently referred to as one of the most gay-friendly cities in the world.
3. Eilat
Eilat is one of Israel's most popular resorts. Eilat's southern part is a great place for snorkelers, and scuba divers.
Visit Dolphin Reef to swim with bottlenose dolphins in their natural habitat. It's a unique experience, for kids and adults alike.
For those who love to hike, Red Canyon is a perfect place to visit! It's an easy and accessible hike with dramatic desert scenery.
Timna Valley, which is situated some 30 km from Eilat, is another great place in the area you shouldn't miss. Surrounded by sandstone mountains on three sides, this scenic valley features ancient copper mines. 
Eilat is the most southern city in Israel, and it has a border with Jordan and a border with Egypt. Proximity to great sights in Jordan and Egypt makes it a great gateway if you plan to visit these countries as well. Book trips to Petra and Cairo from local travel agents, or plan a trip on your own.
4. Dead Sea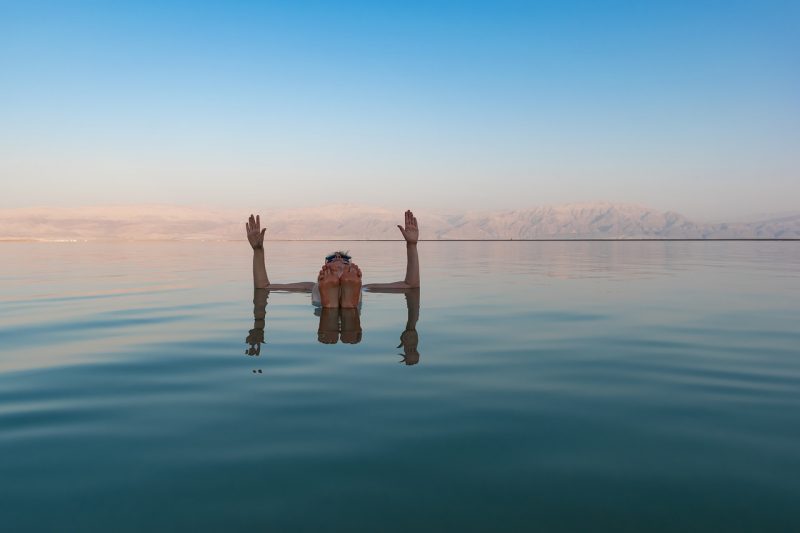 Israel is known for its Dead Sea resorts.
A swim in the Dead Sea is an unforgettable experience. Actually, you can't really swim in it. It is soooo salty, you float! Also, it's impossible to sink in the Dead Sea.
Despite its name, the Dead Sea is actually a lake. And – it's the lowest lake in the world at that! At 430 meters below sea level, it's also the lowest point on earth. Also the shore of the Dead Sea is the Earth's lowest point on dry land. The shores that surround the Dead Sea are about 413 meters below sea level!
The water in the lake is 10 times saltier than in an ocean, but it's not the saltiest body of water on the planet.
Salt crystallizes along the shores of the Dead Sea, and in some places, you'll see unique salt formations. The desolate, yet enchanting landscape makes this place even more special.
Ein Bokek is a popular hotel and resort district on the shore of the Dead Sea.
5. Masada
Masada is an ancient stone fortress in the Judean Desert. It is situated in Southern Israel, near the Dead Sea. So, if you are planning to visit the Dead Sea, visit Masada as well!
The fortress is built on an isolated rock plateau overlooking the Dead Sea, and it is a symbol of the ancient kingdom of Israel.
Masada is an archaeological site of great significance. The remains of the palaces and other installations are some of the best-preserved of their kind, and it is the reason why Masada is a UNESCO World Heritage site.
Desolate landscapes with the Dead Sea in the background are stunning and otherworldly. No wonder it's one of the best places to visit in Israel.
6. Caesarea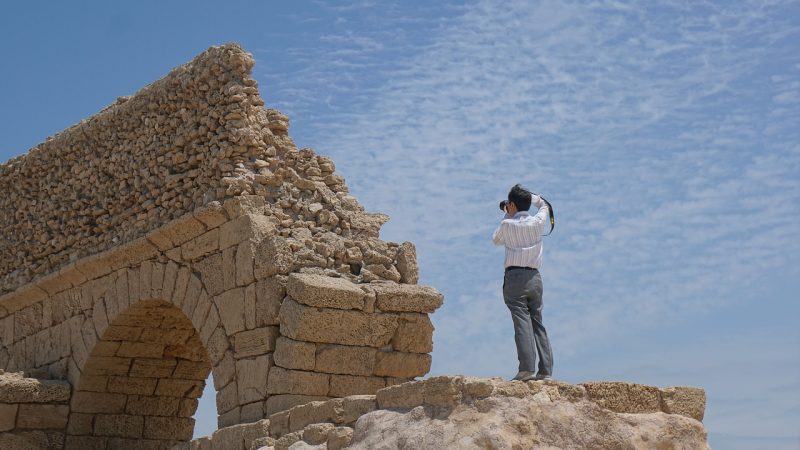 Caesarea is a town located on the Mediterranean coast of north-central Israel, which inherits its name and its territory from the ancient city of Caesarea Maritima. Caesarea Maritima was an ancient city in the Sharon Plain on the coast of the Mediterranean. Now it is a part of Caesarea National Park.
Caesarea National Park is known for its ancient Roman theatre, ancient harbor and the aqueduct.
Caesarea was restored recently, and now it's one of the most fascinating archaeological sites in Israel. 
7. Ramon Crater
Ramon Crater is one of the most unique places to visit in Israel. It is located in Israel's Negev Desert and is the largest erosion crater in the world, measuring 40 km in length and 10 km at its widest point. 
Because of its size and unearthly landscapes, Ramon Crater is one of the most dramatic sights in Israel. The land in the area is desolate, and the landscape looks like that of the moon.
Despite being one of the world's geological wonders, Ramon Crater is surprisingly underestimated.
Israel travel tips
Citizens of the EU are not required to obtain a visa if staying in Israel for less than 3 months.

If you have time, include a visit to Jordan as well. The two countries are next to each other, and it takes only a few hours to travel between Tel Aviv and Amman. Definitely visit Petra if you are planning to visit Jordan!

October is a great time to visit Israel. It's warm and sunny, and occasionally – even hot. In November it starts to cool down, but the weather will still feel very warm to those traveling from Northern European countries.

Jerusalem and Tel Aviv are as different as chalk and cheese. While Jerusalem is religious and modest, Tel Aviv is liberal. Parties and bars are not uncommon in Tel Aviv, and you can wear pretty much anything you like. But you must dress modestly in Jerusalem (and other more conservative parts of the country). So, pack accordingly.

Israel does not stamp your passport anymore (due to some countries banning people with Israeli stamps). Instead, you'll be given a paper slip to carry along with you. Make sure you don't lose the slip, as you will be required to show it at crossing points and upon leaving the country.

Don't be surprised if you are interviewed at immigration upon arrival. Security is very tight in Israel, and it's a standard procedure. You might be asked for the details of where you plan to stay; how long are you going to stay; what is your purpose of visit. You'll have to show your hotel/hostel booking and your return / onward flight.