Best places to visit in MADAGASCAR
Planning a trip to the remote and diverse Madagascar? Are you wondering what are the best places to visit in Madagascar?
Madagascar is an island country in the Indian Ocean, lying approximately 400 kilometres off the coast of East Africa. 
It is the fourth largest island and the 2nd largest island country in the world.
Madagascar is known for its endemic wildlife, especially lemurs and towering baobab trees. Approximately 90 per cent of all plants and animals found in Madagascar are endemic. And this makes the island a paradise for wildlife lovers!
What else is there to see in Madagascar? Breathtaking, unique landscapes, lush cloud forests, beautiful beaches and pretty islands. 
Sounds nice? Then you should pack your bags and head to this beautiful island country!
Check out our list of the best things to do in Madagascar to plan your perfect Madagascar itinerary!
7 best places to visit in Madagascar
Isalo National Park
Isalo National Park is a national park in Southern Madagascar. 
It is famed for its varied terrain — cliffs, areas of grassland, waterfalls, gorges and up to 200 m-deep canyons.
There are several hiking trails in the national park. Treks can last from several hours to several days.
The national park is home to some 100 bird species and several lemur species. You may encounter them while hiking in the national park.
The Tsingy de Bemaraha National Park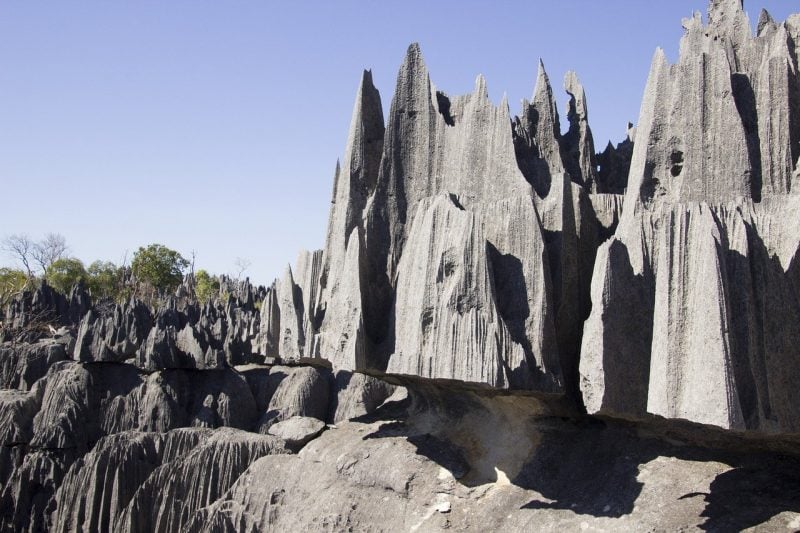 The Tsingy de Bemaraha National Park is a national park in northwest Madagascar.
Together with the adjacent Tsingy de Bemaraha Strict Nature Reserve, this national park is a UNESCO World Heritage Site.
Known for limestone pinnacles that dot the landscape, this national park is hands down one of the best places to visit in Madagascar.
There are several hiking routes in the Tsingy de Bemaraha National Park. The hiking routes aren't just an easy walk in the forest! They are quite demanding, as you'll be walking up and down steep craggy sections, slippery slopes and on suspension bridges, and in steeper sections using a harness with carabiners to clip into cables for safety.
Thanks to the unusual geomorphology of the national park, the Tsingy de Bemaraha is also home to a large number of endemic species of plants and animals, including several lemur species (e.g., Von der Decken's sifaka, Red-fronted brown lemur, Bemaraha woolly lemur, etc.).
Nosy Be
Nosy Be is an island off Madagascar's northwestern coast and one of the top destinations in Madagascar.
The beaches of Nosy Be are known for clear turquoise water and restaurants serving delicious seafood.
Nosy Be is also home to luxury family-friendly resorts.
The best things to do in Nosy Be, besides relaxing on a beach, are snorkelling, diving and whale watching.
Every year between July and November humpback whales come to Nosy Be to breed and to give birth to their calves. However, the chances of seeing a whale are higher between August and October. Seeing these majestic creatures is an unforgettable experience!
Besides humpback whales, you can also spot dolphins and whale sharks. 
Ile Sainte Marie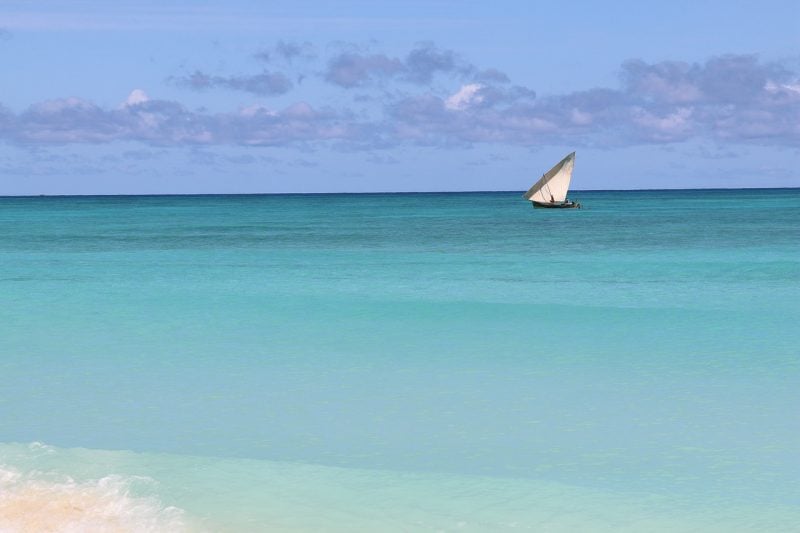 Île Sainte-Marie (or Nosy Boraha) is an island off Madagascar's east coast. 
Once a pirate island, now it is a small tropical paradise with deserted beaches backed by coconut palms.
Fun fact — the island is home to the only pirate cemetery in the world. It's not very spectacular, but it's still an interesting place to visit.
Do not miss the natural pools of Ile Sainte Marie. They're called "Piscine Naturelle d'Ambodiatafana" and are situated in the north of the island.
Just like Nosy Be, Ile Sainte Marie is a popular whale-watching spot in Madagascar. Substantial groups of humpback whales come here every year (July-October) to mate and calf.
Avenue of the Baobabs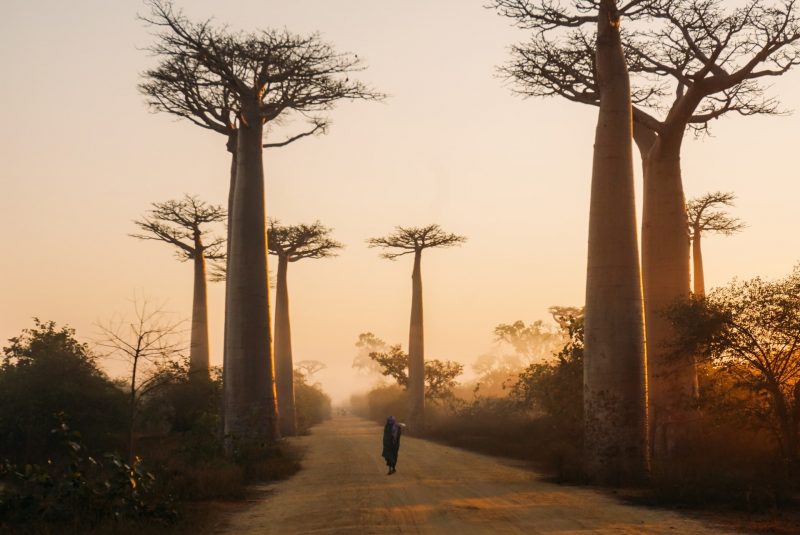 Madagascar is well known for the Grandidier's baobabs — trees that are endemic to this island.
These baobabs can be found throughout the country, but the most impressive is a place some 18 km from Morondava — a road lined with these magnificent trees. This road is called the "Avenue of the Baobabs", and it is one of the best places to visit in Madagascar.
There are several baobab species in Madagascar, but the Grandidier's baobabs are the biggest and most famous. They can reach 30 m in height, and they are up to 2800 years old.
Ranomafana National Park
Ranomafana National Park is a large national park in Madagascar. It is located in the southeastern part of the country and is an important example of a cloud forest.
Ranomafana National Park is one of Madagascar's most popular national parks and one of the best places to visit in Madagascar.
The national park comprises 417 square km of tropical rainforest with densely forested hills, numerous streams, waterfalls and rich wildlife.
It is home to several rare species of flora and fauna, including the endangered golden bamboo lemur.
Andasibe-Mantadia National Park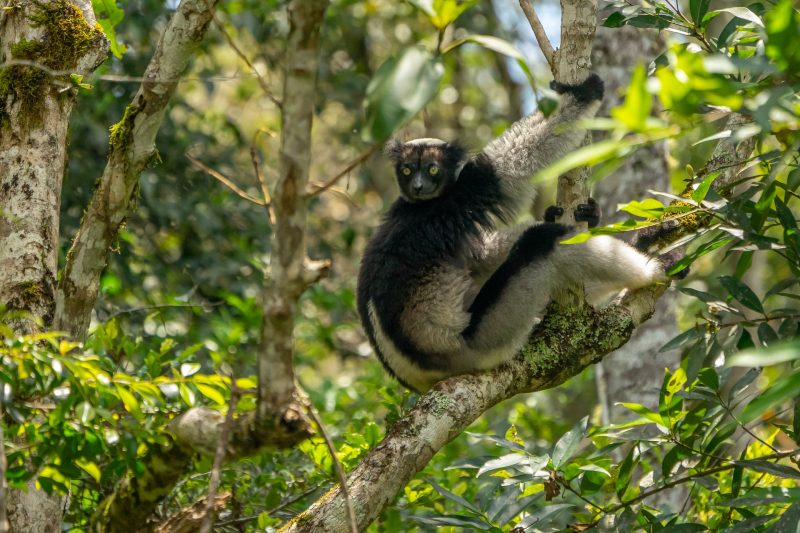 Andasibe-Mantadia National Park is a protected area, located in eastern Madagascar.
The national park is a habitat to many endemic rare and endangered species, including the biggest lemur of the world: the indri.
The indri can grow as tall as 70 cm and weigh between 6 to 9.5 kg.
Andasibe-Mantadia National Park is one of the easiest parks in Madagascar to visit from the capital city, Antananarivo.
Madagascar travel tips
Getting a visa for Madagascar is easy. You can apply for a visa online (eVisa) or obtain a visa on arrival. eVisa application must be submitted at least 3 days before departure.

Public transport in Madagascar is very slow and underdeveloped. Public buses don't go to many cities, and the railroad network is also unavailable in most cities.

Organised tours are the most common way to explore the country. Another option is to hire a car with a driver.

The official languages of Madagascar are Malagasy and French. Outside the big towns and tourist areas, people will not understand the English language. That's why knowing some French is useful. Download an offline dictionary you can use on your phone.

Malaria is present in Madagascar. Talk to your doctor about how to prevent malaria while travelling.

The best time to visit Madagascar is during the dry season which runs from April to October. 

The climate in Madagascar is varied. During the dry season, days are warm, but the nights can become very cool. Also, it's cooler in the mountains and rainforests than by the beach. So make sure you bring warm clothes. 

Carry cash, as smaller towns may not have ATMs.

We suggest you dress fairly modestly. Avoid short skirts, skimpy dresses, short shorts and low cut tops.

Remember, that hiring a guide is mandatory in many national parks in Madagascar.