7 best places to visit in MOLDOVA
Curious about the best places to visit in Moldova? Moldova is one of the least visited countries in Europe. It's truly a hidden gem and deserves a visit.
In some way, Moldova is kinda exotic. It is a Romanian and Soviet blend with a strong influence on Russian culture. 
Want to visit someplace unique where very few tourists go? Then Moldova is one of the best options. Combine a visit to Moldova with a visit to Ukraine and/or Romania to experience more during your trip.
But what to see in Moldova? 
To help you with the task of planning we've created this list of some of the best places to visit in Moldova.
7 best places to visit in Moldova
Chișinău
Chișinău, also known as Kishinev, is the capital and largest city of Moldova. It is where most tourists start their trip to Moldova.
Unfortunately, there's nothing much to do in Chișinău unless you are interested in Soviet buildings and Communist Heritage.
All in all, it's quite a grey city full of grey concrete buildings, lacking distinctive "must-see" objects.
However, there are several interesting places to visit in Chișinău. There are numerous parks, monuments and museums.
Definitely visit Central Market. It's a good example of a traditional Eastern European produce market with friendly stall owners selling delicious fresh produce.
Why are we including Chișinău on this list? It's a good base to do some day trips and meet other travellers. Also, it's a great place to enjoy the local cuisine and enjoy the nightlife.
Orheiul Vechi
Orheiul Vechi, also known as Old Orhei, is probably the most fascinating place in the country, and one of the best places to visit in Moldova.
It's a historical and archaeological complex boasting breathtaking cave monasteries that date back to the 13th century. These monasteries are still functional as chapels.
The cave monasteries are carved into a massive limestone cliff in a wild, remote spot. There's a church at the top of the hill which is maintained by a handful of Orthodox monks.
Also, Orheiul Vechi contains traces of other civilisations, including the remnants of ancient earthen and wooden fortresses from 6th-1st centuries B.C.
Soroca
Soroca is known as the Roma capital of Moldova, but most people come here to see the outstanding Soroca Fortress for which the city is famous.
The fortress dates back to the days of Ștefan cel Mare in the late 15th century. However, the original wooden fort was rebuilt in stone between 1543–1546.
The fortress was an important part of a chain of fortifications — the Moldovan defensive system. Thanks to this chain of fortresses, Moldova's borders were well protected.
Another popular tourist attraction in Soroca is "Gypsy Hill". It's so popular because of the large number of eye-catching and unusual residential buildings built by the Roma community. Some of the buildings are, dare I say it, kitschy. And it makes them very interesting. 
Roma residents were inspired by the greatest works of architecture and built elaborate houses that somewhat resemble famous buildings like the U.S. Capitol Building, Moscow's Bolshoi Theatre and Vatican's St. Peter's Basilica.
"Gypsy Hill" is easy to find. Just look for the hill with shining roofs!
Transnistria
Have you ever wanted to visit a country that doesn't officially exist? This is your chance! The self-proclaimed Transnistrian Republic is a country not recognised by the UN. This unrecognised country has its own borders, a capital, a president, its own currency, a flag and an emblem.
Transnistria has a Russian-speaking population. After the collapse of the Soviet Union Transnistria declared its own independence to break from Moldova. 
Join an organised tour to Transnistria from Chisinau. The duration of the trip is usually about 8 hours, and you'll visit the country's capital Tiraspol and the second-largest city Bender.
Transnistria is often called an open-air museum of soviet times, and you'll see plenty of Soviet Heritage. Visiting Transnistria feels a bit like travelling back in time to the USSR.
Saharna Monastery
Nestled between lush hills, Saharna Monastery is one of the oldest monasteries in Moldova and one of the biggest centres for religious pilgrimages in the country.
The monastery complex contains a monastery, a unique rock cave church and a chapel on top of a hill.
There are 22 waterfalls in the area, and the most popular one is a waterfall with a rather interesting name — "Gipsy Hole". It is really close to the monastery.
Milestii Mici
Many people know Milestii Mici as a wine cellar.
It may come as a surprise to learn that Moldova is a wine country. In fact, Moldova is the 11th largest European wine-producing country.
Enjoying the largely undiscovered wine culture is one of the best things to do in Moldova.
Wines in Moldova are great. Many families have their own recipes that have been passed down through the generations.
What else? Milestii Mici's winery boasts a huge wine collection. There are 1.5 million (!!) bottles in the winery, and it's a Guinness World Record! The bottles are stored in cellar tunnels that stretch for 241 kilometres. It's the largest wine cellar in the world! 
Cricova
Do not miss the must-visit vineyards of Cricova, another great destination for wine lovers!
Its underground wine cellar is one of Europe's biggest and the second largest in Moldova. It boasts 120 km-long underground limestone tunnels a part of which dates from the 15th century. 
The walls of the cellar are lined wall-to-wall with bottles. And the most interesting part of the cellar is the section showcasing collectable bottles, including the wines from the early 20th century.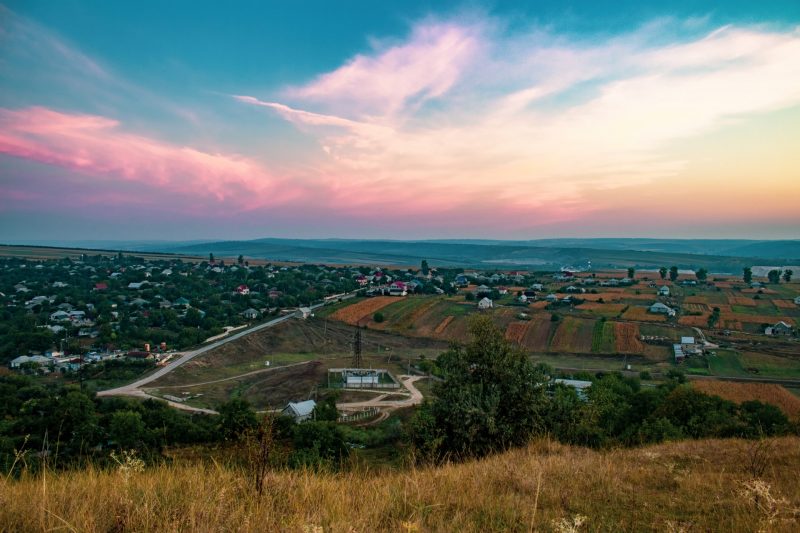 Moldova travel tips
Citizens of many countries (including the E.U., Australia and the U.S.) can enter the Republic of Moldova without a visa for a period of up to 90 days within any 180 day period.

Combine a trip to Moldova with a trip to

Romania

. Taking a train from Bucharest to Chisinau (or vice versa) is the best way to travel between the two countries. The journey takes around 15 hours.

Also, you can combine a trip to Moldova with a trip to

Ukraine

. To get to Moldova, take a bus or a train from Odessa to Chisinau.

Summer is the best time to visit Moldova. It's also the peak tourism season. As Moldova is not touristy, you will still enjoy the trip despite the fact it's the peak season. The best time to see wine produced in Moldova is from mid-September to mid-October.

Romanian is the official language, but most Moldavians also speak fluent Russian. As only an educated young generation can speak English, communicating with locals can be difficult. Unless you speak Russian.

If you plan to visit Transnistria on your own, be mindful of the visa situation. If you plan to travel from Transnistria to Ukraine or vice versa, find out about the Moldovan exit/entry stamp situation.