Best places to visit in PAKISTAN
Planning a trip to Pakistan and wondering what are the best places to visit in Pakistan?
Sadly, because of how Pakistan is portrayed in the media, it's not a popular tourist destination. But despite the fact, Pakistan is a wonderful destination to visit. It is rich in culture and heritage. Pakistan boasts breathtaking natural wonders and there are countless cool places to visit. It's relatively safe to visit for tourists, despite its bad image.
You will feel welcomed, as Pakistan is famous for its friendly and incredibly helpful people. It's incredibly easy to meet locals in Pakistan, and you will definitely meet a few new friends there!
Pakistan is home to some of the wildest and striking landscapes that will leave you speechless. Yes, travel is not as effortless as in South East Asia or even India, but it's not impossible. In fact, it's quite easy, it just requires a little bit of preparation and planning.
Forget about what you have read about Pakistan on the news and come to explore this magnificent country! So, it's time to lose the stereotypes!
7 best places to visit in Pakistan
Gilgit Baltistan
Gilgit Baltistan is a highly mountainous region in northern Pakistan.
Boasting a number of breathtaking natural wonders, Gilgit Baltistan is undoubtedly one of the best places to visit in Pakistan. The region can be easily explored from Hunza (for the best experience you will have to hire a driver).
Here are some of the highlights of the region:
Passu Cones.

Majestic pointed peaks

near

Passu Village. Passu Cones are one of the most photographed mountains in the region.

Passu Glacier.

A beautiful and impressive glacier that can be reached from Passu Village.

Hussaini Hanging Bridge.

A long and impressive suspension bridge.

China–Pakistan border.

With an elevation of 4693 m, it is the highest-paved international border crossing in the world.

Fairy meadows.

A wide, lush green meadow with breathtaking views of majestic Nanga Parbat. You have to hike to get to the famous meadow.

Karakoram highway.

A 1,300 km-long highway that connects Pakistan with China. It is one of the highest paved roads in the world. Due to its high elevation and the difficult conditions under which it was constructed, the Karakoram highway is often called the "Eighth Wonder of the World". 

Baltit Fort.

A historical fort founded in the 8th century CE.
K2 Base Camp Trek (and Other Hiking Routes)
Gilgit Baltistan offers some of the best hiking experiences in Pakistan. 
K2 Base Camp Trek is one of the most, if not the most popular, hiking routes in Pakistan. With a height of 8611 metres, K2 is the second-highest mountain on the planet. The trek to K2 base camp takes about two weeks. On your way to the basecamp, you'll see several of the world's highest mountains. Also, you'll see the immense Baltoro Glacier, an impressive, 63 km-long glacier. It is one of the longest glaciers outside the polar regions.
K2 Base Camp Trek is difficult but so worth it! You'll be rewarded with magnificent views only a few places in the world can offer.
Trekking to Fairy Meadows and Nanga Parbat Base Camp is also a must-do when travelling to Pakistan.
Islamabad
Islamabad is the capital city of Pakistan.
The capital city is where you can feel "the big city life" in Pakistan. The city is noted for its safety, high standards of living and an abundance of green spaces. The central part of the city is filled with nice cafes and restaurants.
Islamabad is home to the Faisal Mosque — the sixth-largest mosque in the world and the largest within South Asia. Located on the foothills of Margalla Hills, the Faisal Mosque is the most impressive building in Islamabad. 
As Islamabad is surrounded by the Margalla Hills (which are a part of the Himalayas), the city offers hiking in the hills. There are 6 trails in Islamabad, and the most popular one is Trail No 3. which leads to Monal Restaurant.
Lahore
Lahore is one of the largest and wealthiest cities in Pakistan.
Founded some 2000 years ago, the city is rich in culture and history. It has a number of imposing historical buildings, including the Lahore Fort, a huge fort and a UNESCO World Heritage Site. 
Lahore is known as the city of gardens. The most famous garden of the city is the Shalimar Garden. It is an impressive Mughal garden complex and a UNESCO World Heritage Site.
If you are in Lahore, do not miss the Wagah-Attari border ceremony. It's a border-closing ceremony between Pakistan and India. It takes place every evening, and it is one of the most interesting (and, let's admit, bizarre!) tourist attractions we've ever seen. Both of the countries make an impressive show every evening, at the end of which the flags are lowered in a ceremonial manner. The Wagah-Attari border is located half an hour drive away from Lahore.
Peshawar
Peshawar is the oldest city in Pakistan, and one of the oldest cities in South Asia.
It is also the largest Pashtun-majority city in the country. 
Pashtuns, historically known as Afghans, are the largest ethnic group in Afghanistan. As Peshawar is located so close to Afghanistan, and the region has seen so many conflicts in the recent decades, no wonder there are so many Pashtuns living in the relatively much more safe Pakistan. Head to Peshawar to learn more about Pashtun culture and traditions.
Peshawar is also known for its bazaars and mosques. It's a place where you can get immersed in history and traditions and get a feel of local life.
Derawar Fort
Derawar Fort is a massive square fortress in the Cholistan Desert.
The Cholistan Desert was a centre for caravan trade, and it facilitated the construction of numerous forts to protect trade routes. Derawar Fort is the best surviving fort of its kind.
Originally founded in the 9th century CE, it was rebuilt in 1732. The fort is expansive, and it's composed of massive bastions. The fort is visible for many kilometres in the desert. Derawar Fort is an important landmark, and one of the best places to visit in Pakistan.
Azad Kashmir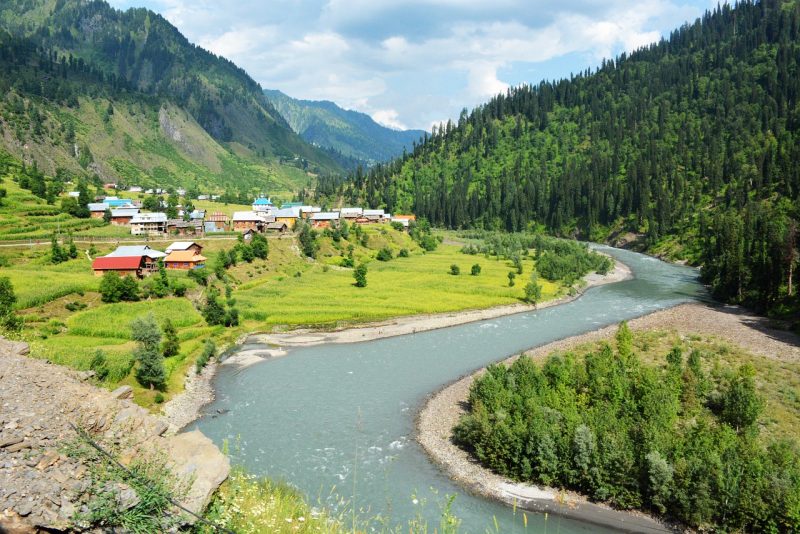 Azad Kashmir is a region in northern Pakistan.
It is known for its green meadows and rivers backed by snow-capped mountains. Also, it is one of the most picturesque regions in Pakistan.  
Neelum Valley is one of the most popular tourist destinations in Azad Kashmir. Situated between the high mountains, it is one of the most picturesque and best places to visit in Pakistan. Ratti Gali Lake, a beautiful alpine glacial lake, is one of the must-visit places in Neelum Valley.
Do not miss Arang Kel, a pretty mountain-top village, and the region's capital, Muzaffarabad.
Pakistan travel tips
You need a visa to travel to Pakistan. Now it is much easier to get a Pakistani visa than it used to be before. You don't need to send your passport to the embassy. You can apply for a Pakistan visa online. Citizens of many nations can apply online for a visa on arrival. So, if you aren't eligible for a visa on arrival, you can apply for an e-visa. It is quite easy, but it just takes some time to approve your visa.

In order to get the visa, you'll need to apply for an invitation letter. You can do it with a help of a local agency. Or, for example, book a hotel and ask the manager to help you with that. They may offer such services or, if not, may know someone that does.

The best time to visit Pakistan's northern regions is from May to September. Then the weather is nice and pleasant, and there's no snow. The best time for visiting the cities of Pakistan is during the fall and winter months when it's not too hot.

Pakistan is large. Fly to save time.

You can also travel long distances by train. Book first class or air-conditioned sleepers to receive more comfort as the cheapest seating classes are usually full and dirty.

"Business class" and "VIP" buses are perfect for shorter distances. Bus tickets are cheap, seats are comfortable, and buses are in good condition.

It's relatively safe to travel around Pakistan. But you must be cautious and be prepared that as a foreigner you won't be allowed to travel to some places and regions — you will be stopped at one of the many checkpoints leading to these places.