7 best places to visit in POLAND
Depending on where you live, Poland might be the best short getaway destination. Especially if you come from the Baltics, Germany, or other countries that have a border with Poland.
Poland may be close, but it doesn't mean it's boring. In fact, Poland is one of the most interesting countries in Europe. It's rich with history and culture and boasts a wide range of activities for all types of travelers.
But what to do in Poland? Which places to see? To help you prepare for your trip, we have created this list of some of the best places to visit in Poland. 
7 best places to visit in Poland
1. Warsaw
If you want to explore Poland's most beautiful gems, Warsaw is a great place to start.
Warsaw is a blend of modern and historical. Its Old Town, a UNESCO World Heritage Site, is the place where everyone should start their sightseeing trip in Warsaw.
Do not miss The Royal Castle. In the past this impressive edifice served as the official residence of the Polish monarchs. 
Lazienki Park, the largest park in Warsaw, is another great place to visit. Boasting lakes, rolling hills, beautiful historical buildings, and gardens, this park is the perfect place to spend a relaxing afternoon.
Warsaw has some great museums as well. Copernicus Science Center and National Museum are among the most interesting ones.
2. Krakow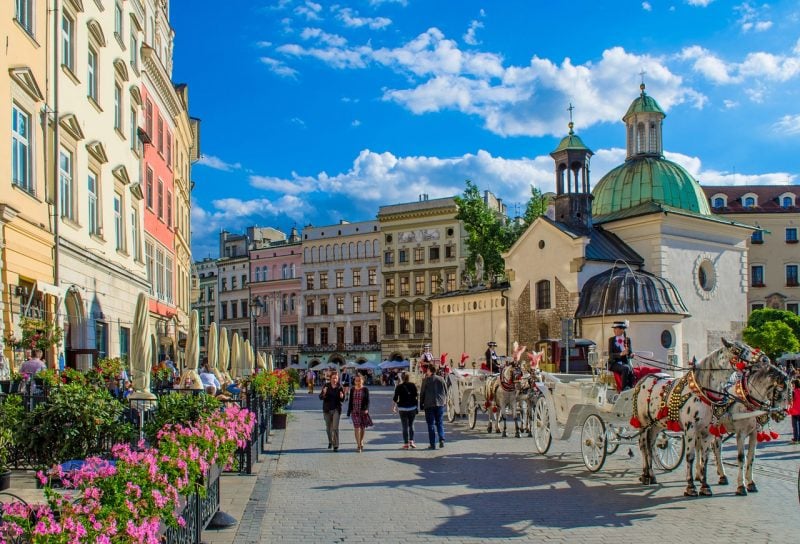 Krakow is the second largest city in Poland, and also one of the oldest ones. Back in the days, Krakow used to be Poland's royal capital.
Krakow's rich history, which dates back to the 13th century, culture, and stunning medieval architecture are the main reasons it is so loved by tourists.
Krakow boasts all the greatest and the most beautiful European styles — Romanesque, Gothic, Renaissance, baroque and art nouveau.
Wawel Castle, a UNESCO World Heritage Site, with its Italian- style courtyard is a great example of Krakow's architecture. It represents nearly all European architectural styles of medieval, renaissance and baroque periods.
3. Wroclaw
Wroclaw is a Polish university city with a student population of over 130 000. It is said to be one of the most youthful cities in the country.
According to the Mercer Quality of Living Survey, Wroclaw is one of the best cities to live in the world. It was placed among the top liveable 100 cities in the world.
Our favourite place in Wroclaw is its oldest section – Ostrów Tumski. It's the origin of the city, and just like any other historical old town in Poland, Ostrów Tumski boasts impressive historical architecture, which dates back to the 13th century. It's especially beautiful at dusk.
4. Wieliczka Salt Mine
Being one of the most fascinating landmarks in Poland, Wieliczka Salt Mine is one of the best places to visit in Poland.
With a history that dates back to the 13th century, the salt mine produced table salt until 2007, and was one of the world's oldest operating salt mines. Now the Wieliczka Salt Mine is an official Polish Polish Historic Monument and a UNESCO World Heritage Site. The salt mine is visited by over a million tourists every year.
Now the mine also provides a venue for underground concerts and theatre shows.
The Wieliczka Salt Mine is also home to the Chapel of St. Kinga. It is located 101 meters underground and features a unique interior – intricately carved floor, crystal chandeliers, altars and bas-reliefs.
5. Tatra Mountains 
Is hiking possible in Poland? Yes, there are plenty of trails in the Tatra Mountains that boast sensational views of the surrounding mountains and mountain lakes.
Morskie Oko, Valley of Five Lakes, Zawrat Pass, Red Peaks, Koscieliska Valley, Koscieliska Valley are some of the most popular hikes.
If you are planning to hike in the Tatra mountains, visit also Zakopane, which is a resort town in Tatra National Park. 
If you don't like hiking, don't worry! You still can see beautiful mountain landscapes, as a couple of mountains (Kasprowy Wierch and Gubałówka) are reachable by cable car and funicular. 
6. Slowinski National Park
Slowinski National Park is a protected coastline of white sand dunes. 
The park's huge, shifting sand dunes are shaped by wind and situated on Poland's Baltic coastline.
The park is also home to Lebsko Lake which is a large saltwater lake. North of the lake you'll find Lacka Dune which has views of the Baltic Sea.
7. Malbork castle
Most probably you didn't know it – but Poland is a land of castles. In fact, castles of Poland are some of the most impressive in all of Europe, and several of them are truly important.
A great example – Malbork castle.
Malbork castle is considered to be the largest brick fortress in the world measured by land area. Built in the 13th century, it's the castle of Teutonic Order, and a UNESCO World Heritage Site. 
It's an impressive edifice built from red brick. It consists of 3 parts – the lower castle, the middle castle, and the high castle. As the castle is really huge, prepare to spend there most of the day.
Poland travel tips
Most tourists travel in Poland by bus or train, and the train is the preferred mode of transport for many. But, just like in many other European countries, traveling by bus is cheaper. Also, the bus network is greater than the rail network. Flixbus, a German coach company that offers intercity bus service in Europe, is our choice in Poland.

You can book train and bus tickets online.

They don't use Euro in Poland. Poland has its own currency called Zloty (PLN).

English is widely spoken in Poland's top tourist destinations, but not in the smaller cities and towns. Download an offline dictionary and learn some basic phrases if you are planning to visit smaller towns.

Poland is not an Eastern European country. It's is in Central Europe. So, avoid saying to Polish that Poland is in Eastern Europe, and they are Eastern Europeans. You will be corrected.

The best time to visit Poland is during the summer. But it's also the time when Poland experiences a lot of crowds, and accommodation is more expensive then. Another popular time is around Christmas. If you want to avoid crowds yet still enjoy warm weather, travel to Poland in late spring or early autumn.