7 best places to visit in PORTUGAL
Is Portugal already on your "must-visit" list? And are you wondering what are the best places to visit in Portugal? Once one of the biggest empires in the world, now it is a tranquil beach destination for tourists all around the world, and one of Europe's top surfing destinations.
Renowned for its seafood, delicious wine, photogenic tiled buildings, and gorgeous beaches, Portugal is the perfect autumn getaway. When it's already cool in autumn, it's still nice and warm in Portugal, especially in the south.
Portugal is a large country with a lot of great places to visit. It's impossible to write about all of them, so we had to choose a few of our absolute favorites.
What to do in Portugal? Here's our list of some of the best places to visit in Portugal.
1. Porto
Porto is one of the most famous places for tourists in Portugal. It's is rich in culture and very lively. Porto has some of the most amazing architecture in Portugal.
Porto is best known for its river, the Douro, and the sweet Port wine.
Going on a river Douro cruise is a must in Porto. Almost every tourist does it, and it's really worth it. Also a visit to some of the Port wine cellars is a mandatory activity during a trip to Porto.
Porto truly is a beautiful city. The maze of gorgeous medieval streets of the historic center of Porto, Ribeira, leads down the picture-perfect riverside promenade which is lined with shophouses and restaurants. The six bridges of Porto are unforgettable landmarks of the city's history. In fact, Porto is recognized as being the only European city with six bridges over the river!
2. Lisbon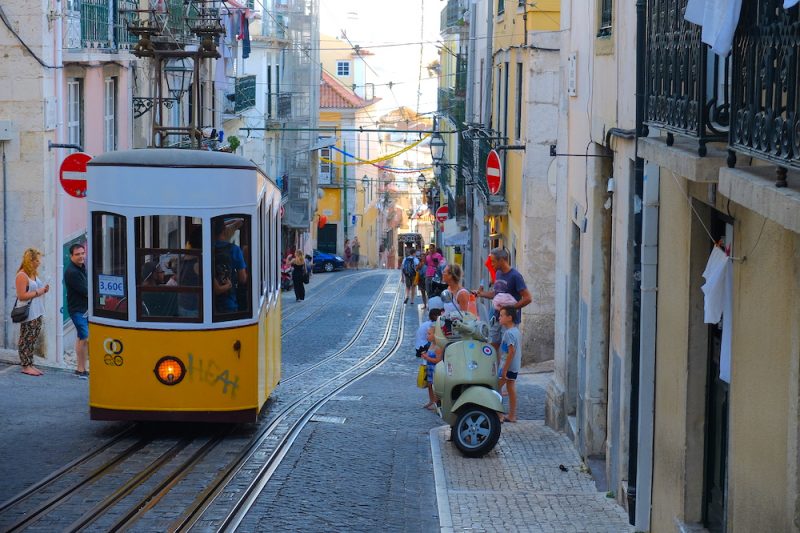 Lisbon is the capital and the largest city of Portugal. Just like Porto, Lisbon also is rich in cultural heritage and very vibrant. In fact, Lisbon is one of the most vibrant cities in Europe. Lisbon is also one of the most visited cities in Southern Europe.
The most popular area in Lisbon is Alfama. It's one of Lisbon's oldest areas. Its steep streets are lined with countless restaurants, cafes, bars, and shops. It's a nice place to spend your evening drinking wine and enjoying the gorgeous views of the neighbourhood's iconic red rooftops.
Did you know that the oldest bookstore in the world is located in Lisbon? Dating to 1732, Bertrand Chiado indeed is the oldest bookstore in the world that is still working!
3. Sintra
Sintra is a small, picturesque town. As it used to be a royal sanctuary, its forested terrain is studded with a few beautiful villas and palaces.
The most stunning of the sights in Sintra is the colorful Pena National Palace. It is a UNESCO World Heritage Site and one of the Seven Wonders of Portugal.
Another great architectural landmark is Sintra National Palace which features dramatic twin chimneys and elaborate tilework.
Located just 30 km from Lisbon, it's the perfect day trip option. Trains run frequently, and the town is small enough to see in just one day.
4. Algarve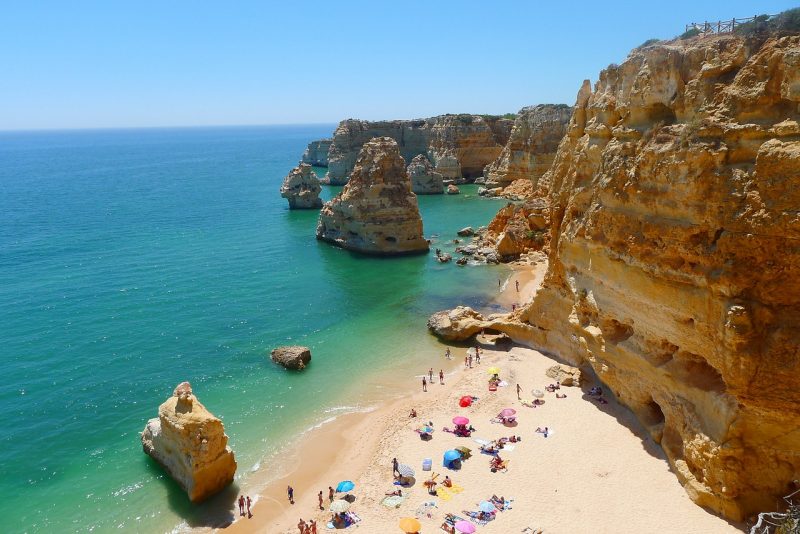 The Algarve region is among the most popular beach destinations in Portugal. Some of the country's greatest beaches are located there.
The Algarve is known for its dramatic limestone coastline, which is formed of sea pillars, grottoes, and soaring cliffs.
There are numerous beaches and resorts in the Algarve. You don't have to stick to just one of them. Rent a car and explore beyond your resort. The Algarve is stunningly beautiful, and its sights will leave you speechless.
Surrounded on two sides by the Atlantic, it's also a paradise for surfers.
5. Évora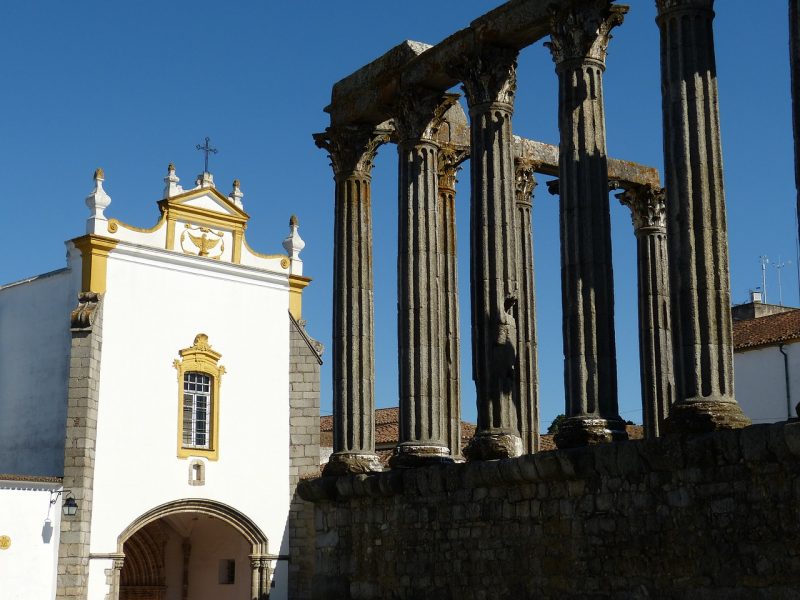 Évora is located in the south-central part of Portugal. It features a gorgeous historic center where the ancient Roman Temple of Évora (also called the Temple of Diana) stands. By the way, Evora is one of the most beautifully preserved medieval towns in Portugal.
There are some other great architectural landmarks in Évora: Praça do Giraldo, The Bone Chapel, and Évoraaqueduct.
The Bone Chapel has a very unique interior — its walls are lined with bones and skulls of some 5000 people! The Évora aqueduct is a 9km long water system and is one of the most challenging projects of the 16th century.
Évora is located not far from Lisbon (and nearby Cascais). So, if you are visiting one of these cities, do not miss Évora.
6. Óbidos
Óbidos is a town in Central Portugal, some 90 km north of Lisbon.
The narrow cobbled streets of Óbidos are really beautiful and picturesque. The traditional painted houses dominate the town.
But the town is best known for its ancient walls and imposing medieval castle.
When visiting Óbidos, do not forget to try Ginja de Óbidos – a natural handmade sour cherry liqueur. It is available in most of Portugal, but in Óbidos is the liqueur is served in a unique way — in cups made from dark chocolate!
7. Nazaré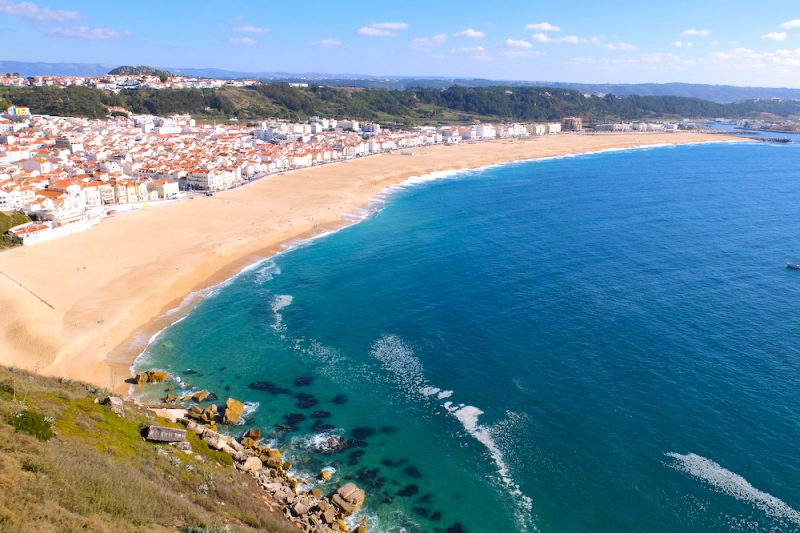 Nazaré is a picturesque traditional seaside town and a popular beach destination in Central Portugal. It's not as crowded as the main beaches of Algarve but no less beautiful.
Nazaré has two beaches — the main Nazaré beach and Praia do Norte. Praia do Norte is a massive beach that stretches for several kilometers.
If you are visiting Nazaré, don't miss Sitío viewpoint — an outstanding aerial view of Nazaré and its beaches. You can get there by a funicular, or take a walk up the hill.
Nazaré also is known for its big waves. The best place for wave watching is Farol da Nazaré (Nazaré Lighthouse).
Portugal travel tips
Renting a car in Portugal is the best way to see this beautiful country. That way you'll be able to visit not only the major tourist spots but also smaller towns. The best places to visit in Portugal by car is a great idea.
If you don't drive or don't want to rent a car, don't worry – Portugal has a good railway system, and buses are a very popular mode of transport, too.
The hottest, busiest and most expensive months are July and August. If possible, try to avoid these months and travel to Portugal in June, September and October. Weather then is good, and there are fewer crowds.
Portugal is a large country. The best way to travel in Portugal is to explore one region at a time. If you are planning to visit more than one region, consider flying to save time. Plane tickets are not expensive (e.g. a plane ticket from Porto to Lisbon costs about 35-40 EUR; Porto — Faro is 30-50 EUR).
Use public transport instead of a taxi to save some money. The public transport system in Porto and Lisbon is good. In Lisbon and Porto we recommend you to use a tourist public transport card which is valid for 24 hours.
It may be windy on Portugal's beaches and in coastal towns. So, bring a jacket with you. Also, it may get cool during evenings, especially in spring and autumn. So, pack not only a jacket but also a pair of trousers!