Best places to visit in SEYCHELLES
Curious about the best places to visit in Seychelles? Seychelles is an archipelagic island country in the Indian Ocean off the east coast of Kenya. It consists of 115 idyllic granite and coral islands which are home to endemic species like the giant Aldabra tortoises and the rare Coco de Mer palm.
To most, Seychelles is known as a luxury destination, just like the Maldives, but actually, Seychelles can offer more than just a luxury holiday.
Seychelles have protected marine areas, UNESCO-listed nature parks and a unique creole culture which you can witness in the capital, Victoria.
There's so much you can experience in Seychelles! And it's highly likely that you'll fall in love with it! But where to start? What to do in Seychelles? 
Start with our list of some of the best things to do and some of the best places to visit in Seychelles. Here it is.
7 best places to visit in Seychelles
Victoria, Mahé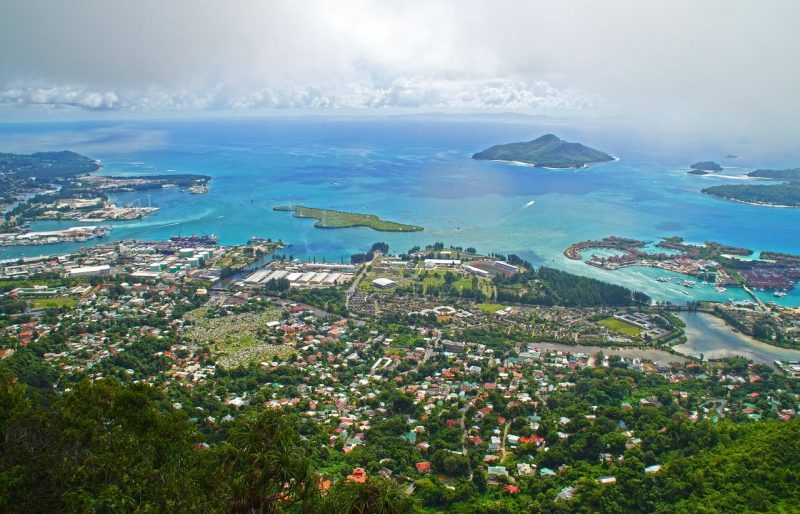 Victoria, on Mahé Island, is the capital city of the Seychelles archipelago. It is one of the smallest capitals in the world. 
Victoria is the cultural and business hub of Seychelles and home to one-third of the population of Seychelles.
Seychelles has a unique Creole culture, and you can witness it in Victoria. Victoria offers local experiences — there you can see how the locals live.
What else? Explore the town's old colonial buildings including the Victoria Clocktower, a replica of London's clock tower that was built more than 100 years ago, in 1903.
Visit Seychelles National Botanical gardens which is home to so many kinds of trees and plants. It has an amazing Giant Tortoise Enclosure where you can see and feed giant tortoises.
A botanical garden is also a place where you can see the famous coco-de-mer tree which produces the largest and heaviest seeds in the world.
Check out, Victoria Market. It's a good place for shopping for souvenirs, local artwork and seafood.
Visit the Natural History Museum to learn more about the island's wildlife and geology.
Anse Major and Anse Major Trail, Mahé
There are numerous beautiful beaches on Mahé, but Anse Major is among the most beautiful beaches on this island. 
It is a secluded beach — Anse Major can be accessed only by boat or foot. 
If you prefer to walk there, there's a hiking trail starting at the end of Bel Ombre road. The trail runs along the edge of a cliff, is clearly marked and moderately trafficked.
Anse Major is one of the most scenic beaches in the Seychelles archipelago, and it is a great place for snorkelling.
Morne Seychellois National Park, Mahé
Mahé is a small island, and you can easily explore it in just a couple of days. One of the best things to do in Seychelles and Mahé is hiking and taking in the views of the island and beaches. 
Head to the Morne Seychellois National Park for some of the best views over Mahé island.
There are a number of nature trails in Mahé, and Morne Blanc Trail in the Morne Seychellois National Park is one of the most popular ones.
It's a continuous uphill climb along a path through an old tea plantation and forest to a clifftop platform with sea views. It's a well-maintained path, and it takes about 50 minutes to climb to the top.
Vallée de Mai Nature Reserve, Praslin
Vallée de Mai Nature Reserve in Praslin is a nature park and a UNESCO World Heritage Site.
According to UNESCO, Vallée de Mai Nature Reserve is a natural, prehistoric palm forest preserved in almost its original state. 
It is home to the endemic coco de mer and other endemic plants.
The famous coco de mer (also known as Lodoicea) grows to 25–34 m and contains the largest seed in the plant kingdom. The seed requires several years to mature and develop, and is sometimes referred to as the "Sea coconut" or the "Seychelles nut".
Anse Lazio, Praslin
Anse Lazio is a beach situated northwest of Praslin Island.
It is considered to be the best beach in Praslin, and one of the best beaches in Seychelles.
The beach has clear water and beautiful scenery which attracts a large portion of Praslin's tourists.
Curieuse Island
Curieuse Island is a small granite island close to the north coast of the island of Praslin.
To protect the native wildlife in Curieuse and the surrounding waters, in 1979, the area became the Curieuse Marine National Park.
Curieuse is known for its mangrove swamp and giant coco de mer palms which produce the world's largest seed.
Now Curieuse island is also home to more than 300 Aldabra giant tortoises. This unique island is one of the few places in the world where these giant tortoises roam freely.
These giant reptiles are roughly 122 centimetres in length with an average weight of 250 kg, some of them are over 100 years old. 
There are several beautiful beaches on Curieuse, too.
Anse Source d'Argent, La Digue
There are several gorgeous beaches in La Digue. Make sure you explore all of them! Rent a bicycle and discover La Digue!
The most beautiful beaches on La Digue, however, are Grand Anse and Anse Source d'Árgent. They both boast sparkling blue waters and white sand and are dotted with Seychelles' characteristic boulders.
Anse Source d'Árgen is famed for being one of the most photographed beaches on the planet. 
Grand Anse is known for pristine sand and picturesque scenery.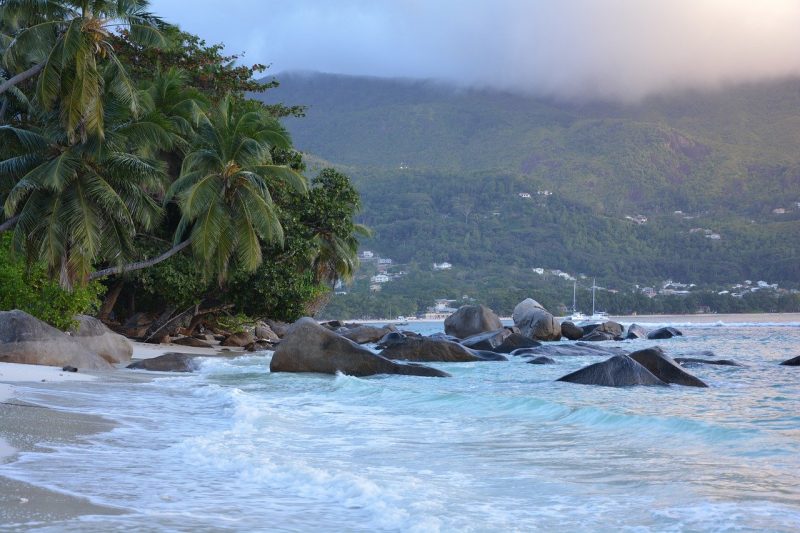 Seychelles travel tips
You don't need a visa to travel to Seychelles, but you just need a valid passport, a return or onward ticket and a hotel booking.

Seychelles is almost a year-round destination. The best time to visit, however, is March-May and September — October. The monsoon season is from November / December to March; expect a lot of rainfall then.

You can travel between the islands by air (Air Seychelles) and by ferries and catamarans.

There's a local bus on Mahé and Praslin islands. The bus tickets are cheap, and the services are frequent.

Seychelles is known for its luxury accommodation, but you can find cheaper options, too (around 60 — 70 USD).

Taxis are expensive in Seychelles. Use a bus where possible, walk or rent a bike. Hitchhiking is possible, too.

You can rent a car in Seychelles, but just remember that many roads in Seychelles are narrow and winding. 
P.S. If you have been to Seychelles, then please write in the comments your recommendations about the best places to visit in Seychelles?