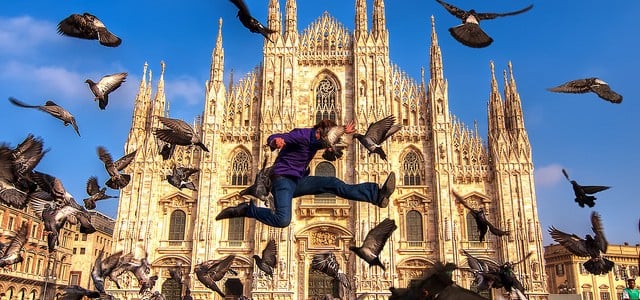 Fly from Riga to MILAN from €39 both ways
Fly from Riga to MILAN from €39 both ways by Ryanair. Fly from Riga to Milan and book your ticket at the best price! Flights to Milan from Riga cost from €39 both ways.
Milan is the second-most populous municipality in Italy and the capital of Lombardy. The municipality has a population of 1.353.882, while its urban area is the 5th largest in the EU with an estimated population of about 5.257.000. The massive suburban sprawl that followed the post-war boom of the 1950s–60s and the growth of a vast commuter belt, suggest that socio-economic linkages have expanded well beyond the boundaries of its administrative limits and its agglomeration, creating a polycentric metropolitan area of between 7 and 10 million people, stretching over the former provinces of Milan, Bergamo, Como, Lecco, Lodi, Monza and Brianza, Pavia, Varese, Novara. The Milan metropolitan region is part of the so-called Blue Banana, the area of Europe with the highest population and industrial density, and one of the Four Motors for Europe.
Travel dates:
Riga – Milan (39.58 EUR)
3 – 12 / 13 December
Riga – Milan (43.18 EUR)
5 / 6 December – 12 / 13 December
One cabin bag weighing up to 10 kg with maximum dimensions of 55cm x 40cm x 20cm, plus 1 small bag up to 35 x 20 x 20 cm may be carried per passenger.
Book fast, before tickets are gone!
Where to book:
Accommodation:
1) Find the best deals from thousands of travel sites on Hotels Combined.


2) If you are interested in booking apartment or room then definitely visit airbnb.com (here you will get €23 bonus credit for accommodation after registration).
Have a look at Trip Advisor when planning your holiday to find out whats hot and whats not when it comes to all the local attractions.
To know more about Milan, you can visit and read more in Wikitravel here
Keep following our blog and LIKE our Facebook page, Google+ page, Twitter page
Printscreen: