Lonely Planet Book OFFER: All books with 45% discount
Lonely Planet Book OFFER: All books with 45% discount! Get discount on Lonely Planet Books.
Lonely Planet is the largest travel guide book publisher in the world. The company is owned by NC2 Media (owned by American billionaire Brad Kelley]) which bought it in 2013 from BBC Worldwide for US$77 million (the equivalent of £45.5 million in May 2014), after it was valued at US$250 million in 2008. Originally called "Lonely Planet Publications", the company changed its name to "Lonely Planet" in July 2009, to reflect its broad travel industry coverage and an emphasis on digital products. After the Let's Go travel guide series that was founded in 1960, the Lonely Planet books were the second series of travel books aimed at backpackers and other low-cost travelers. As of 2011, Lonely Planet had sold 120 million books since inception, and by early 2014, it had sold around 11 million units of its travel apps.
No trips on the cards? Now's the time to grab that coffee table book you've been lusting after, or one of our inspiring pictorial & reference titles, covering everything from road trips, food & drink and solo travel, to volunteering and traveling with kids. In short, when it comes to travel, we got you covered.
Terms & conditions: Not So Secret Sale:
A 45% discount applies to all of our instock print editions, eBooks, individual chapters and print+digital bundles, and is available with Lonely Planet Shop website orders only.
Excludes pre-order titles in both their print and digital versions.
Titles available in-stock in each country may differ. No backordering available.
Offer excludes delivery charges.
Offer is available for a limited time only and ends January 20, 2019.
LONELY PLANET PROMO CODE:
SECRET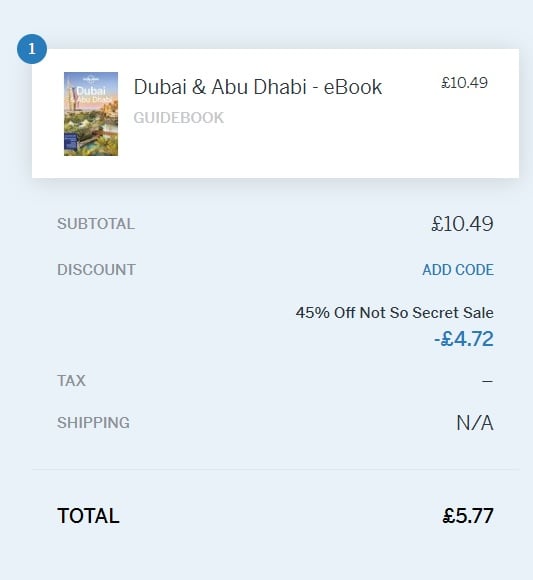 Where to book?
Keep following TravelFree.info blog and LIKE our Facebook page, Google+ page, Twitter page
IMPORTANT
We have created a Facebook group, where you will get only the hottest travel deals and error fares.
Join now! You are welcome to discuss topics about traveling!
Do not miss next TRAVEL DEAL! SIGN UP HERE and get exclusive travel offers to your email box.
Accommodation:
Compare thousands of travel sites and save money using the world`s largest hotels search HotelsCombined.

Do not have time to think about accommodation and tours? Have you heard about Tourradar? Multi-day tours to every part of the world: Safaris, Treks, Coach trips, Cruises, White Water Rafting, Mountain Biking, Sailing, Kayaking, Overland Trips and many more.
Car rental:
Have a look at Trip Advisor when planning your holiday to find out whats hot and whats not when it comes to all the local attractions.