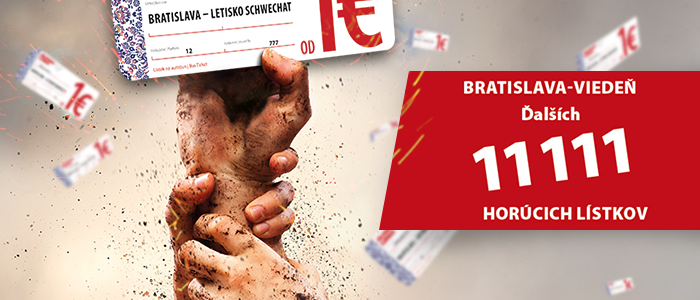 SLOVAK LINES offer: From Bratislava to VIENNA for €1!
AMAZING! SLOVAK LINES tickets Bratislava <-> Vienna €0.50. Slovak Lines launched a great sale and you can now get tickets for bus routes from Bratislava to Vienna or back just from €1!
Sloval Lines is a couch operator with 50 vehicles that are operated by more then 340 professional drivers. They carry around 15 million passengers and run more than 15 million kilometres annually. Slovak Lines´s corporate mission is to provide customer services of high quality, to approach actively to resolution of any customer needs, to face any challenges within bus and coach transport in Slovakia and abroad, as well as to increase efficiency and effectiveness of all activities performed in favour of fulfilment of common goals set by our shareholders, management and employees.
Travel dates:
October 2015 – March 2016
Routes:
Bratislava – Schwechat – Bratislava
Bratislava- Wien Hauptbhf. – Bratislava
Schwechat – Bratislava – Schwechat
Wien Hauptbhf. – Bratislava – Wien Hauptbhf.
Where to book:
Visit Slovak Lines
Accommodation:
1) Compare thousands of travel sites and save up to 80 % on Hotels Combined.


2) If you are interested in booking apartment or room then definitely visit airbnb.com (here you will get €18 bonus credit for accommodation after registration).
Have a look at Trip Advisor when planning your holiday to find out what's hot and what's not when it comes to all the local attractions.
Screenshot: