7 best places to visit in FRANCE – Part 2
France has always been a top tourist destination. In fact, now it is the most visited country in the world. In 2018 alone it received nearly 90 million international tourists!
For many people, France is the home of fine wine and the Eiffel tower. But there is much more to France than that.
France is a large country with 18 administrative regions and many sites of high cultural interest. France has 37 sites inscribed on UNESCO's World Heritage List. Stunningly beautiful beaches, great resorts, mountains, rolling hills, vineyards, castles and cathedrals — this and much more France offers to its tourists.
It's nearly impossible to tell you about all the best places to visit in France, so we had to choose our most favourite ones.
Here is a list of some of the best things to do in France.
Best places to visit in France – Part 1
7 best places to visit in France – Part 2
Marseille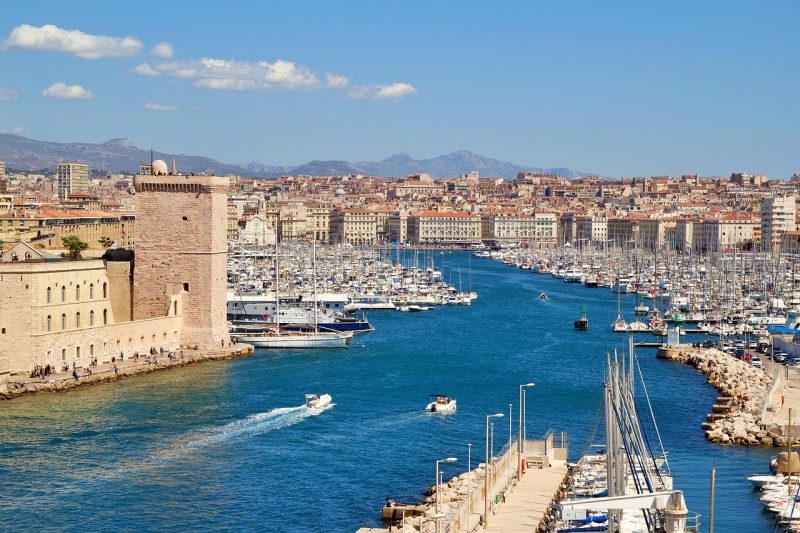 Marseille is a port city on the Mediterranean coast, not too far from the resort towns of the French Riviera (known in French as the Côte d'Azur).
Marseille has a rich history. Founded in the 7th century BC, it was a Greek settlement. When it was seized by the Romans, it became the "Gateway to the West".
The Old Port, the centre of maritime activity at that time, is still the main harbour and marina of the city. The port is guarded by two forts — Fort Saint-Nicolas and Fort Saint-Jean. With dozens of cafés lining the waterfront, it is one of the best places to eat in the city. 
Le Panier quarter with the Hotel de Ville and the church of Notre-Dame des Accoules is another picturesque area in the city.
Located on a hill, Basilique Notre-Dame de la Garde, a Catholic basilica, is one of the best-known symbols of Marseille.
Brittany
Brittany is known for its breathtaking landscapes. The coast boasts an abundance of hiking trails with sensational views, beautiful beaches and hidden coves. 
Enjoy the views over the green emerald coast, from the tower of Fort La Latte.
Explore the waterways of Brittany — another thing Brittany is famous for.
Visit the town of Carnac which is another amazing place to visit in Brittany. Marvel at the thousands of ancient standing stones.
These granite rocks were arranged across fields in mysterious lines and patterns by megalithic tribes. The rocks dated to 4000 BC. Their original purpose remains unknown. 
Corsica
Corsica, an island right next to Italy's Sardinia, is one of the best places to visit in France. With its beautiful landscape and innately beautiful beaches, Corsica is a popular destination among beach bums and outdoor lovers alike.
Its craggy peaks scrape the sky and contrast with turquoise waters and sandy inlets.
Corsica has some of the finest coastal and mountain walks in all of France. One of the most famous hikes in Corsica is the GR 20 trek. It is considered one of the toughest treks in Europe.
Strasbourg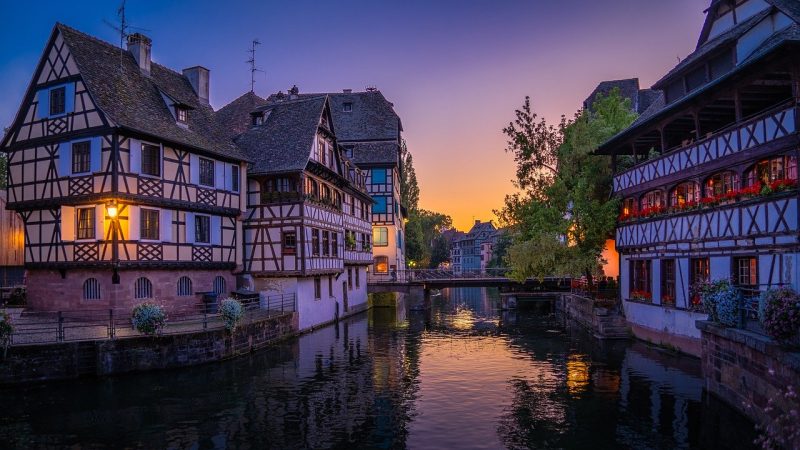 Strasbourg is an elegant and cosmopolitan city. Also, it is one of the capitals of the European Union. And visiting the futuristic-looking European Parliament building is one of the best things to do in Strasbourg.
Do not miss Strasbourg's scenic Old Town (La Petite France) which has an impressive collection of traditional half-timbered houses. Petite France is a part of the UNESCO World Heritage Site.
Looming over the city, Cathédrale Notre-Dame de Strasbourg is another popular tourist attraction. It is considered one of the most beautiful gothic cathedrals in Europe.
Lavender fields in Provence
If you are coming to France in summer (June to August), plan a visit to Provence and enjoy the spectacular views of endless fields of blossoming lavender!
Visit the Abbaye de Sénanque, a Roman­esque Cistercian monastery. With a stunningly beautiful lavender field in front of it, the château is a fantastic place for a memorable photo shoot.
Dordogne 
Dordogne is best known for its beautiful valleys and rivers and amazing prehistoric cave paintings.
Dordogne boasts lush greenery on both banks of the river Dordogne that runs through the region. Medieval villages, castles and châteaux dot the riverbanks. Thanks to its stunning cultural heritage, Dordogne is considered one of the best places to visit in France.
Some of the most popular architectural sights in Dordogne are Château de Castelnau-Bretenoux, Chateau de Turenne, Château de Rocamadour, Château de Castelnaud-la-Chapelle, Château des Milandes and Château de Beynac.
La Roque-Gageac, a commune in Dordogne and a popular place of interest, is a member of the Les Plus Beaux Villages de France ("The most beautiful villages of France") association. 
Lascaux, a place Dordogne is famous for, is a cave complex and a very popular tourist attraction in the region. Over 600 parietal wall paintings cover the interior walls and ceilings of the caves. The paintings represent large animals and typical local and contemporary fauna of the Upper Paleolithic time. This cave complex is a UNESCO World Heritage Site.
Lyon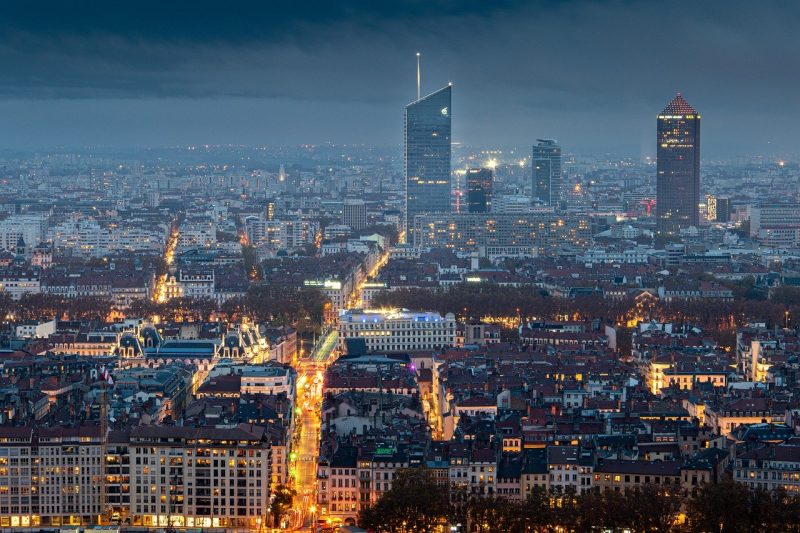 Lyon has been recognised as France's gastronomic capital. Thanks to deep local traditions and intense competition, the food in Lyon is exceptional.
The city has the highest concentration of restaurants in France. Also, it has a large number of Michelin-starred restaurants — more than any French city, except Paris.
But not only the restaurants of Lyon are worth mentioning. The local markets are exceptional, too! 
One of the most popular markets in Lyon is the La Croix Rousse market which lines Boulevard de la Croix Rousse, part of Lyon's UNESCO World Heritage Site. 
Les Halles de Lyon is the legendary indoor food market which has won an international reputation thanks to its fine produce.
France travel tips
English is not widely spoken in France. Learning basic phrases in French could help. Also, we would recommend downloading an offline vocabulary on your phone.

Never start a conversation with a French person in English. At least, greet them in French (Bonjour), and then continue speaking in English. Locals love when tourists attempt to speak their language. 

Before travelling to France, get yourself the European Health Insurance Card (EHIC) card. It's free and allows travellers from EEA countries and Switzerland to receive medical treatment in another member state for free or at a reduced cost if that treatment becomes necessary during the visit.

France is huge. Fly to save time. Or, explore one or two regions at a time.

France has a very good bus and rail network, including high-speed trains (TGV).

BlaBla Car (a ride-sharing app) is a good option, too. It may be a bit more expensive than a bus, but travelling by car is faster.

However, the best way to see France is by renting a car. That way you'll be able to visit not only the major tourist spots but also smaller towns and villages.