7 best places to visit in DENMARK
Curious about the best places to visit in Denmark? Denmark is a Nordic country in Northern Europe. It is the southernmost of the Scandinavian countries, and consists of a peninsula and an archipelago of 443 islands.
Despite being quite small, there's no shortage of amazing places to see in Denmark.
Historic towns, cutting-edge architecture, beautiful scenery, fabulous castles, alluring islands and fun theme parks for the whole family.
Sounds enticing? Want to come and explore?
But what exactly to do in Denmark?
To help you with the task of planning we've created this list of some of the best places to visit in Denmark.
7 best places to visit in Denmark
Copenhagen
Copenhagen is the capital and most populous city of Denmark. Dating back to the 12th century, the city is rich in history and culture, and with no shortage of interesting places to see.
Copenhagen is a very multi cultural city characterized by canals and cycling culture.
When exploring the city, you'll see that it is a mix of old and new — cobbled squares, narrow streets and marvelous historical buildings contrast with cutting-edge architecture, green developments and a futuristic metro system.
One of the best ways to explore the city is by bike! Rent or join a bicycle city tour.
Canal tours are very popular, too.
What else?
Copenhagen is home to amazing restaurants where you can enjoy both local and international cuisines. There are several Michelin-starred restaurants in the city, including Noma. It is one of the most famous restaurants in the world, and is renowned for its modernized traditional Nordic dishes.
Noma is not the only establishment that is recognized worldwide. Louisiana Museum of Modern Art is considered one of the best museums in the world, and it ranks 85th on a list of the most visited art museums in the world. It has an extensive permanent collection of modern and contemporary art.
Aarhus
Aarhus is the second-largest city in Denmark. In 2017, the city was chosen as a European Capital of Culture.
Founded in the early Viking Age, Aarhus is one of the oldest cities in Denmark.
It's a terrific city to explore. Just like Copenhagen, Aarhus has a number of fascinating places to visit.
Just to name a few:
Marselisborg Palace. It's a royal residence of the Danish Royal Family.
Aarhus Cathedral. At 93 m in length and 96 m in height, it is the longest and tallest church in the country,
ARoS Aarhus Kunstmuseum. It's one of the largest art museums in Northern Europe. ARoS is 10 storeys tall and receives nearly a million visitors a year. The most unique feature of this museum is the circular rainbow skywalk. This installation increased the popularity of the museum, making it the second most visited museum in Denmark, just behind the Louisiana Museum.
The Old Town Museum. It's an open-air town museum and one of the top rated museums in Denmark. The museum concentrates on town culture and consists of 75 historical buildings collected from various townships of the country.
The Aarhus Botanical Gardens. They are located just a few steps away from the Old Town Museum. The Aarhus Botanical Gardens feature large lawns, small ponds, greenhouses and a tropical hothouse. The gardens are home to thousands of plant species.
Råbjerg Mile
The Råbjerg Mile is a migrating dune. It is an amazing natural phenomenon — a dune that can change locations.
The wind moves the Råbjerg Mile in a north-easterly direction up to 18 metres a year.
With an area of 2 km² and a height of 40 m above sea level, the Råbjerg Mile is the largest moving dune in Northern Europe.
The sand hills of the Råbjerg Mile are fun to explore and they will appeal both to adults and children. Prepare to get lost in these desert-like landscapes.
Kronborg
Kronborg is a fabulous castle in the town of Helsingør. The castle dates back to the 16th-century and was made famous as the Elsinore Castle of Shakespeare's Hamlet.
Kronborg is one of the most important Renaissance castles in Northern Europe and has been added to UNESCO's World Heritage Sites list.
Bornholm
Lying some 200km east of the Danish mainland, Bornholm is a cute little Baltic island with a laid-back vibe.
This magical island is known for sandy beaches, a multitude of cycling paths and iconic round churches.
Actually Bornholm is located closer to Germany and Sweden than the Danish mainland. If you are not in a hurry, we would definitely recommend visiting Bornholm, as it is one of the best places to visit in Denmark.
What to see in Bornholm?
Explore its main town — Rønne, which is known for its half-timbered houses.
Gudhjem is another must-see. Located on the rocky coast of the Baltic Sea, this picturesque town is a popular summer destination.
Visit Hammershus — the most popular attraction on Bornholm. It contains impressive ruins of a medieval fortress and is one of the largest medieval fortifications in Northern Europe.
Do not miss Østerlars Round Church which is the best known and largest church in Bornholm. However, this is not the only round church in Bornholm. In total there are 4 unique round churches: Østerlars, Ols, Nylars and Ny Kirke.
Billund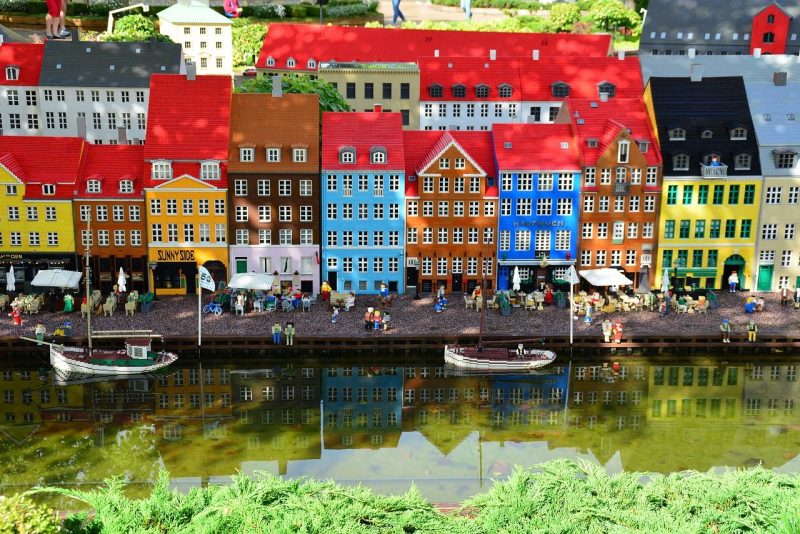 Billund is the hometown of the Lego Company and its international headquarters.
The town is also the site of a theme park, Legoland, an experience centre, Lego House, and the waterpark Lalandia.
Opened on 7 June 1968, Legoland in Billund is the original Legoland park. The park is located next to the original Lego factory. Visited by over 2 million guests every year, Legoland is the largest tourist attraction in Denmark outside Copenhagen.
Located in the heart of Billund, Lego House is designed to resemble gigantic Lego bricks. It is made of 21 blocks and houses an experience centre which allows the visitors to physically and digitally build with Lego bricks.
The Faeroe Islands are a North Atlantic archipelago located about halfway between Norway and  Iceland. The archipelago comprises 18 rocky, volcanic islands and is a part of Denmark.
If you are not in a hurry, definitely visit the Faroe Island Archipelago. It is just a 2 hour flight away from Copenhagen, and undoubtedly is one of the best places to visit in Denmark.
Spend a few days in the Faroes, exploring the coastline and mountains. Take in the wonderful, rugged ocean views.
The Faroe Island highlights:
Streymoy — the largest and most populated island of the Faroe Islands. Streymoy is home to the tallest waterfall on the Faroe Islands — Fossá. It is 140 m tall, and cascades down the cliff and falls into the sea in two stages.
Vestmanna Sea Cliffs are another must-see on the island of Streymoy.
Tórshavn — the capital city of the Faroe Islands. It is home to a beautiful old town, called Tinganes.
Mykines — a scenic island with a puffin population.
Vágar — an island with dramatic, rocky cliffs and mesmerising landscapes.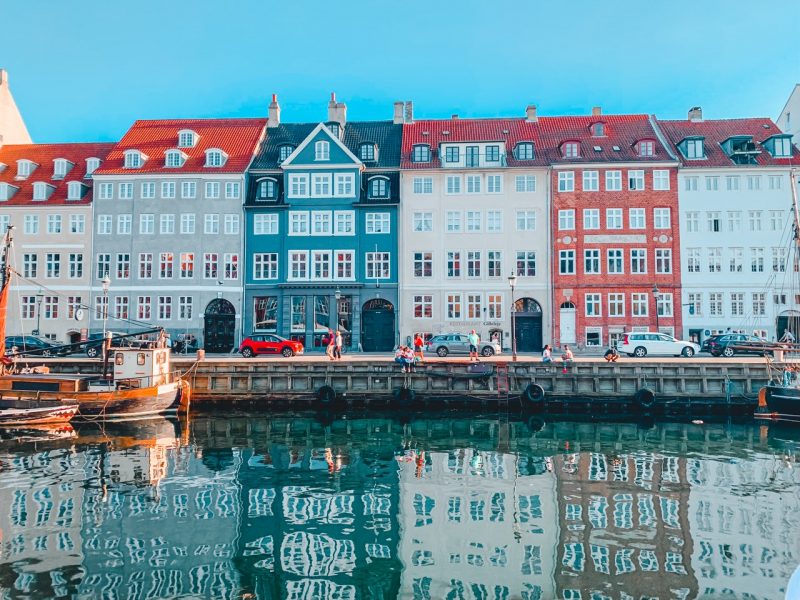 Denmark travel tips
Denmark is one of the world's best nations for cycling. With the extensive national network of cycle routes and flat terrain, Denmark is a very cycle-able country. In fact, cycling is one of the best things to do in Denmark.
The official currency of Denmark is the Danish Krone (DKK).
The high season is mid-June – mid-August. It's also the best time to visit Denmark. Expect crowds and book accommodation in advance. Accommodation prices peak during this time.
If you want to beat the crowds, travel during the shoulder season (May, early June, late August & September). It's a good time to travel, as it offers mild weather.
The weather in Denmark can be a bit unpredictable. Make sure you pack a wind & water resistant jacket, water resistant shoes and a sweater.
Transport in Denmark is developed and modern. There are plenty of ways to get around. There are train, metro and bus options within Copenhagen. Outside Copenhagen towns have local bus networks. Travel between cities / towns by bus or train.