7 best places to visit in ENGLAND
Curious about the best places to visit in England? England is the largest country within the United Kingdom both by area and population.
England is one of the most popular destinations in Europe and deservedly so. It has so much to offer to its visitors.
England boasts gorgeous architecture, and it's rich in history and culture. It's also home to some of the most beautiful cities in Europe.
London, one of the most beautiful and diverse cities in all of Europe, has a lively atmosphere and a good bar scene which attracts so many tourists from all around the world. And — most importantly — its cultural heritage and magnificent ancient buildings.
But do not limit yourself to London. There are so many amazing places to visit in England!
Do you plan to visit England? Then you have found yourself in the right place.
We've created this list of some of the best places to visit in England to help you with the task of planning your trip to England.
7 best places to visit in England
London
London is an exciting city consisting of numerous historical neighbourhoods and suburban towns. 
London has everything for everyone — countless grand historical buildings, skyscrapers, exciting museums, parks and amazing nightlife.
If you come from a non-English speaking country, chances are you are already somewhat familiar with London from your English lessons at school.
Start your trip to London by exploring its historical heritage. Even if you aren't a history buff, you'll be impressed with numerous grand historical buildings.
Visit some of the most famous neighbourhoods of London: Soho, Covent Garden, Notting Hill, King's Cross, Camden, Greenwich, Shoreditch.
By exploring all these neighbourhoods you'll see how diverse actually is London.
Head to Hounslow to see the planes flying low over your head. Myrtle Avenue in Hounslow is a popular plane spotting spot.
In Hounslow, you can get a taste of India, since it is home to one of the largest Indian communities in the UK. There you'll find plenty of Indian shops and restaurants.
Enjoy London's parks. Get lost in Hyde Park. Spot deers at Richmond Park.
The Lake District
The Lake District is by far England's most popular national park and one of the best places to visit in England.
Known for its lakes, forests and rugged mountains, the Lake District National Park was established in 1951 and covers an area of 2362 square kilometres. The Lake District is one of the largest national parks in the United Kingdom.
Boasting an abundance of nature trails, the park is a very popular hiking destination in the UK. 
It is also home to England's highest mountain — Scafell Pike (978 m).
Grand houses, gardens and parks enhance the English Lake District's beauty.
The park was designated a UNESCO World Heritage Site in 2017.
Jurassic Coast
Jurassic Coast is a striking shoreline in southern England.
Stretching from Exmouth in East Devon to Studland Bay in Dorset, Jurassic Coast is about 154 km long.
Encompassing 185 million years of geological history, the Jurassic Coast was inscribed on the World Heritage List in mid-December 2001. The Jurassic Coast was England's first natural World Heritage Site.
The rock formations of this part of the English coast covers the Triassic, Jurassic and Cretaceous periods.
Jurassic Coast boasts impressive coastal rock formations such as Durdle Door, Old Harry Rocks, Chapman's Pool, Gad Cliff, Golden Cap and High Peak.
Oxford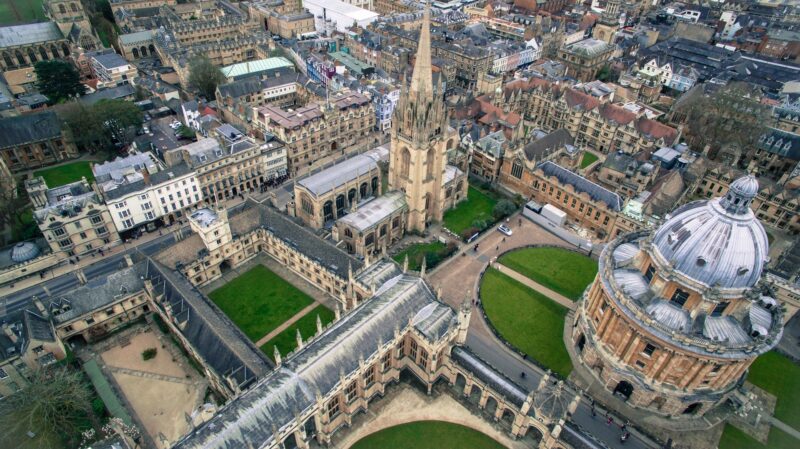 Oxford is a university city in Oxfordshire.
The city is home to the University of Oxford, the oldest university in the English-speaking world. 
The University of Oxford also is one of the world's best universities and it frequently tops both national and international rankings.
The University is known for its architectural heritage — it has buildings in every style of English architecture.
The Victorian poet Matthew Arnold called Oxford 'the city of dreaming spires' after the unique architecture of the university buildings.
Many university buildings, such as libraries, museums, colleges, are open to visitors during the day. Check out opening hours and fees before visiting, though.
Liverpool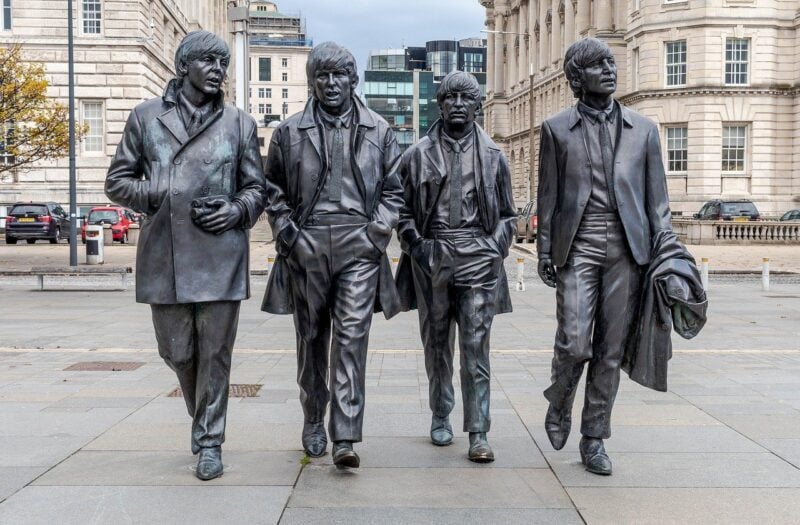 Best known for Liverpool Football Club and The Beatles, Liverpool is ranked at No. 6 on the list of the most visited UK cities. It is one of the best places to visit in England.
The city is also home to the famous Anfield stadium — the seventh largest football stadium in England.
Visit the Beatles Story which is the world's largest permanent exhibition dedicated to the famous English rock band The Beatles.
Explore Liverpool's historical heritage — the restored Albert Dock, Port of Liverpool Building, Royal Liver Building, St. George's Hall and Liverpool Cathedral.
Six areas in the historic centre and docklands of Liverpool form a UNESCO World Heritage site called Liverpool Maritime Mercantile City.
Liverpool is one of Britain's most multicultural cities — it is home to the oldest African community in the UK and the oldest Chinese community in Europe.
Bath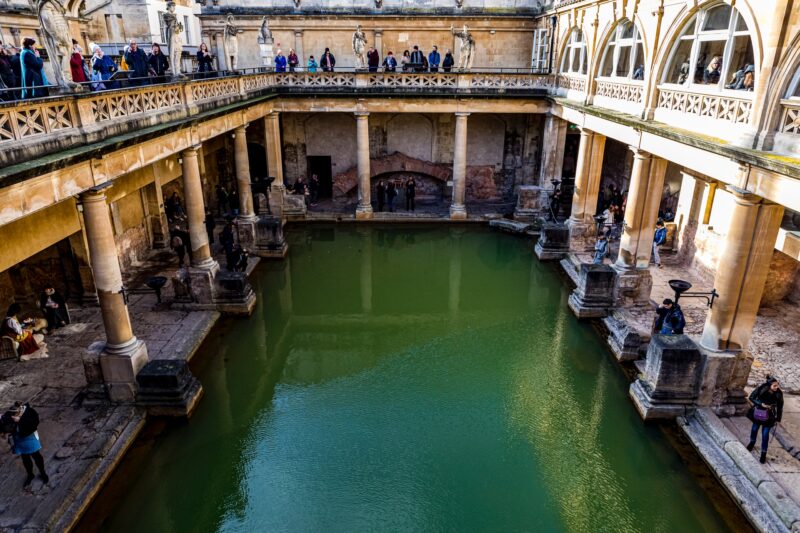 Bath, a city in South West England, is known for and named after its Roman baths.
This bath complex was built by the Romans. It is set above Bath's 46°C hot springs and encircled by 18th- and 19th-century buildings. 
The baths now form one of the world's best-preserved ancient Roman spas.
The heart of the complex is the Great Bath — a large pool, lined with 45 sheets of lead and filled with hot water. Surrounded by pillars and statues, it is truly an impressive construction.
Stonehenge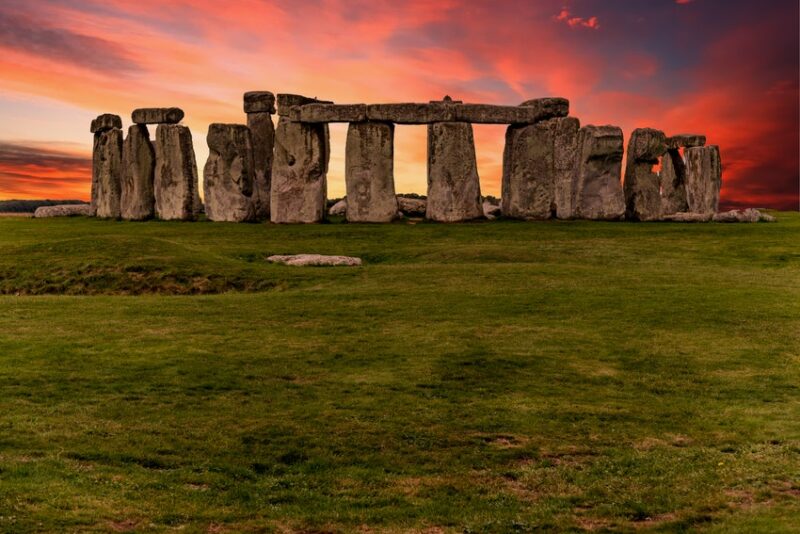 Everyone has heard of Stonehenge. It is one of the world's most famous prehistoric monuments which attracts millions of visitors from all around the world.
Stonehenge consists of a ring of standing stones, each around 4 m high, 2.1 m wide, and weighing around 25 tons. 
It is a mysterious place. Still, to this day, there are no ideas of why Stonehenge was built or what it represents.
Stonehenge is one of the best places to visit in England, especially for history enthusiasts.
England travel tips
England has mild weather all year round. So, England and the rest of the United Kingdom can be visited at any time of year. However, spring and autumn are the best times to visit, when it's usually warm. Summer months are great too, but it can get crowded during the summer.

Please note that the weather in England is unpredictable. Rain jacket and sturdy, water-resistant shoes are a must.

It's very easy to travel around England. England (and the UK) has an efficient network of public transport. There's a vast train network which is one of the most thorough in Europe. 

However, coach services are cheaper than trains. Megabus and National Express are the main coach companies in England (and in the UK).

Renting a car is the best way to see England. That way you'll be able to visit not only the major tourist spots but also smaller towns and villages.

Many cities in England are bike-friendly. Bike rentals are common.

Do you love museums? We have great news — many public museums offer free admission in London and England.