7 best places to visit in MEXICO
Curious about the best places to visit in Mexico? Mexico is a large country located in North America. It is comprised of 31 states and is the second-largest Spanish-speaking country by area, after Argentina.
Mexico has a rich and complex history which dates back as far as 8000 BC. It is identified as one of six cradles of civilization.
Not only Mexico is large, but it's also very diverse. There certainly is no shortage of things to do and see in Mexico. And thanks to that it attracts so many visitors.
You'll be surprised at how diverse Mexico is. Stunning beaches, rugged mountains, grand volcanoes, huge canyons, lush jungles and vibrant cities with well-preserved colonial buildings and other unforgettable landmarks.
This and so much more you can experience in Mexico! And you'll fall in love with it! But where to start? What to do and see in Mexico? 
Mexico's size and sheer diversity can make it hard to know where to start. 
That's why we have created this list of some of the best places to visit in Mexico. Check it out!
7 best places to visit in Mexico
Yucatán Peninsula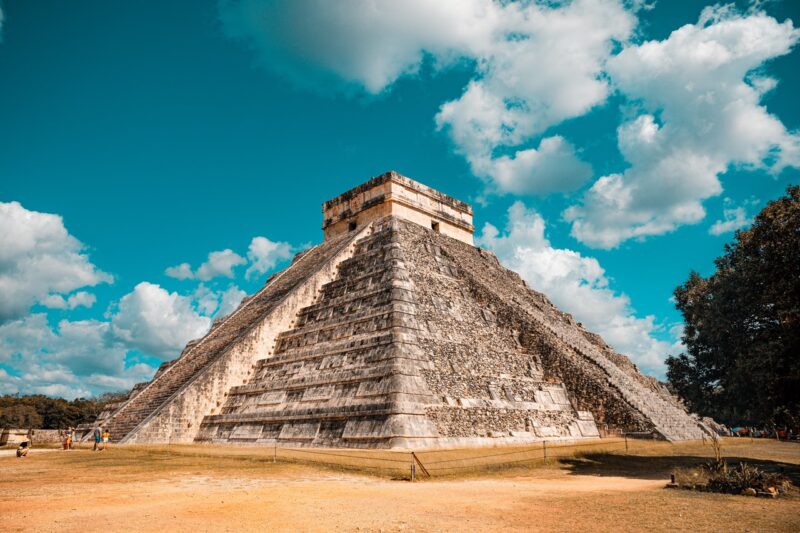 The Yucatán Peninsula is a large peninsula in Mexico which separates the Gulf of Mexico from the Caribbean Sea.
This peninsula is a paradise for first-timers to Mexico as there's no shortage of things to do in the Yucatán Peninsula. You probably could spend your vacation only in Yucatan, and still, it won't be enough.
Here's a list of our favourite places to visit in the Yucatán Peninsula:
Merida

— the capital of Yucatan state, and the largest city of the Yucatán Peninsula. This vibrant city has rich Mayan and colonial heritage.

Cancún

— a world-famous resort city known for its white-sand beaches and turquoise blue water. Cancún boasts exclusive shopping centres, beautiful all-inclusive hotels, spas and international restaurants, as well as great nightlife.

Cancun Underwater Museum of Art

is a unique diving spot available to beginner divers. It was created to save the nearby coral reefs.

Playa del Carmen

— one of the best beaches in Yucatán.

Tulum

— a town on the Caribbean coastline known for its pristine beaches and Mayan ruins. Tulum is often called the "Yoga capital of Mexico".

Lake Bacalar

— 42 km-long lake renowned for its clear blue water. Lake Bacalar is also called the Lagoon of Seven Colours due to its blue and turquoise hues.

Chichen Itza

— world-famous ruins and archaeological site. Chichen Itza was a large pre-Columbian city built by the Maya people. It is one of the best places to visit in Mexico.

Isla Mujeres

— an island about 13 kilometres off the Yucatán Peninsula coast. It is a renowned vacation destination known for its beautiful beaches. Isla Mujeres

has a quieter and more relaxing vibe than Cancún.

Las Coloradas

— unbelievable pink lakes which get their unique colour from the microorganisms which live in the lakes. It's a popular flamingo watching spot too. You can't swim in the pink lakes, though.

Cozumel

— a renowned scuba diving destination. Cozumel is a gateway to one of the best reefs in the Caribbean — Palancar Reef.
If you can drive, we suggest you go on a road trip around Yucatán. That way you'll be able to visit not only the major tourist spots but also smaller towns.
Mexico City & Teotihuacán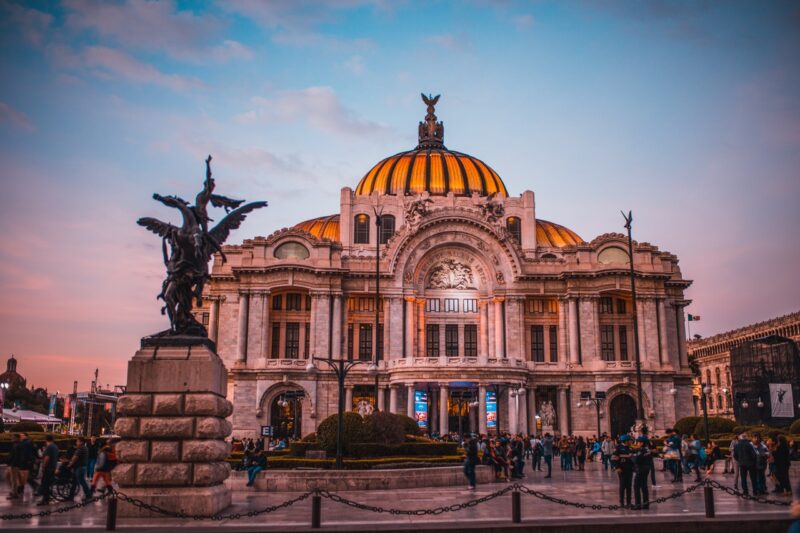 Mexico City is the capital of Mexico and the most populous city in North America.
With an abundance of fascinating museums and architectural gems, Mexico City undoubtedly is a cultural centre of Mexico.
There are museums for every taste and for all age groups. And the Frida Kahlo Museum is undoubtedly one of the best museums in Mexico. It is dedicated to the life and work of Mexican artist Frida Kahlo. The museum is set in the "Casa Azul" — Frida Kahlo's home which is carefully preserved and maintained.
If you are visiting Mexico City, do not miss Teotihuacán. It is a pre-Hispanic holy city located some 50 km northeast of Mexico City. It's an important archaeological site and a perfect example of an ancient city. 
Teotihuacán is one of the most powerful cultural centres in Mesoamerica and a UNESCO World Heritage Site.
Guanajuato City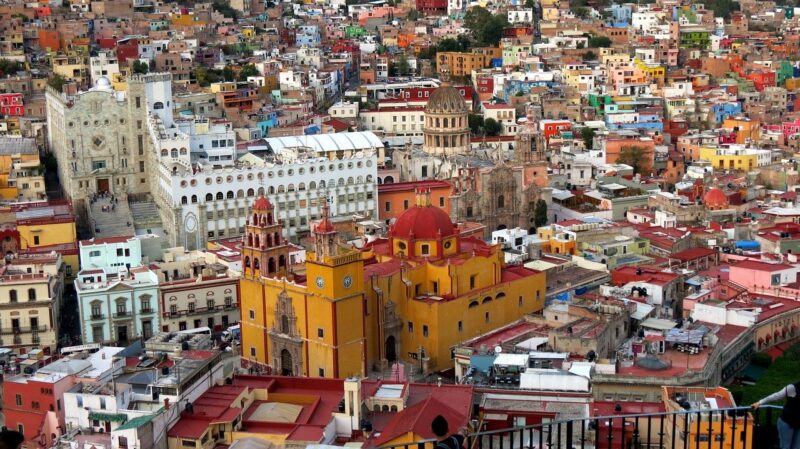 Guanajuato is one of the most beautiful cities in Mexico. Known for its colourful buildings resting in the foothills of the Sierra Madre, Guanajuato attracts visitors with its beauty, history, and cultural heritage.
Guanajuato City was the world's leading silver extraction centre in the 18th century. 
Thanks to the prosperity of the mines, Guanajuato City boasts some beautiful examples of Baroque architecture such as the churches of La Compañía and La Valenciana.
Guanajuato City is a UNESCO World Heritage Site.
Oaxaca City
Lying in the foothills of the Sierra Madre, Oaxaca City attracts visitors with its historical heritage and archaeological sites.
One of the best things to do in Oaxaca City is to explore its colonial centre whose streets have a very tranquil feel to them.
Do not miss Templo de Santo Domingo — a spectacular church with an impressive interior.
Oaxaca is also known for its impressive ruins — Monte Albán. This ancient city in the hills was home to Olmecs, Zapotecs and Mixtecs, and is regarded as a precursor to present-day Oaxaca.
Oaxaca City together with Monte Albán is a UNESCO World Heritage Site.
The city of Oaxaca is known for having one of the best Dia de Los Muertos festivals in Mexico. It's a holiday celebrated in November in many parts of Latin America. Taking part in night-time processions is one of the best things to do in Mexico.
If you are visiting Oaxaca City, do not miss Hierve el Agua. It's an impressive set of natural rock formations that resemble a large waterfall. There are numerous natural pools at the top of the rock formations.
Pico de Orizaba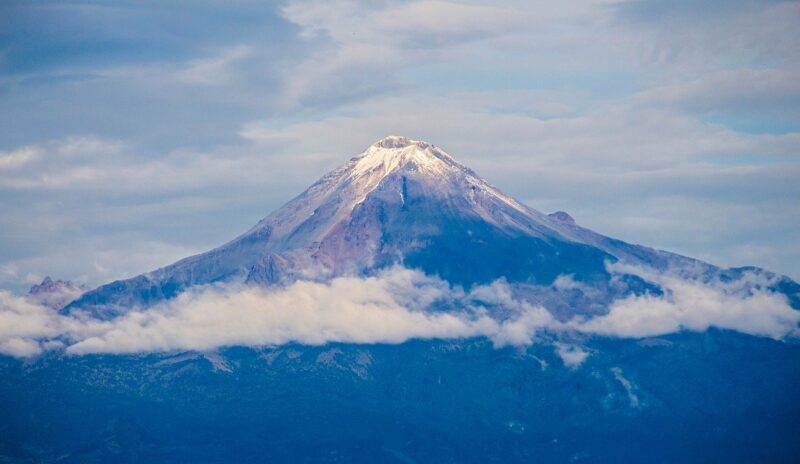 Pico de Orizaba is a stratovolcano on the border of Puebla and Veracruz states.
With an elevation of 5636 m, it is the highest mountain in Mexico and the third highest in North America.
Pico de Orizaba volcano is currently dormant but not extinct.
This glacier-topped volcano is a popular destination for climbing. Crampons and ice axe are highly recommended. An extra day for acclimatisation is highly recommended too.
Baja California Peninsula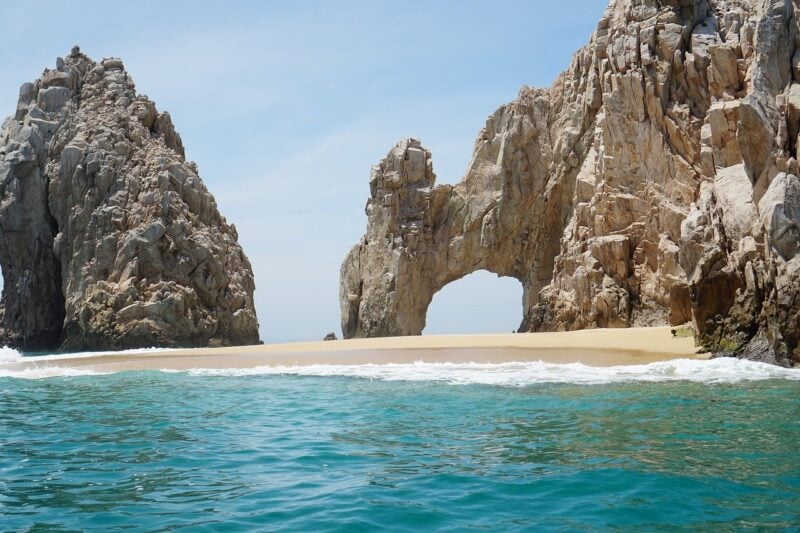 The Baja California Peninsula is a peninsula in Northwestern Mexico. Due to its proximity to the United States and its countless beaches, Baja California is a popular tourist destination for Americans.
There are plenty of hiking trails that will take you through Baja California's diverse landscapes.
Los Cabos, a municipality located at the southern tip of Baja California Peninsula, boasts stunning landscapes and beaches.
What else Baja California is known for?
Whales!
Every winter large numbers of grey whales, humpbacks and blue whales migrate to Baja California to mate and give birth.
Thanks to its UNESCO protected bays, Baja California Peninsula is one of the best places on earth to spot whales. Join a whale watching tour to see these magnificent animals!
Whale season is in the winter months of January through March.
Copper Canyon
Copper Canyon is a series of massive, rugged canyons in the Sierra Madre Occidental mountains. This canyon system is larger and deeper than the Grand Canyon.
The Copper Canyon train, El Chepe, is the best way to see the stunning Copper Canyon. Running 670 km between Chihuahua and Los Mochis, it is considered one of the world's great rail journeys.
Copper Canyon is home to one of the longest zip lines in the world — the ZipRider. It is located in the Parque de Aventura Barrancas del Cobre. The ZipRider is 2545 meters long with a vertical drop of 450 meters (17% grade). Max registered speed is a whopping 135 km/h.
Copper Canyon is also home to Mexico's two tallest waterfalls: Cascada de Piedra Volada (366 m) and Cascada de Basaseachi (246 m).
Unfortunately, the Copper Canyon area is not among the safest in Mexico. So, be extra careful when travelling there. Avoid hiking alone. Avoid travelling off the beaten path without a guide. Despite the safety concerns, Copper Canyon is one of the best places to visit in Mexico.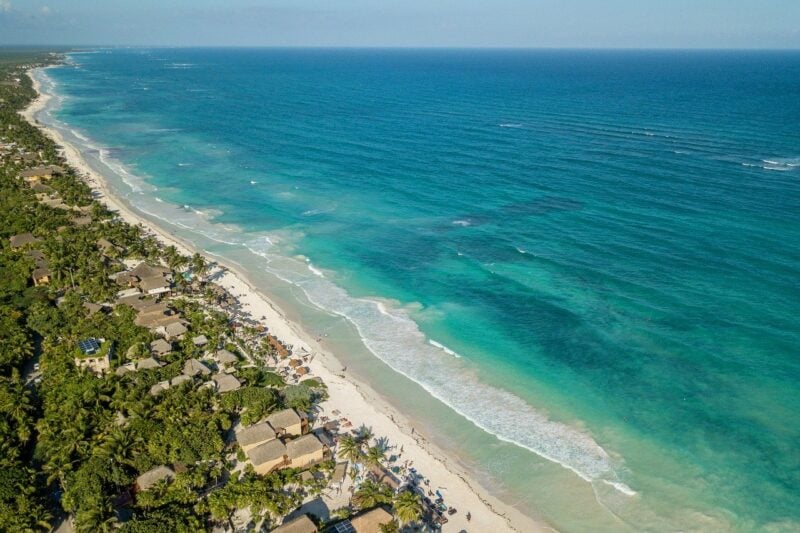 Mexico travel tips
You don't need a visa to travel to Mexico. Citizens of the E.U. (and many other countries) may enter Mexico for a maximum stay of 180 days.

All visitors entering by land must obtain a document ("Forma Migratoria Multiple") to present at checkpoints within Mexico. It also can be obtained online. It costs around 15 EUR.

It is safe to travel to most parts of Mexico. But still, be a sensible traveller. Don't flash your belongings and keep your wits about you. Don't travel alone at night. 

Just to be on the safe side, do a research and find out which are the best/ safest areas to stay in.

Renting a car in Mexico is the best way to see this beautiful country. That way you'll be able to visit not only the major tourist spots but also smaller towns.

Air travel is the fastest and most convenient way to travel long distances. If you book in advance, tickets will be much cheaper (e.g., Mexico City — Cancun flights will set you back as little as 35 EUR).

The most popular mode of transport in Mexico is the bus. There is an extensive network of buses. The buses are comfortable and reasonably priced.

The best time to visit Mexico is during the dry season — between December and April. Shoulder season (May) is also a good time to visit Mexico. Hurricane season lasts from the beginning of June to the end of November.