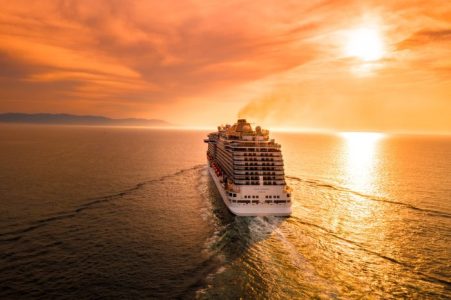 Transatlantic cruise from Barcelona to NEW YORK, USA for €574 (16 days)
Transatlantic cruise from Barcelona to NEW YORK, USA for €574 (16 days) per person in an inside cabin for 2 persons. Get a cheap cruise by Carnival. The price includes a FULL BOARD (ALL MEALS are included), Participation in onboard events and all port fees and taxes!
Costa Venezia is a Vista-class cruise ship, most recently operated by Costa Crociere. Originally intended to serve the Chinese market, she debuted in Shanghai on May 18, 2019. At 135,225 gross tonnage (GT), with a capacity of 4,208 passengers, she was briefly the largest ship in the Costa Cruises fleet until the debut of Costa Smeralda in late 2019. Costa Venezia is scheduled to be transferred to Carnival in 2023 under the new Costa by Carnival concept. She is to be renamed Carnival Venezia.
Carnival Venezia will debut on May 29, 2023, sailing a 15 Day Transatlantic voyage from Barcelona, Spain ending in New York. The ship will pick up Carnival Magic's originally planned summer season from New York, sailing a mix of four to eight-day sailings to Bermuda, the Caribbean and Canada & New England. Towards the end of September, the ship will sail a mixture of eight to twelve-day cruises to The Bahamas and the Caribbean for the winter season. Miami, Florida will also be a featured port of call on some nine-day cruises to The Bahamas.
Travel dates:
29 May – 13 June 2023
BOOK >>HERE<<
16-day Transatlantic cruise from Barcelona to New York:
Day 1 – Barcelona, Spain
Day 3 – Malaga, Spain
Day 4 – Gibraltar, UK
Day 5 – Lisbon, Portugal
Day 7 – Ponta Delgada, Azores
Day 14 – Halifax, Canada
Day 16 – New York, USA
Where to book a Transatlantic cruise from Barcelona to New York:
Visit www.e-hoi.de
The website is in the German language, please use Google translate if it is needed
FOLLOW US ON SOCIAL MEDIA:

Keep following TravelFree.info blog and LIKE our Facebook page, Twitter page, Telegram
!! IMPORTANT !! We have created a Facebook group to get only the hottest travel deals and error fares. Join now! After that, you are welcome to discuss topics about travelling! 
Do not miss the next TRAVEL DEAL! SIGN UP HERE and get exclusive travel offers to your email box.
Accommodation:
Agoda is transforming travel for millions of customers across the globe. Part of Booking Holdings, Agoda is one of the world's largest online travel accommodation platforms with a network of over 2,000,000 vacation rentals and hotels worldwide.
Cancelled or delayed flight?
If your flight is cancelled or delayed by 3+ hours, you may get a refund of up to €600. Check it out at SkyCop.
Tours and excursions:
Do not have time to think about accommodation and tours, but have you heard about Tourradar? Multi-day tours to every part of the world, for example, Safaris, Treks, Coach trips, Cruises, White Water Rafting, Mountain Biking, Sailing, Kayaking, Overland Trips and many more.
Have a look at Trip Advisor as well when planning your holiday to find out what's hot and what's not when it comes to all the local attractions.
Car rental:
You can find the best car rental prices at AutoEurope.com.
For over 60 years, Auto Europe has been a leader in worldwide car rental services and helped over 10 million travellers find the best options when travelling abroad. Through long-term relationships with top suppliers, for example, Hertz, Avis, Enterprise, Europcar, National, Budget, Dollar, Buchbinder and Peugeot AutoEurope offer travellers the best rates at 20,000 pickup locations in over 180 countries worldwide.
Insurance:
Worldwide travel medical insurance for Nomads. Only from $37 / 4 weeks worldwide, affordable travel medical insurance for anyone, especially for long-term travellers and digital nomads.
Save money with a Free Debit card:
Free Debit card by Revolut, N26, Monese or Transferwise, etc. with no fees? Sounds too good to be true, but believe it or not, this exists already for years. This should help protect your pocket. All these cards are great choices for international travellers, get your FREE card: https://travelfree.info/best-free-debit-cards-for-travellers/
CURVE
. Manage all of your bank accounts from one smart card using an app.
 M

ake your first transaction, after that y

ou can enjoy £5 absolutely free with the Curve discount when 
you 
sign up to Curve. Do not miss a great opportunity!
Delivery
Wolt – is an online food ordering and delivery service that takes orders via a mobile app. It was founded in 2014 in Helsinki. Wolt allows any restaurant to sign up as a merchant, mediating the order from the customer, taking care of the delivery and automatic payment by credit card. Get a 15 EUR free coupon for the sign-up.
Learn new skills
Skillshare is an online learning community with thousands of classes for creative and curious people, on topics, for example, Design, Business, Photography, Tech, and More. It's an online, subscription-based e-learning community platform. Get SkillShare Free Premium Membership for 2 months.